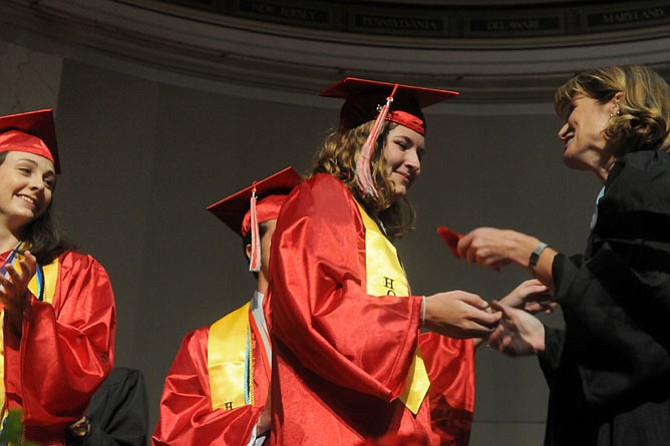 As the band on stage struck the first chord to Pomp and Circumstance, McLean's class of 2015 marched down the spangled carpet of DAR Constitution Hall, eagerly awaiting the next stage of their lives. Dressed in robes of dark red and gold, the future graduates took their seats, cherishing their final moments of high school.
Around 3 p.m. on June 16, the 501 graduating seniors from McLean High School walked across the stage at Constitution Hall in Washington, D.C. with diplomas in hand. Tumultuous applause from friends, families and peers echoed throughout the room.
ON THE STAGE with the band sat the leaders of the class of 2015, including Juan Esteban Baus, student body president for three years running and future Notre Dame student "Happy Birthday Mom," he said.
"Our class formed amazing connections with our teachers, and we all participated in so many diverse activities," Baus said. "Our sports teams and our academic teams excelled. Our class has become a community; through thick and thin we have all truly acted as a family."
McLean's honorable guest speaker Antonin Scalia, associate justice of the Supreme Court of the United States, doled out William Penn's valuable advice to the graduating class.
"He that has more knowledge than judgment is made for another man's use."
But it was student speaker and former class clown Ryan Waugh who inspired the crowd. His difficult academic journey through McLean High School gave him wisdom he felt obligated to share with his peers.
"I owe my success to you," he said to the crowd. "Each and every one of you has been dear in my heart, and I want to remind you all to always be there for one another. Nothing comes easy in this world, and as a whole we have to inspire each other."
Waugh, who will be attending Hampden-Sydney College in the fall, walked across the stage to receive his diploma to enthusiastic applause from the class of 2015.
AFTER ALL 501 NAMES had been called, the new graduates stood, and threw their caps in the air in celebration. They exited excitedly to U2's "It's a Beautiful Day."
"Our class is dedicated in everything that we do," said Madeline Dalzell, vice president of student council. "You can see it in all our accomplishments; they range greatly across the board. I'm proud to represent McLean's class of 2015, and I know we will all achieve great things."