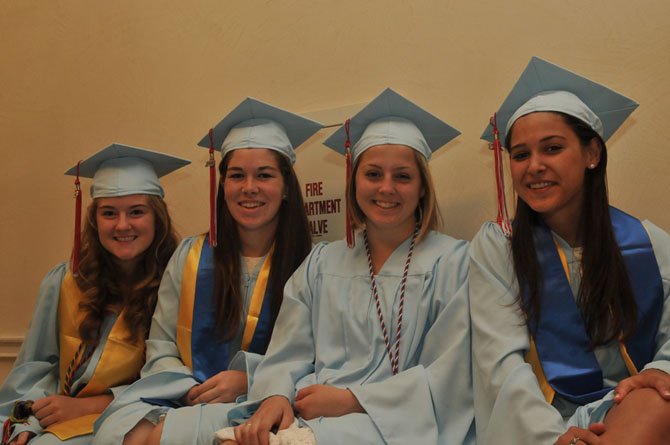 On Friday, June 14, Marshall High School held their graduation ceremony at Constitution Hall. This year, 354 seniors marched down the aisles, in light blue and red robes, ready to walk across the stage to receive the diplomas they have been working their entire academic career for.
The first speaker at the ceremony was Senior Class Officer Sarah Chapin. The theme of her message to fellow graduates was "luck." "There's one word that describes our class: lucky. Luck is more than just a motto for us though …" She went on to discuss how lucky the students are that the teachers at Marshall High School have offered them so much guidance over the years, and mentioned how lucky the students are to go to school in Fairfax County.
The keynote speaker, Lindsey Mask, founder and director of Ladies America, a "national network of young, professional women connecting to advance one another personally and professionally," shared some information about herself including that she grew up in a small town, and that her high school graduating class was 89 students. Once she graduated from Texas State University, she pursued broadcast journalism. It was soon after that she realized her true passion was politics. Through this story, she sent the message: "Listen to that little voice inside of you; it will guide you far."
The principal, Jay Pearson, received the senior class gift, a statue of a griffin. The statue will be used to watch over future students at Marshall.
The final speaker was Matt Axelrod, a history teacher and IB coordinator. He told the students, "Learning takes time." He expressed this sentiment to encourage students to always be curious. He claims, "The end of high school is a natural time to say goodbye, and a natural time to start over." He ended with advice saying, "I hope you remember it's always worth it to stand up for what you believe in."