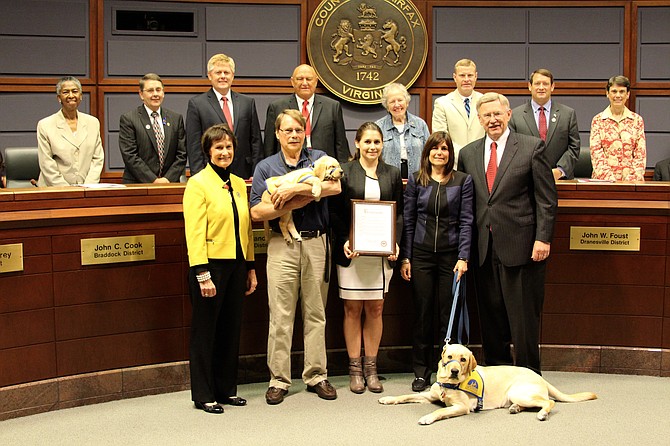 On June 23, the Fairfax County Board of Supervisors passed a unanimous resolution to recognize Great Falls resident Jacqueline Cheshire for her years of service work as a volunteer puppy raiser for Canine Companions for Independence (CCI).
CCI is a national nonprofit organization dedicated to the raising and training of service dogs for people with disabilities. As a puppy raiser, Cheshire receives a puppy when they're only 8 weeks old and fosters and trains them until returning them to CCI almost a year and a half later.
In addition to raising these special dogs, Cheshire plays a pivotal role in organizing the annual DC DogFest Walk 'N' Roll fundraiser, which takes place this year on Sept. 12 in Arlington.
Cheshire received Governor's Volunteerism and Community Service Award in the Outstanding Adult Volunteer category for her devotion to raising these dogs. "These guys are the ones who really deserve the award," Cheshire said, gesturing to her current dogs in training, 14-month-old Agent and 10-week-old Bishop IV. "They're the real heroes."
After an additional six months of rigorous training by professionals on a CCI campus, the dogs are ready to be matched with their new owner, a person with disabilities. These service dogs are taught dozens of specialized commands, and perform work that can greatly improve a disabled person's quality of life, and restore their sense of independence.
"Getting to meet the people the dogs go to and seeing how they change their lives, both physically and emotionally, that's what makes it all worth it," Cheshire says.
One of the questions Cheshire says she gets asked the most is about how she can give the dog away after bonding with it for so long. Her daughter, Tory Cheshire, addressed this in a poem she wrote and read aloud at the Board meeting: "The question is not how can we, but how can we not?"
Cheshire is currently raising her seventh puppy for CCI.
- Nikki Cheshire