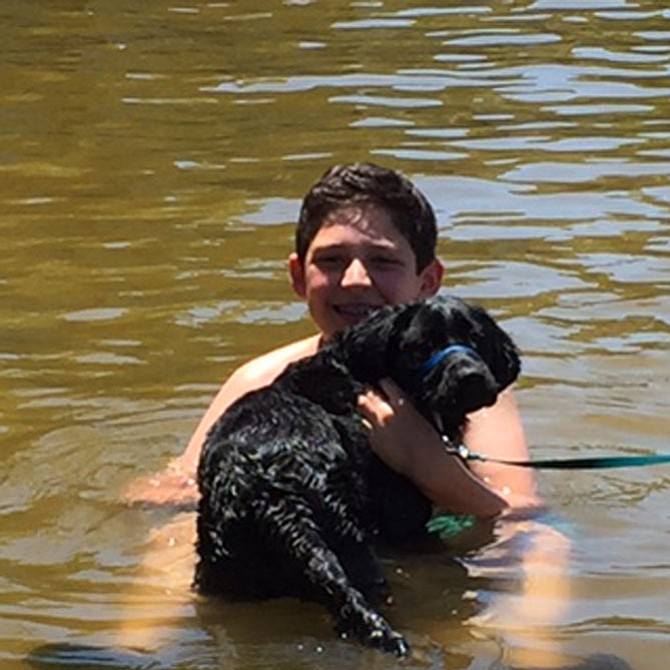 As the Geier family of five moves from Potomac to Greensboro, N.C. this month, they are bringing one element of home with them: Pandy, the dog they are raising with Canine Companions for Independence (CCI), a nonprofit organization that provides service dogs for free to people with a broad spectrum of disabilities.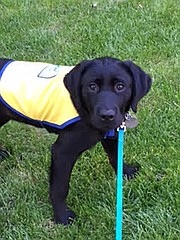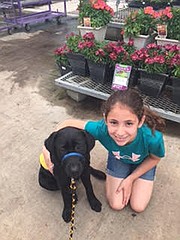 Pandy is a puppy that the Geiers took on in February of this year, when she was just eight weeks old. The longtime Potomac residents will have Pandy, and keep up with her training schedule, until November of next year, when CCI will take her back in for the final steps toward becoming an official assistant dog for a forever owner.
"I was looking for a service project for my son," Tammie Geier said, of how she found out about CCI and its mission to provide a prepared, caring canine companion to as many disabled people as they can — from wounded veterans to people battling neurological conditions. "We needed to find something both for his school and for his Bar Mitzvah project. My son really wanted to do something with animals, while my husband wanted him to take on a project that dealt more with people. When I saw the puppy raiser project in my Internet search, it seemed like it would meet both criteria and would work well for our family."
The Geiers also have traditional pets, who have welcomed Pandy — a black Labrador and golden retriever mix — into the family home without any issues. Aside from her 12-year-old son, she has a younger daughter and another younger son, as well, who have all happily accommodated a service-dog-in-training. The Geiers' seven-year-old Australian Shepherd and Pandy have also become fast friends.
Tammie Geier said CCI has been amazing to work with, and she has no doubt that Pandy will one day change the lives of whomever she ends up going home to.
"CCI is very serious about their dogs and who they pick," she said. "In the applications process, I went through an hour-and-a-half-long screening telephone call to make sure our family could take this on — logistically, emotionally and financially. They are protecting their asset in the hopes that they are going to place their dogs with people who are going to take the program seriously. So from the beginning, there were a lot of questions like, 'Are you going to be able to give this dog up?' and 'Is this going to impact your children?'"
CCI relies on volunteer host families like the Geiers to take in these puppies and not only provide them with loving homes, but also to follow a strict training schedule for the year plus of their lives. Not only do the Geiers teach Pandy certain commands that go well beyond what most owners would train traditional pets to do, but Tammie Geier said that she takes Pandy to professional training multiple times every week.
"This isn't an ordinary puppy, and we have all been taking her very seriously" Tammie Geier said. "She behaves very differently than the pet. The program asks that she is in training programs at least twice a month, so from the get-go, when we were in the Maryland area, she was either going to group CCI training either in Maryland or Virginia. We've taught her things that you just wouldn't teach a pet, and she is very obedient. I don't know if that's a result of the time we spend with her, or if that's just her. She is very disciplined, and just such a sweet dog."
In her short life, Pandy has already positively impacted one family, and Geier said she has no doubt that Pandy will play a life-changing role in the life of whoever she is designated to help when the time comes.
"Even though the reality is that I am predominantly her trainer, it's been good for the whole family," she said. "The children love her very much. It will be difficult to give her up, and I'm sure it will be a tearful goodbye next November, but I can already look at her and know that she is going to do great things. She is going to serve somebody well."
Tammie Geier has already been amazed by responses of people who have approached her at times she's had Pandy in tow.
"What I can say is that virtually every time I am out with Pandy, someone comes up to me having recognized that she is a service dog in training. Most recently, someone came up to me and thanked me for doing what I'm doing because her sister had some debilitating physical disease, and her life has been changed by a service dog. Time and time again, people come up to me and thank me. That makes it all worthwhile."
Lauren Ferraioli, the Puppy Program manager for the northeast region, said that CCI would not be the successful, growing organization it is today without puppy raisers like the Geier family. Still, for continued growth and to be able to put these dogs in homes where they can live out their potential, CCI needs more volunteers.
"Without the support of raisers, we won't be able to continue the increase the amount of placements we like to make," she said. "The organization is growing now, and we don't have enough growers. We need people to participate in the program to change somebody's life."
While the program does everything to make sure the puppies go into capable hands, Ferraioli said it doesn't take anything out of the ordinary to be an eligible volunteer.
"Of course there is an application process, but we are looking for anyone who is willing and able to follow the steps necessary to ensure the dog is set up for success," she said.
Anyone interested in becoming a CCI puppy raiser should contact Ferraioli, who works in the Northeast regional office in Long Island, N.Y., by calling 631-561-0214 or emailing lferraioli@cci.org.