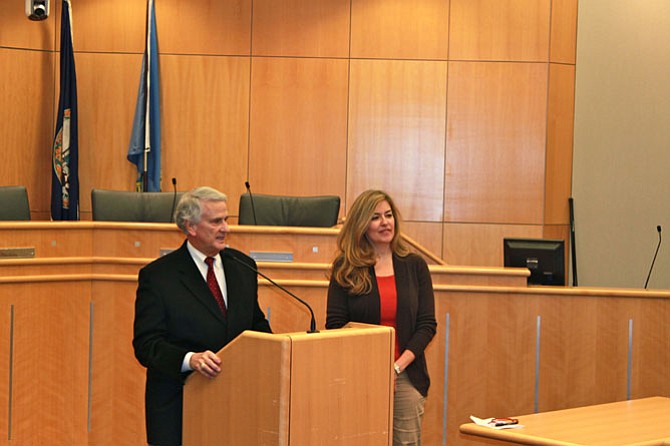 Right after she was elected mayor, Lisa Merkel invited Del. Tom Rust to lunch.
"I said, 'How do you get things done?' He said, 'You have a vision and you stick with it and you keep pressing ahead,'" Merkel said. "It was a great lunch."
Dranesville Supervisor John Foust has represented Herndon on the Board of Supervisors while Rust represented the Town in the House of Delegates. The two served together on the Northern Virginia Transportation Commission.
"I observed him take many political courageous positions," said Foust.
Foust calls Rust "a gentleman" and a "dedicated and successful public servant."
"He made life better for Herndon residents and all of us who live in the Commonwealth," said Foust.
Eileen Curtis, president of Dulles Regional Chamber of Commerce, said Rust gave his life to public service for Herndon.
"He is one of the pivotal figures in the history of Herndon," said Curtis. "He really does play into the history of the Town."
Rust, 73, surprised many by announcing last week that he will not seek re-election. He has been Herndon's delegate in the 86th district since 2002 and was expected to run again this November.
Rust was Herndon's mayor from 1976-1984 and again from 1990-2001. Before he was Herndon's mayor, he served on its Town Council from 1971-1976.
He has lived in Herndon since 1965 and graduated from Herndon High School.
Rust served on four committees including the Commerce and Labor, Education, Transportation, and Science and Technology Committees in the House of Delegates and chaired the Joint Commission on Technology and Science.
Rust was an advocate for transportation improvements, and, as an engineer, frequently interpreted technology for his colleagues.
Rust served on numerous civic and charitable boards including the Jeanie Schmidt Free Clinic, Northern Virginia Transportation Authority, Northern Virginia Transportation Commission, Northern Virginia Community Foundation, Dulles Corridor Rail Association and Fairfax-Falls Church United Way.
"He has many accomplishments but I am most grateful for his efforts to support Dulles Rail and help relieve congestion in Northern Virginia," said Foust.
"He was able to manage the disparate voices that occur in any conversation and lead them to consensus," said Curtis.
Rust received a standing ovation from the Assembly when he made his announcement. "It's been a true honor to serve with you, members of this body, and I wish you the best as you continue to serve the Commonwealth of Virginia and the citizens of Virginia," said Rust.
"Old politicians don't die, they just fade away," he said.
"He was always a gentleman, courtly almost," said Curtis.
More like this story