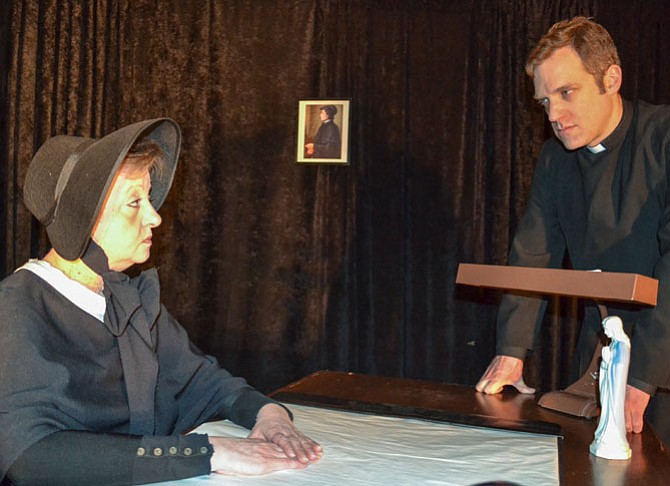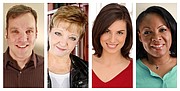 Uncertainty about whether a priest committed a crime is at the heart of "Doubt: A Parable," the upcoming play by the City of Fairfax Theatre Company. Set in the Bronx, N.Y. in 1964, it won the 2005 Pulitzer Prize for drama and Tony Award for Best Play.
"The author, John Patrick Shanley, uses a story as a parable to demonstrate a point – what do you do when you're not sure?" said Director Ed Zakreski. "That's the first line of the play, and each character faces a moment when they're not sure and have doubt about something. And the choices they make in reacting to it drive the plot forward."
Chris Andersen portrays Father Flynn, a Catholic priest. "He's charismatic and driven to help children," said Andersen. "It's after Vatican II, and he wants to make the church friendlier and more accessible to people. He sees himself as a reformer, in opposition to Sister Aloysius, who's quite conservative and dogmatic. He's accused of molesting a 12-year-old boy, but only by Sister Aloysius, not by the boy, who's a big fan of Father Flynn."
Enjoying his role, Andersen said charismatic religious leaders and conflicted people intrigue him. "[Flynn's] a complicated character and there are clues about struggles he may or may not be going through, such as loneliness and doubt," said Anderson. "And I get to fill in the psychological gaps. Plus, he has a strong agenda and a powerful mission to defend himself."
CALLING THE PLAY "heart-wrenching," he said, "You never know who to believe. Clues suggest both his guilt and innocence, and the audience will like the exciting conflict between Father Flynn and Sister Aloysius. The play asks how are we supposed to judge people and when do we have that right?"
Playing Sister Aloysius is Lisa Bailey, who describes her character as "old-school, stern and a rule-follower. Her life's very organized, and everything has a place and a time and makes sense. I've struggled to find the humanity in her, but I think her humanity is her conviction to follow the rules because of the way she was raised."
Bailey said she likes portraying someone "so solid in her beliefs. She only sees black and white, not gray, so this situation confuses her and she wants to stop it. Besides that, Father Flynn is new to St. Nicholas School and has modern ideas, and she likes the old ways."
As for the show, Bailey said, "I believe the audience will like our strong and talented cast. And they'll also like seeing sister Aloysius change and have doubt."
Brenda Parker plays Mrs. Muller, a married mother of two children. Her oldest son is in the military and her youngest, Donald, 12, is an altar boy at St. Nicholas. "He's also the first and only colored child in the school and Father Flynn is one of his teachers," said Parker. "Mrs. Muller is protective, street-smart and very aware of her surroundings, at all times. She's willing to make sacrifices to protect her family."
Parker said she's enjoying her role's challenges. "It's close to my parenting style," she said. "Mrs. Muller speaks her mind, but within limits – because she knows that any misstep on her part could have repercussions on her son. It takes place at a time when the nation was going through major transitions after John F. Kennedy's and Martin Luther King's assassinations and when integration was starting."
She said the play provides a bird's-eye view of these transitions that bring us to today. And, she added, "The audience will see how much and how little has changed since then."
Portraying Sister James, a young, eighth-grade teacher at the school, is Anna Fagan. She's also a nun and Sister Aloysius is her superior. "Sister James is genuine and innocent," said Fagan. "She has a lightness to her and has a lot of compassion for her students, but Sister Aloysius is trying to make her tougher."
Fagan, too, enjoys her part. "Sister James is complex," she said. "Her journey throughout the play is challenging for an actor because she's caught in the middle of a dispute between Father Flynn and sister Aloysius. And I like playing such an honest, observant character."
She said the story will keep the audience members "thinking about who they believe, long after the show has ended. It's a simple play, but it tells a gripping and complex story."
THERE'S A CAST and crew of 12, and the sets showing the school, church and gardens were kept simple because, explained Director Zakreski, "We want the focus to be on the characters and the words." As for his actors, he said, "There's an adage that 90 percent of directing is casting, and my cast is proving that. It's so much easier to focus on the themes and underlying issues of the play when you have actors who show up at the first rehearsal already having an incredible amount of depth."
"Although the play takes place 50 years ago, the issues it presents still resonate today," continued Zakreski. "When you look at recent news stories about fraternities at state universities, or famous entertainers, questions about accusations and veracity still vex us. Our world still struggles with how to find the truth when the facts aren't black and white. I'll feel like our show is successful if people go home arguing about what the truth of the play really is."
---
The City of Fairfax Theatre Company presents "Doubt: A Parable," Thursday-Sunday, March 5-8 and March 12-15, at 3950 University Drive in downtown Fairfax. Thursday, Friday and Saturday performances begin at 7:30 p.m.; Sundays are at 2 p.m.
Tickets are $17 in advance. Remaining seats, if available, will be $20 at the door, one hour prior to the shows. Free parking is available, and a brief "talk- back" session with the actors and directors will follow each performance. Buy tickets at: http://fairfaxcitytheatre.ticketleap.com/doubt-a-parable/.