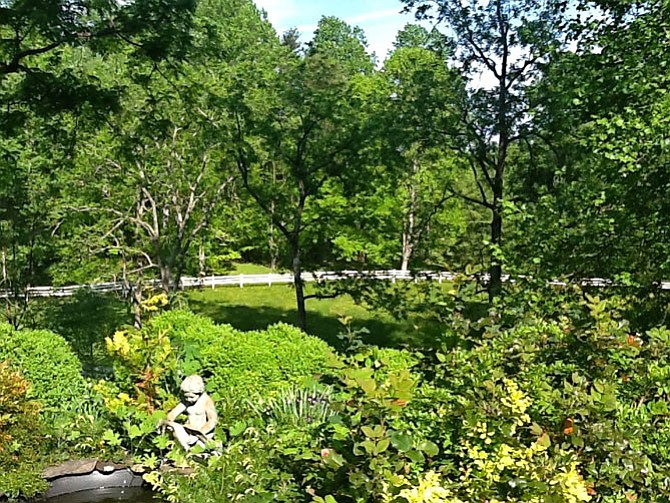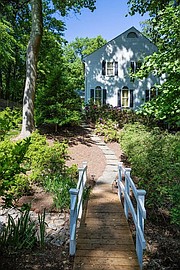 The Virginia Historic Garden Tour is an 8-day event that stretches across the Commonwealth. Each spring visitors are welcomed to over 250 of Virginia's most beautiful gardens, homes and historic landmarks. This event provides the opportunity to see unforgettable gardens at the peak of Virginia's springtime color, as well as beautiful houses sparkling with more than 2,000 flower arrangements created by Garden Club of Virginia members.
The Clifton Historic District, registered as a Virginia Historic Landmark, was a Civil War railroad stop and is filled with shops, memorable restaurants and restored homes. Clara Barton, founder of the American Red Cross, tended to soldiers after the Battle of Second Manassas at St. Mary's Church and the historic Fairfax Station, now a Railroad Museum.
A self-drive tour on April 21 features stables, vineyards, a world-class garden, Georgian-revival architecture, and a 10,000 square-foot contemporary home with a vanishing edge swimming pool – four private homes with gardens and two stables in all. Tour ticket includes a tea at the Clifton Presbyterian Church.
Tour proceeds fund the restoration and preservation of Virginia's historic gardens, and provide graduate level research fellowships for building comprehensive and ongoing records of historic gardens and landscapes in the Commonwealth, and support the mission of the Garden Club of Virginia.
For a complete list of tours, see www.vagardenweek.org
Virginia Historic Garden Tour in Clifton and Fairfax Station
7014 Redlac Drive, Clifton Located in a pastoral setting with grazing horses nearby, this graceful 1987 Georgian Revival house draws its elegant inspiration from historic Williamsburg. Large rooms with arching Palladian windows overlook a formal boxwood knot garden and serene five-acre landscape. The hardwood tree canopy shades a hillside azalea and rhododendron garden with a bridge over a swale. Details inside include formal dining and living rooms with deep crown and base molding and regal blue and gold wallpaper. Antiques and the owners' serendipitous flea market finds abound. The foyer, with Currier and Ives prints, leads to the living room with its 1876 grand piano. The dining room features a silver meat dome on the hunt board as well as a mahogany tea cart handmade in Honduras. The large oak table in the gourmet kitchen is the perfect place to cook and share family meals. The bedrooms upstairs are filled with vintage linens and family heirlooms including the family's first-communion dress, and are connected by a central library furnished with an antique parlor set. Balconies overlook a shaded flagstone patio and swimming pool. The lower level contains a recreational area and bar with generous wine racks. An additional guest room and bath with a separate entrance completes the home's amenities for gracious entertaining. Dennis and Cyndy Patrick, owners.
7810 Willowbrook Road, Fairfax Station Nestled in an equestrian neighborhood, this 10,000-square-foot contemporary home was built in 2013 for an active family with young children on the site of their previous house. A handsome entrance of stone, leaded glass and ironwork leads to a spectacular open-plan living, dining and kitchen area designed by the fun-loving owners with year-round entertaining in mind. The kitchen has mosaic tile backsplashes, a walk-through pantry with etched glass doors and double granite-topped islands where everyone can join the fun cooking and baking. The living area contains a double fireplace and a backlit onyx bar. Large doors open to a long covered veranda fitted with retractable screens where family and friends enjoy dining outside during warm months overlooking the infinity-edge swimming pool. Other thoughtful details include an elevator, a home gymnasium and a separate garage for the children's bikes and toys. The immaculate two-stall stable on the property has attached horse trailer storage and is home to a beloved horse and a pony. The wife is an accomplished equestrian as evidenced by a tack room filled with trophies and ribbons. Local equestrians will be in the stable to answer horse-related questions. Garth and Heather Viar, owners.
7607 Willowbrook Road, Fairfax Station Serenity awaits visitors at this single-story California-style property. The experience begins on the long drive that winds past a riding ring and pastures. Slate steps lead to the entrance courtyard, where a koi pond and bamboo fountain set the warm spa-like mood of this wonderful home. The house, purchased in 2003, has been completely renovated by the current owners, and has been personalized with twin studies, an open-plan kitchen with state-of-the-art appliances, swirling honed grey and white granite counters and a bistro-style espresso coffee station. Clean, contemporary and connected to nature, the rooms along the back of the house each open to a series of graceful garden rooms with an entertaining deck, a yoga/meditation deck, an outdoor shower and a seating area surrounding a fire pit. Inside, visitors find delights like a glass conservatory and studio, a relaxing slate tiled guest bath with heated towel bar, solid cherry doors throughout, a master suite with his and hers dressing rooms and a sleek bath with heated marble floors. The eco-friendly, award-winning stable complex contains a four-stall barn, equipment storage, dry lots, round pen, composting system and pastures. Randall and Joan Onders, owners.
Poplar Grove 11600 Lakewood Lane, Fairfax Station Time stands still at Poplar Grove. A curving driveway leads visitors through towering oaks and flowering cherry and plum trees to a slower, more gentle way of living. The warm cream colored Federal-style home was built in 1964 and renovated quite literally from the ground up in 2001. The owners, one a landscape architect of world-class talent and the other a graduate of DuPage School of Horticulture and a seventh-generation Virginian, Poplar Grove Clifton - Fairfax Station carved a paradise of 18th-century grandeur out of what had been seven overgrown acres. The owners' passion and expertise brought to life a two-level Colonial parterre kitchen garden with boxwood topiary, oyster-shell walkways and a climbing-rose-covered chicken coop for collecting daily eggs. Nearby is a vineyard with over 400 Petit Verdot grape vines. Visit the swimming pool garden and follow a shady path that leads to the secret white garden with a pond and splashing fountain. In fact, fountains can be heard bubbling and splashing in every direction. Another fountain brings wandering guests to an alfresco dining area reminiscent of Charleston. Inside, visitors find grand moldings, sparkling chandeliers and museum-quality artwork and antiques. This property is a must-see for antiques enthusiasts and avid garden designers alike. Master Gardeners will be available to answer questions in the gardens. Charles Prillaman and Parker Jennings, owners.
Places of Interest:
Clifton Historic District. Well preserved and easy to walk, Clifton maintains the small-town feel of the turn of the twentieth century. Most homes were built in the late 1800s or early 1900s. Adaptive reuse is evident in the homes turned into thriving shops, businesses and restaurants. A stop on Virginia Civil War Trails, most of the buildings have plaques that explain their history. Watch for the commuter trains that still pass daily at the railroad crossing. Clifton-VA.com
St. Mary of Sorrows Catholic Church, Ox Road and Fairfax Station Road. Dedicated in 1860, St. Mary's Catholic Church was built by Irish immigrants who came to work on the railroad. Here, Clara Barton nursed wounded soldiers evacuated from the Battle of Second Manassas. Still in use today, it is now a Historic District and a stop on the Virginia Civil War Trails. The cemetery grounds and grotto garden are open to the public. StMaryofSorrows.org
Fairfax Station Railroad Museum, 11200 Fairfax Station Road. Originally built in 1852, the station was used as a supply base and hospital during the Civil War. The reconstructed station is a replica of the 1903 building including its separate waiting rooms. The museum, now run by Friends of the Fairfax Station volunteers, houses Civil War and railroad memorabilia and is a site on the Virginia Civil War Trails. Free admission to the museum and to the 1968 Norfolk Western cupola model caboose on tour day to HGW ticket holders. A picnic area is available. www.fairfaxstation.org
Mason Neck State Park, 7301 High Point Road, Lorton. Opened to the public in April 1985, the park is celebrating its 30th anniversary this year. On Saturday, April 25, the park will host its annual Eagle Festival, which features music, food, displays by environmental organizations, information about eagles, wildlife shows, hayrides, birding tours and activities for adults and children. In conjunction with Historic Garden Week, a spring wildflower walk Photo courtesy of The Garden Club of Fairfax 68 Fairfax County 69 Clifton - Fairfax Station through the marsh and forest on one of the park's most popular trails is featured on the day of the festival.
Note that the Alexandria tour on April 18 includes a walking tour in Old Town of five row houses with courtyard gardens in this preserved area, and refreshments at St. Paul's Episcopal Church, plus the tour ticket allows access to The Carlyle House Historic Park, Lee- Fendall House Museum and Garden, George Mason's Gunston Hall and George Washington's Mount Vernon Estate and Gardens.
More in Northern Virginia
Old Town Alexandria, Saturday, April 18
Old Town Alexandria was in 1946 the third city in the country to create a historic district to preserve its downtown. Today it has 4,000 buildings with a historic designation, according to the garden tour information.
The April 18 walking tour in Old Town includes five row houses with courtyard gardens in this preserved area, and refreshments at St. Paul's Episcopal Church.
In addition to the private properties featured, the tour ticket allows access to The Carlyle House Historic Park, Lee- Fendall House Museum and Garden, George Mason's Gunston Hall and George Washington's Mount Vernon Estate and Gardens. The tour is hosted by The Garden Club of Alexandria and Hunting Creek Garden Club.
Leesburg, Sunday and Monday, April 19-20
Leesburg was mapped and recognized by the Council of the Colony in 1758. Most of the 11 featured tour properties are located on two historic roads, Edwards Ferry Road and Cornwall Street. The neighborhoods offer a variety of architectural styles and well established gardens. Within easy driving distance are Oatlands Plantation (a restoration project of the Garden Club of Virginia), Little Oatlands, a Smithsonian Institution Archive Historic American Garden and Rokeby, where the Declaration of Independence was kept during the burning of Washington in 1814. This two-day Towne and Country tour features 11 properties and coincides with the Leesburg Flower and Garden Festival, which takes place on April 18 and 19.
Clifton and Fairfax Station, Tuesday, April 21
This self-drive tour features stables, vineyards, a world-class garden, Georgian-revival architecture, and a 10,000 square-foot contemporary home with a vanishing edge swimming pool – four private homes with gardens and two stables in all. Tour ticket includes a tea at the Clifton Presbyterian Church.
Advance Ticket Sales: $30 pp. www.vagardenweek.org. Mail a self-addressed, stamped legal-size envelope, along with your check, payable to The Garden Club of Fairfax by April 1 to Marty Whipple, 11508 Yates Ford Road, Fairfax Station, VA 22039 (703) 978-4130 or email fairfaxtickets@vagardenweek.org. Visit www.gardencluboffairfax.blogspot.com for a list of local retailers selling tickets.