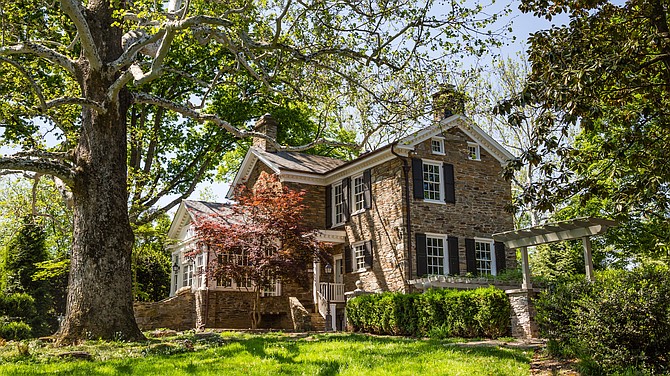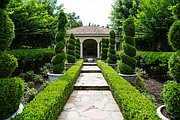 The Garden Club of Fairfax will host this year's House & Garden Tour, part of the 86th Historic Garden Week in Virginia. McLean is the site for this year's tour hosted by The Garden Club of Fairfax.
Visitors to the McLean Tour will explore five picturesque gardens and four private homes spanning four centuries. History buffs and garden enthusiasts will delight in in the mix of historic, traditional and contemporary properties.
The McLean tour on Tuesday, April 30, from 10 a.m. to 4 p.m. showcases exciting gardens, creative flower arrangements, and unusual private homes, each with intriguing stories behind them.

The tour includes a mix of historic, traditional and contemporary homes ranging from a home built in the 1750s with ties to the Revolution and used as a hospital during the Civil War, to a contemporary Japanese-influenced home built on a hillside with terraced gardens, a pool and patio that are perfect for entertaining. The tour includes private gardens with water features, sculptures, outdoor lighting and sound systems, inviting stone pathways and landscapes with mature trees including the oldest and largest sycamore tree in Fairfax County and a Civil War-era ordinary. Enjoy exploring three centuries of homes and gardens in Northern Virginia.
BIENVENUE, CHURCHILL ROAD, McLean. Previously called "Benvenue," the name of this 18th century Colonial home was reportedly changed when General Charles de Gaulle visited and said that the correct spelling was "Bienvenue," which means "welcome."
Built in 1754 using sandstone from a nearby quarry, with a later addition using material from the same quarry but of a slightly different color, the outline of the original house is still visible. Wood flooring on the main level and wood beams in the basement date from the 1750s. A new wing was added in 1929 to include a den, a large open kitchen and indoor water. French tiles on the kitchen counters and walls feature colorful hand-painted fruits, vegetables and farmyard animals. Furnishings and decorative art throughout the home combine historic, contemporary and whimsical pieces collected by the homeowner from travels and local and international sources. Union troops occupied the property during the Civil War when the house served as a field hospital. Bullets and a cannonball were found in the walls, while medicine bottles, surgical instruments and horseshoes were discovered under the carriage house floor during renovation. The homeowner added modern conveniences, incorporating original elements, and now uses the carriage house as an office. A massive sycamore tree next to the house is believed to be the oldest and largest in Fairfax County. Dr. Karen L. Kierce, owner.
OLD LANGLEY ORDINARY 1101 Chain Bridge Road, McLean. Built shortly before the Civil War, this Federal Farmhouse style building served as headquarters for Union Gen. George McCall and as a Civil War hospital. After the war it became an ordinary, or in today's jargon, a tavern or meetinghouse. Located just a few miles from the Potomac River crossing at Chain Bridge, it was an important stopping-place for travelers and for farmers transporting livestock and wagons to merchants across the river in Georgetown. After a three-year renovation, preserving the structure and character as much as possible, this two-story 6,800-square foot home is now energy-efficient with modern conveniences, state-of the-art appliances and electronically controlled lighting, temperature and music. The front door and the wood floors on the main level are original; ceiling beams are reclaimed barn wood. The homeowner's extensive collection of traditional Americana is displayed throughout. The exterior restoration maintains the original mid-1800s appearance. A wraparound porch with a screened-in outdoor living space includes a kitchen and double-sided outdoor fireplace. The original carriage house is now a guest-house with American flags, painted by the homeowner, displayed on an exterior wall. Garden beds surrounding the home feature indigenous Virginia plantings with roses, sedum, hydrangea and 900 tulips. Raised stone beds are used for multiple varieties of tomato plants. An archaeological dig yielded Civil War-era bullets, pocket knives, nails, coins, pottery and belt buckles. National Register of Historic Places. Jacqueline and Doug DeLuca, owners.
6331 Old Chesterbrook Road, McLean. Built on a hillside, the long, clean horizontal lines of natural stone, wood and glass in this contemporary home reflect Japanese influence. The homeowner designed the front gardens and entrance around a large Japanese maple. Entering the home, visitors are greeted by a view of the dramatically terraced rear garden. Walls of windows in the long open space encompassing the living, dining and kitchen areas fill the room with natural light and bring the outdoors in. Built-in appliances, storage and shelving provide a streamlined look. In addition to subtle indirect lighting throughout the home, a paper chandelier by artist Oh Mei Ma is suspended from a soaring ceiling above the dining area and the sitting room has a red Italian Murano glass chandelier. Sliding glass doors extend the indoor space out to the patio for entertaining and enjoying the privacy afforded by mature trees and plantings. The terraced garden holds annuals and perennials of varying heights, ground covers and draping vines with something always in bloom. The focal point at the top of the hill is a children's playhouse complete with Dutch doors, kitchen and skylight. Additional points of interest are a Japanese gate (Torii) built by the homeowner's parents, a standing stone Buddha and a stone birdbath in the shape of a bird in flight. Heidi Wagner, owner.
8313 Woodlea Mill Road, McLean Built in 2000, this Italianate villa with yellow stucco has a traditional orange clay barrel-tile roof. The front features European sculptured gardens with boxwood parterres, three arched doorways, balconies and veranda. Two fountains greet guests as they enter the front property. The home's gallery-like foyer features marble floors, a 20-foot ceiling and walls displaying large scale paintings, Belgian tapestries and a metallic finish bas-relief. A seven-foot bronze sculpture, "Rapture," depicting two ballet dancers stands in the foyer. The second large bronze sculpture, "Neptune," is located in the great room, centered on the Palladian window. An enormous custom tapestry hangs above the limestone fireplace in the great room, opposite a large 18th century hand-carved walnut armoire from Paris. Thirteen-foot coffered and double-barrel ceilings add architectural interest throughout the main floor. Traditional and transitional style furnishings and antiques combine artfully with traditional Tuscan décor in sunbaked hues of brown, stone, gold, russet and sienna. The centerpiece of the private rear garden is the large open-air pavilion with a clay barrel-tile roof, columned archways, a dry-stack stone fireplace, comfortable seating and a sound system. From the pavilion, a wide Tennessee buff flagstone path lined on both sides with carefully maintained topiaries in Tuscan style pots leads to a large bronze fountain. Extensive hardscaping with mature evergreens, roses, hydrangeas, crepe myrtles and other plantings creates multiple garden rooms surrounding the home. Deborah Traficante, owner.
1204 Daviswood Drive, McLean. (Garden only) More than 40 mature 'Green Giant' arborvitae provide the background, shading and privacy for this garden oasis. Designed by Mrs. Sharp and implemented over a four-year period, this formal garden features multiple garden rooms showcasing crepe myrtles, hostas, hollies, boxwood, hydrangeas, rhododendrons and ninebarks. The serenity of classical garden elements such as water features, statuary, Ionic columns, a parterre and travertine walkways is whimsically punctuated with the liveliness of modern touches presented by red umbrellas, fire pits, a butterfly bench, landscape lighting, a sound system and a hidden putting green. The home extends into the garden via a travertine terrace edged with balustrades featuring a fire pit, comfortable seating, bar area and eating area with a wide staircase inviting one to descend into the garden. The garden's centerpiece is the saltwater swimming pool area. With its six crisscrossing sprays, the pool itself doubles as a fountain delighting both ear and eye, while the eye is drawn to the far side of the pool where four Ionic columns, nestled among rhododendrons, encircle the semi-circular lounging area guarded by two reclining lion statues and accented by matching "mermaid" urns of red geraniums. Mr. and Mrs. Gregory Sharp, owners.
Historic Garden Week in McLean is Tuesday, April 30, 10 a.m. to 4 p.m. with headquarters at Trinity United Methodist Church, 1205 Dolley Madison Boulevard, McLean. Advance tickets are $40 per person online at www.vagardenweek.org, or by mail, until April 20. Tickets on the day of tour are $50 at headquarters or tour homes.
Historic Garden Week in McLean
April 30 10 A.M. to 4 P.M.
Visitors to the McLean portion of the Virginia Historic Garden Week will explore five picturesque gardens and four private homes spanning four centuries.
Headquarters – Trinity United Methodist Church, 1205 Dolley Madison Boulevard, McLean. Complimentary refreshments served from 10 a.m. to 3 p.m.


Tickets: Advance tickets – $40 online at www.vagardenweek.org, or by mail, until April 20, 2019. Tickets Day of Tour – $50 at Headquarters or Tour Homes

Questions? Google Garden Club of Fairfax or email fairfax@vagardenweek.org. For more information on this tour or to see the Historic Garden Week statewide schedule of tours, go to www.vagardenweek.org.