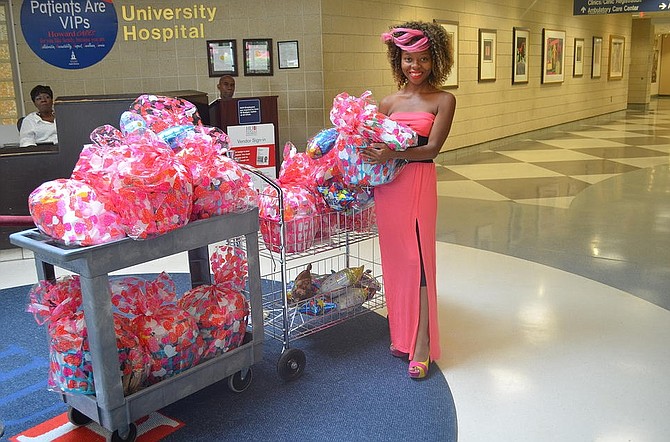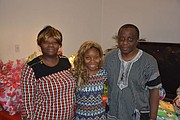 Rather than diving into the surf at a sunny southern beach, Springfield resident Sarah Musa spent the first day of her spring break delivering care packages to Howard University Hospital.
The "baskets of love," as she calls them, are for new mothers and contain essentials for going home and caring for a newborn baby, such as bibs, diapers, wash cloth, cotton balls, thermometer, medicine cup and clothing.
"I want the mothers to say 'Yes, my baby has great potential,''' said Sarah Musa, a junior studying nursing at James Madison University.
Less than a year ago, Musa founded a nonprofit foundation called Prospects In Mummy's Tummy International, with the simple but strong mantra "Healthy moms, healthy babies, healthy nations." She delivers baskets to Howard (where she was once a volunteer) and ships them to Sierra Leone and Gambia, the original homes of her father Joseph and mother Jestina, respectively.
Sarah Musa grew up seeing her parents helping others. Her father is a water and sanitation engineer who has done humanitarian work including a water management project with Doctors Without Borders in the Democratic Republic of Congo. His nonprofit organization Washfa International seeks to provide sanitation and hygiene worldwide. Musa's mother works at the Cherrydale Health & Rehabilitation Center in Arlington.
"They've always had the spirit of giving," she said.
In high school at West Springfield, Sarah Musa helped start a chapter of Girls Learn International, during which she said "I learned I had a real passion for women's rights." The group raised money for a sister school in India, working to help give more girls the chance to attend.
Then at James Madison, Musa's interest in the medical field became more honed on labor and delivery.
"It's exciting, cheering the moms on, telling them the end result is so close," she said. "It brings unity to families; it's a time of celebration."
WHEN INTERVIEWING for the Carrie Kutner scholarship at James Madison, Sarah Musa remembers being asked about her 10-year goals. Her answer included helping new mothers with supplies and building a clinic in Africa to facilitate more healthy births.
"It all starts with the mom," Sarah Musa said. "Healthy moms, healthy babies, healthy nations."
Her own mother urged her to get started sooner. "Why wait 10 years, why not start now?" Jestina Musa said. "In 10 years, you can look back and see if you had waited, you wouldn't have helped so many people."
Sarah Musa's father Joseph, having just gone through the process of establishing a 501(c)(3), helped her formalize Prospect In Mummy's Tummy and work with contacts back in Africa. To date, the Musas have shipped 228 baskets to Sierra Leone and Gambia, as well as 200 backpacks containing school supplies.
Mothers at Howard have received 50 baskets, with another 15 going to individuals the Musas know or have met in the community.
They rent an office in Gambia, staffed by a volunteer who receives and helps distribute the baskets and backpacks, and in Sierra Leone, a pastor friend does the same.
"I'm very proud, that she is also doing humanitarian action," said Joseph Musa. "In Africa, these things are a luxury."
The African Health Observatory, with the World Health Organization, reports infant and maternal mortality rates in Sierra Leone are among the highest in the world. It lists the majority of causes of death -- including nutritional deficiency, pneumonia, malaria, tuberculosis and HIV/AIDS -- as preventable but pervasive in rural impoverished populations.
Right now all the work is self-funded -- Jestina Musa shops at Wal-Mart, Target, Ross and dollar stores to buy supplies off the shelf -- but Sarah Musa is working to increase recognition of her brand and attract sponsors. She's built a website and produced pens, water bottles and promotional videos.
Sarah Musa knows finding more funding is her greatest challenge, but stays motivated by thinking of mothers and their children, "Just knowing these kids have such great potential, great futures," she said.
HER GOAL is to provide 4-500 baskets of love each year, and eventually build the clinic she told her interviewer about in Sierra Leone.
For more information on Prospects In Mummy's Tummy International, visit www.pimtinternational.org.