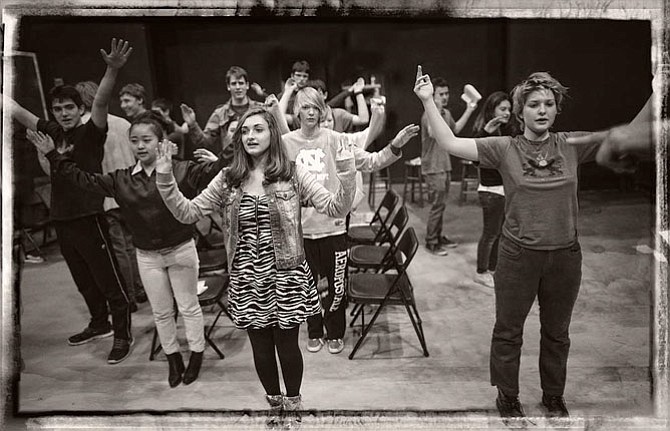 Students at The New School of Northern Virginia (NSNVA) are presenting a challenging, and controversial play this March:​ "The Laramie Project." In 1998, a young college student named Matthew Shepard was beaten and left to die in a brutal act of anti​­gay violence. ​
"The Laramie Project," a compilation of interviews conducted by Moisés Kaufman and members of the Tectonic Theater Company​ with the citizens of Laramie, Wyo., examines the aftermath of this hate crime and its effects on a small community. New School students are excited by this special opportunity, especially since the story is real and its message is important. As Nathan Grover, a junior, said, "'The Laramie Project' is a story being written by people today... it's still happening today, and we get to help write the ending."
Because of the large number of people represented in this production, each student plays as many as four different characters. This demands great flexibility from the cast. Lowell Weissman, a junior, said, "I have to change between casual, disturbed, spiteful, and relaxed in the blink of an eye."
Steve Elm, the New School theatre director, adds, "Our task is to create a recognizable, yet heightened sense of reality, one that invites and demands attention from its audience. Our big challenge is to present each character, and each staged moment, with integrity and humanity, regardless of our personal views and beliefs."
Although this play was written in 1999, its impact and message has proved to be relevant and meaningful 16 years later. The play encourages its viewers to look critically at society's attitudes and behaviors.
"The Laramie Project" is being performed from March 10​-14 at 7:30 p.m., and March 15 at 2:30 p.m. in the John Swayze Theatre of The New School of Northern Virginia, 9431 Silver King Court, Fairfax. Tickets are $10 for adults and $7 for students and are available at the door and at the box office 703­-691­-3040, 9­4 weekdays. Seating is limited and available on a first ​come, first​ served basis. The March 14 performance is sold out.
See www.newschoolva.com for more information.

Kamryn Leoncavallo is lead critic for the NSNVA's Cappies Team.