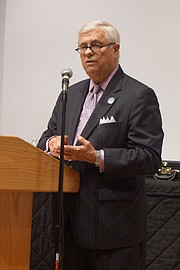 "We built one of the most effective economic agencies in region. But it was time to turn things over to Stephanie, who has been my invaluable partner in all these efforts."
— Val Hawkins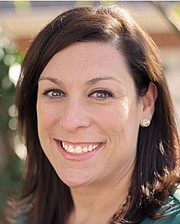 Val Hawkins, credited with luring the National Science Foundation Headquarters away from its longtime home in Ballston, stepped down effective March 15 as president and CEO of the Alexandria Economic Development Partnership.
Stephanie Landrum, the organization's chief operating officer, replaces Hawkins in an acting capacity.
"It was time to leave on a high note," Hawkins said in his first week of retirement. "We did a lot of good things with the partnership. We built one of the most effective economic agencies in region. But it was time to turn things over to Stephanie, who has been my invaluable partner in all these efforts."
Hawkins, 73, joined the organization in 2009. A resident of Alexandria for 37 years, he led AEDP's efforts to market the city to prospective businesses, including locating potential commercial real estate opportunities and negotiating tax and other financial incentives.
"Val's retirement came at the perfect time for him," Landrum said. "He wants to spend more time with his grandchildren and paint more. But he is also on the board of Carpenter's Shelter and the Art League and is chairing the Business Philanthropy Summit. His charitable efforts are a full time job so I know he'll be staying busy."
In addition to the NSF relocation to a 19-story office complex at Hoffman Town Center, Hawkins was the architect of the AEDP's Capitol Post initiative, which provides mentoring, training and business connections to veterans transitioning from active duty.
"This is an exciting time for AEDP," Landrum said. "We have had great momentum under Val's leadership along with some huge wins – the National Science Foundation, the opening of Capitol Post. We want to keep up that momentum and find new, exciting projects."
Landrum has been with the organization for 10 years.
"There is a lot of interest and appreciation today for what economic development can do for a city," Landrum said. "With the opening of Capitol Post, we are expanding our focus to start-ups and technology. These are new areas for us that came about under Val's leadership."
Along with his charitable endeavors, Hawkins plans to stay heavily involved in AEDP and the Capitol Post.
"I love this city and I am not going anywhere," Hawkins said. "What a special, special community this is. It's one of the finest jurisdictions in the country to promote and we took a lot of pride in what we doing as a team."
Hawkins stressed his support of Landrum as his successor.
"I am excited about the future for Alexandria," Hawkins said. "And with Stephanie at the helm, I know I am leaving the organization and the city in good hands."