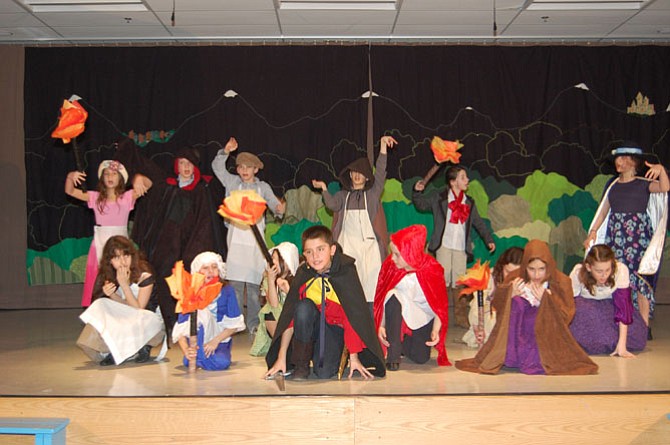 Lake Anne Elementary School's Musical Drama Club presented Beauty and the Beast, Jr. on March 19 and 20. This was their 2nd annual musical production. The 70 cast and set crew members were made up of fourth through sixth graders from Lake Anne Elementary.

Lead roles were played by Sophie Smith/Mikayla Kirr (Belle), Mikhail Goldenberg/Colin McQuarrie (Beast), Audrey Moore/Hannah Carter (Mrs. Potts), Curtis Bushée/Angel Brito (Gaston), Zion Deccio/Karina Yakubisin (Lumiere), Kieran Romano/Claire Callaway (Lefou), Sophia Young/Grace Morgan (Cogsworth), Brian Maravilla/Michael Norford (Maurice), Charlie Moore/Gillian Hales (Chip), Olivia Bryant/Samantha Burgess (Madame de la Grande Bouche), and Claire Wilson-Black/Georgia Cutrell (Babette.)

A team of about 20 parent and middle school volunteers worked together with the school music teacher to make this production possible. Musical Direction by music teacher Stephanie Draeger, PTA sponsored and produced by Grace Yakubisin, Costume Direction by Kristin Piazza, Set Direction by Shelley Bryant and Beth Hoyos, Choreography by Grace & Danielle Yakubisin, Set Construction by Neil Kirr, Set Crew directed by Sue Datoc and Garrett Piazza, Sound by John Melnick, Evan Luczko, Neil Kirr, and Janna Kirr, Rehearsal and Production Assistance by Jen Hales, Rebecca Burgess, Emma Goldenberg, Cheryl Luczko, Stacy Bushée, Sarah Perreira, Delaney Kirr, Dillon Melnick, and Dylan Hoyos.