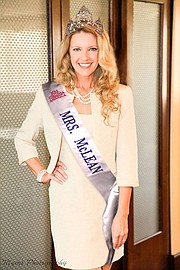 Lifelong Mclean resident Mary Carolyn Becker wears many hats, and soon she hopes to add a crown. Becker, mother of six, University of Maryland Ph.D. candidate, current Mrs. McLean, and commercial space industry statistician, hopes to become the next Mrs. Virginia on March 28 during the 27th annual Mrs. Virginia beauty pageant.
Becker and her husband were married in 2012 and have a blended family with six children, most of them in their teenage years. She got her start as a Washington Redskins Cheerleader during the 1995 season. After just one season she decided to pursue a career in mathematics, obtaining her bachelor's degree from James Madison University, her master's at Marymount University, and is currently a statistics Ph.D. candidate at the University of Maryland. In addition to working as an adjunct professor at the University of Maryland, she spent many years as a statistician in the commercial spaceflight industry.
"I was working with my personal trainer one day when he suggested I get into pageants," said Becker, "and it has been a great motivator for me to stay healthy and stay in shape."
Her pageant platform is a message that has become prevalent across all forms of media; "Don't text and drive." As the mother of six teenagers, four of driving age, it is a cause that hits close to home.
"It's important for me to model the right behavior for my children," stated Becker, "and to remind people that texting can always wait."
According to textfreedriving.org you are 23 times more likely to be involved in a car accident if you use your phone while driving. As a result 41 states have laws banning texting and driving, but last year 13 percent of drivers age 18-20 involved in car wrecks admitted to texting on their phones at the time of the crash.
Another important tenant of Becker's pageant platform is her dedication to encouraging girls to enter into STEM careers. Becker is currently a member of Science Cheerleaders, a group of current and former professional cheerleaders pursuing science careers and playfully challenging stereotypes.
"The Science Cheerleaders are a great culmination of everything I have done in my life," mused Becker, "I want to encourage all women who are interested to get involved in math and science, I think often it's a self esteem issue more than anything, and women are usually better than they think they are."

If Becker claims the Mrs. Virginia title on March 28 she will advance to the Mrs. American pageant to compete with other married contestants from across the country.