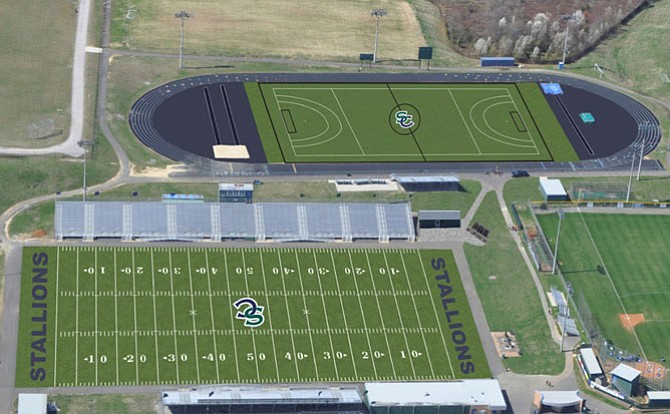 South County High School is looking for real green to transform into artificial green. The school plans to replace two natural grass fields -- the football stadium and track -- with artificial turf that can withstand increased foot traffic and play during rain or snow, and cost less to maintain.
"Bringing these fields to our community is much needed," said Leah Conte, South County director of student activities. "It will allow use for our community and high school teams, classes, band -- so many things that are going to benefit from the multi-purpose surface."
Whereas with grass the school must limit how much the field is used to preserve plant life, artificial fields are seen as an attractive option because they can be used much more regularly. This would allow area youth groups, such as the South County Athletic Association, and other recreational leagues to take advantage of the facilities.
Fairfax County schools and parks currently have close to 50 rectangular synthetic turf fields.
According to Conte, the grass surfaces at the high school cost between $50,000 and $60,000 to maintain each year, while the synthetic fields maintenance should be $15,000 to $25,000 per year.
The artificial fields typically have a 10-year lifespan before they need to be replaced, but the schools account for this by putting money into a fund each year to cover the eventual cost. Even with the replacement fund, Conte said the artificial alternative should "absolutely" save money in the long term over natural grass.
Cost for the initial installation is estimated at over $1 million dollars, of which South County is responsible for half while Fairfax County will fund the other half. To cover its share, the high school has partnered with the South County Athletic Booster Club and South County Athletic Association to raise money through raffles, galas and other activities. The booster club jump-started the TURFSOCO campaign over a year ago with an initial donation of $50,000.
With an additional pledge from Gold's Gym in Lorton, South County reached its first major fundraising goal of $400,000 by Jan. 31, the deadline to move forward with a spring bidding process for contractors. The bid selection should take place in mid-April.
By July, Conte said, they still need to raise another $75,000 that will help cover the costs of protective netting, new field lines and bleachers. Installation is scheduled to begin in June.
For more information or to contribute to the fundraising effort, visit www.turfsoco.org. A fact sheet explaining more about the synthetic turf used around Fairfax County can be found at www.fairfaxcounty.gov/parks/plandev/syntheticturf.htm.