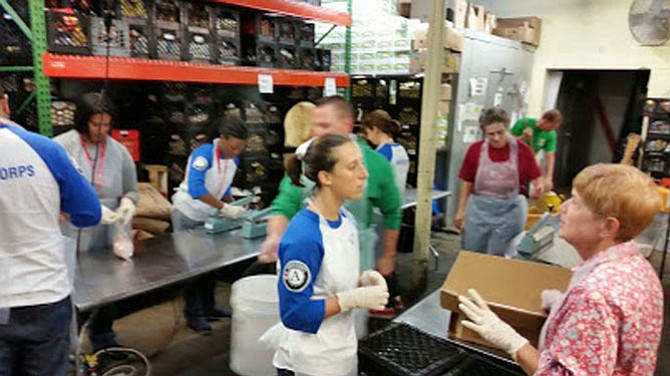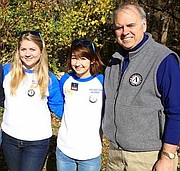 Details
Applications are now being accepted for the 2015-16 Arlington Works! AmeriCorps program year in Arlington, (beginning on or about September 1, 2015) from service-minded people who want to make a difference, gain experience with a diverse population, and learn new skills. Applications are available at http://www.arling...">www.arlingtonwork....
AmeriCorps members pledge to get things done for America. When they embark upon their year of community service, they vow to unite fellow Americans and strengthen communities. The now eight-member Arlington Works! AmeriCorps team has been doing just this since the partnership started in 2011. This year's Arlington Works! team is the fourth AmeriCorps team to work with two non-profits, the Arlington Education and Employment Program (REEP) and Edu-Futuro, a partner program of Arlington Public Schools that sets out to ensure opportunities for children of immigrant families.
AmeriCorps is a national service program run by the Corporation for National and Community Service, a federal agency that organizes and runs a number of volunteer programs around the country. AmeriCorps matches volunteers with participating non-profits, schools, public agencies and community and faith based organizations. The Arlington Works! team is special because it works with not one such program, but two.
"The Arlington Works! AmeriCorps program is a partnership between the Arlington Education and Employment Program (REEP) of the Arlington Public Schools and Edu-Futuro, a community-based non-profit organization," REEP director Suzanne Grant said. "REEP provides English and life skills instruction to adult immigrants in Arlington while Edu-Futuro sets out to empower and enhance opportunities of children of immigrant families, specifically related to going to college. Arlington Works! also collaborates with the Arlington Employment Center and the Arlington Partnership for Affordable Housing."
Grant added that REEP has students from more than 60 countries of origin.
This 2014-2015 AmeriCorps team provides a full-spectrum of services to immigrant families.
"Five of the eight members focus on teaching English, life skills and computer skills to adult immigrants," Grant said. "The three others are primarily with Edu-Futuro, working with elementary through high school aged students, from teaching leadership skills to applying to college."
The volunteers also work at the Arlington Employment Center, working with clients through the entire job-seeking process, from crafting a resume to respond to online job postings.

THE EDU-FUTURO PROGRAM provides a series of workshops and leadership programs. When these students are high school seniors, they can access a program that pairs them with mentors for the college planning process.
"These mentorships are one-on-one, and the volunteer helps the high school senior with college applications, the essays, and finding scholarships," Grant said. "Those are the core things."
Grant has been working with the AmeriCorps volunteers since the beginning of the ArlingtonWorks! program, when she was a part of the decision to apply for AmeriCorps support. The program continues to grow in both its membership and the people in Arlington it affects. This is the first year that AmeriCorps provided eight volunteers to Arlington Works! Previous to this year, the team was comprised of seven members each year.
"We have eight AmeriCorps members for the program," Grant said. "They are full-time volunteers who receive a stipend of $13,300 a year. Their service helps us achieve our goals, the primary ones being to help Arlington attain skills needed for greater economic and academic success."
The job search is a difficult, roller-coaster of a process for anyone, so not having fluent English skills in your back pocket makes it even harder. The AmeriCorps volunteers who work at the Arlington Employment Center are doing rewarding work and making an invaluable difference in their clients' lives by fixing some of these deficits.
"At the time Arlington Works! started, we felt it was time to expand services to low income students in gaining them greater academic success," Grant said. "One group that hasn't recovered from the 2008 recession are adult English language learners. They still suffer from fairly high unemployment rates and it has to do with gaps in language abilities and computer skills. For the youth, being able to get into college will help pull them up. Our goal was and is education and enhancement, and that's why we decided to apply to AmeriCorps."
While helping both the adults and youth of the immigrant community, the eight AmeriCorps members in Arlington are also touching the entire surrounding community in other ways.
"On Martin Luther King Day, we partnered with the Arlington Partnership for Affordable Housing to clean up the Columbia Grove apartment sites," Grant said. "We have also adopted a stretch of road as an Adopt-a-Street program through Arlington County. We are working with the community as well as within our own programs."
The Arlington AmeriCorps volunteers will also be hosting a Red Cross blood drive on May 8 at the Syphax Education Center on Washington Boulevard.
ALL THE WORK the volunteers do, in and outside of their assigned posts, strengthens ArlingtonWorks! programming and the community.
"We have seen the program grow since partnering, particularly with regard to strengthening services for job seekers," Grant said. "Many of the members have worked over at the Employment Center, so they gain a lot of skills helping people find jobs and they bring that back into the classrooms for adult students and workshops for high schools. These volunteers are serving and learning and then bringing it back here."
Members of last year's Arlington Works! AmeriCorps team can speak to how beneficial the program is — both to the people they serve and for the volunteers themselves.
Kyle Huggins's year of service was last year, from 2013 through 2014. Now, the Alexandria resident is a contractor for Deloitte, but he said he will always remember his year with Arlington Works! fondly.
He said because Arlington Works! partnered the AmeriCorps volunteers with two programs, his experience was unique and especially fulfilling.
"I did a couple of different things," Huggins said. "The cool thing about Arlington Works! is that it is different from other programs because many others only work with one non-profit. This is two, with the Adult English program and the Emerging Leaders Program [of Edu-Futuro]. I got to dabble in a lot of different things, though my main duty was with the Emerging Leaders Program."
The Emerging Leaders Program is through Edu-Futuro, and Huggins was a mentor in both ELP-1 and ELP-2 courses. In just one year, Huggins saw firsthand how he changed futures.
"ELP-1 is a seven-week course on evenings and weekends so high school students can learn more about the college education process, and learn how their future career goals can really be within reach," Huggins said. "With ELP-2, I mentored five different high school seniors through the college application, and scholarship and financial aid application, processes. Four of the five students I worked with received so many scholarships that they didn't have to pay tuition at all."
Huggins was able to not only provide emotional support, but was also able to be a resource for the students in teaching them what is and what is not manageable college debt.
"The most impactful part of my experience was working with these students," Huggins said. "They had the grades and the drive and some of them were so concerned that their parents couldn't even afford community college in the beginning. Some of them were so concerned that their parents didn't have savings and they did not really understand how the financial aid system works."
Arlington resident Katrina Benson also served with Arlington Works! for the 2013-2014 term. She was one of the volunteers who worked as an adult ESOL instructor. She learned a lot both in and out of the classroom.
"I worked on the REEP side as an adult ESOL instructor," Benson said. "My main responsibilities were teaching intermediate English classes. It was a great experience. I learned so much and it was a great opportunity for personal and professional growth. Adults would bring their personal life experiences to the classroom and everyone was from somewhere different, so we all learned from each other."
Benson said her experience with AmeriCorps has already influenced some of her career decisions. She is now a resident services coordinator with Arlington Partnership for Affordable Housing.
"Arlington Works! definitely prepared me for my job now," she said. "With that atmosphere for personal and professional growth, we were allowed to experiment with self-expectations in the workforce so I was able to set my own personal and professional goals and that experience in my year of service set me up perfectly. APAH has a partnership with Arlington Works!, so I see a lot of my former students. One of the buildings I am based at now is actually where I taught a class."
She said that the program opened her eyes to a population of people she wants to work with in the long term.
"It made me realize that I want to work with the immigrant and refugee population," Benson said. "In this realm there are so many service opportunities, so doing that year of service made it a pillar for me to always strive for."
Across the United States, more than 75,000 AmeriCorps members serve a multitude of non-profit organizations. And, this class of Arlington Works! volunteers make 29 volunteers that have volunteered thousands of hours with the immigrant population of Arlington, helping to enhance lives with leadership skills, educational and job opportunities.
The Arlington Works! alums too have had some excellent opportunities while volunteering. It is certainly quite different from the standard career path that many recent graduates choose.
"My favorite part of doing my AmeriCorps service, besides working with some really great people for a really great cause, is that I was interested in the personal development," Huggins said. "I graduated from college in 2011, I had worked in a law firm for two years, and to put it mildly, my work was very routine there. I didn't feel challenged in seeking solutions to problems, so when I came to AmeriCorps, I was really looking for a way to challenge myself and solve problems and putting my efforts to doing so. Part of my job now at Deloitte is finding solutions and helping to articulate them and that is one of the elements I enjoyed doing the most last year in AmeriCorps."