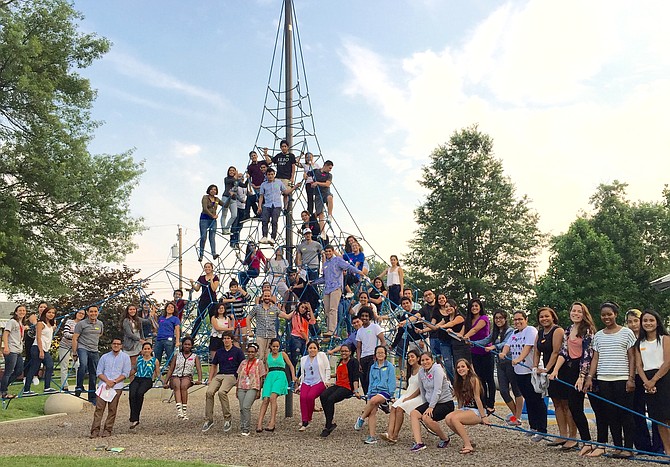 Edu-Futuro had to temporarily shut down their programs for youth and families that had been held in person at Arlington schools. But Jorge Figueredo quickly set up a team to bring the programs online.
"It's been intense and crazy." Jorge Figueredo, Executive Director of Edu-Futuro, says, "I've been working 12-14 hour days. After schools closed, we started thinking about the families with children at home and non-essential businesses closed. We had to focus on the most important."
Figueredo says they have 1,700 families in their database. "I set up a team to develop an assessment and after that a separate group to create a resource bank. It was time-intensive, but I had the assessment team start calling everyone in our database to develop an assessment."
The assessment asked: "Have you lost your job; will you need rental assistance; do you need food or medicine or Internet connectivity?"
Figueredo says out of 786 calls, they were able to reach 401 families. Out of those families they got information for 217 families in Arlington.
"There is a lot of fear in the immigrant community. We were asking personal questions, and some people wouldn't talk to us." He says one woman emailed her graduation picture to Edu-Futuro and had them send it back to her to prove Edu-Futuro was who they said they were.
They found 172 parents in Arlington and were able to refer 114 to the Arlington Department of Human Services.

Of the remaining 58 families, 47 parents or 81 percent were having problems paying rent; 29 parents or 50 percent had lost their job; 28 families or 48 percent needed food, clothing or shelter. "By the end of [April], 44 of those 58 will receive services. … We will keep calling the parents we didn't reach before."
He says, "We are part of the safety net in Arlington, Fairfax and the City of Alexandria. First we refer the families to the hotlines in each location, then follow up with instructions on how to obtain relief." Edu-Futuro encounters a number of people who don't have the literacy to follow instructions to obtain relief. "For instance, they don't have the level of understanding to show proof of a lease for rental assistance. They may not know what a W-9 is or where to get it."
"Then we hold hands to help them and give them extra support. DHS provides services but we have identified different situations. That's when we kick in. We may provide a three-way conversation in Spanish to help them find the documents and how to submit them on-line."
Some families may be undocumented or fall through the cracks. They may be living in a room in a house where everything is done by word of mouth. "So to get them the proof for rental assistance we have to look at their lease and be creative, to adapt to the needs and create different documents that can serve as backup."
Figueredo says they set up a task force for the crisis. Through $20,000 in assistance from the Arlington Community Foundation, Edu-Futuro established an emergency assistance fund, and they have been raising dollars for families falling through the cracks.
Figueredo also set up a team to bring their programs for youth and families online. Edu-Futuro supports programs and services for the most vulnerable Hispanic youth and other immigrants to make sure they don't drop out of school, and help them to graduate on time and go to college. They also run parental programs to empower parents to support their children and become advocates at school. These programs had been offered in the evenings with childcare and food support. "We were able to resume the youth programs online April 19."
Edu-Futuro also offers case management for the families. This could involve food and rent "or if they need to improve their English or have a little baby who needs health insurance." Figueredo said when the pandemic hit, "We had to reinvent. We hit the brakes and did a 180 degree readjustment." Edu-Futuro had to refocus resources from programs for youth and families to the greatly increased need for help with rental assistance, food and other basic needs.
He has 15 on the staff said they were able to keep everybody on board by reconfiguring their resources to meet the increased need for case management. In order to accomplish this, Figueredo says he had to contact the county to get permission to repurpose the contracts to help them build capacity for the needs caused by the pandemic.
"Since we weren't spending as much on mileage, food and daycare for the parents' programs we repurposed our dollars to hire four part-time workers (three for Fairfax and one for Arlington) to increase the case management for emergency services.
"But we need more."
ARLINGTON OFFICE
2110 Washington Blvd. 3rd floor Arlington, VA 22204
Office Phone: (703) 228-2560
Email: info@edu-futuro.org
FAIRFAX OFFICE
6540 Franconia Rd. Room 170 Springfield, VA 22150
Office Phone: (703) 924-8316