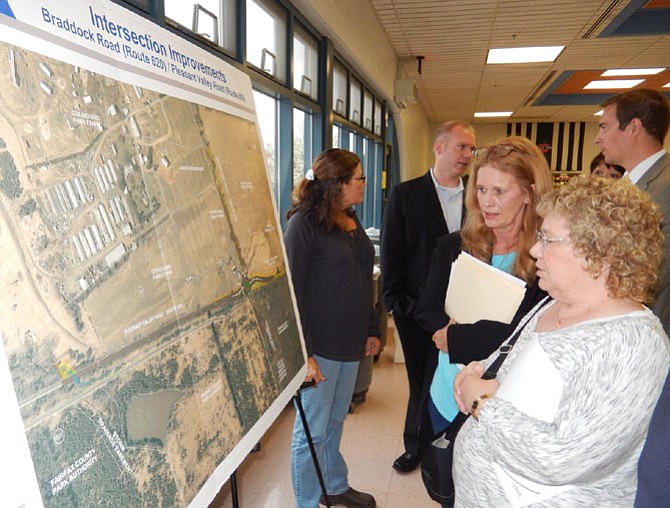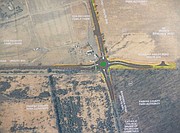 Despite the objections of many local residents, work is now beginning on the roundabout at the Braddock /Pleasant Valley roads intersection beside Cox Farms in Centreville.
Near the Fairfax/Loudoun counties' border, that intersection regularly backs up at rush hour. So, at Loudoun's urging, VDOT's constructing a traffic circle there to move vehicles through more quickly.
Funded by a combination of Loudoun, state and federal money, the estimated project cost is $5.8 million. Fort Myer Construction Corp. is doing the work and completion is expected by spring 2016.
Those living in homes along Braddock and Pleasant Valley say they won't be able to get out of their streets due to the steady stream of Loudoun drivers on both roads. They believe a roundabout will dramatically favor Loudoun residents, to the detriment of Fairfax drivers.
But according to Supervisor Michael R. Frey (R-Sully), other Sully District residents have wanted that intersection fixed for years. And ultimately, the decision was up to the Commonwealth Transportation Board, which green-lighted the project.
On April 14 at Stone Middle School, VDOT held a meeting to present information about the roundabout. Project representatives discussed the construction schedule and what residents may expect while the work is being done.
Steve Udzinski, with WBCM Highway Construction – Fort Myer's primary designer – explained each phase of the project. Phase one, he said, is "to do the drainage culvert and ditch off of the roadway, so it shouldn't impede traffic. We'll also do temporary paving along Braddock and Pleasant Valley roads to be able to later maintain two lanes of traffic on these roads in all directions."
During phase two, he said, "We'll maintain the existing traffic patterns north of Pleasant Valley Road." He also noted that some phases could take anywhere from a couple weeks to a couple months.
Udzinski said phase three will involve "switching traffic to other lanes, during nights and weekends, to the west side of Pleasant Valley Road while Braddock Road drivers use the temporary pavement. There'll also be right-turn construction, plus curb-and-gutter work along Pleasant Valley."
In phase four, Pleasant Valley traffic will be on a shifted alignment. But motorists on Braddock will have been shifted to the south. Phase five will feature the actual construction of the roundabout.
"Barrels will delineate the work-zone areas," said Udzinski. "We'll build the center island and then the splitter islands and then do the final pavement and markings. We're also doing a trail connection to the intersection. There'll be a crosswalk across Braddock Road and a sidewalk along the Cox Farms property."
He said some landscaping will be done in the center island. And, added Udzinski, "Storm drains we'll build will carry the outfall to the east side of Pleasant Valley Road to a culvert we'll be constructing."
The roundabout, itself, will be just larger than a 90-foot circle. (It's measured from the outer third of one side of the intersection, through the center of the circle, to the outer third of the other side of the intersection).
Pleasant Valley runs north-south, and Braddock runs east-west. Virginia Run's Tami Troscianecki asked what the level of service will be for motorists after the roundabout's up and running. VDOT Project Manager Mark Gibney said it will be "mainly B, except for eastbound in the morning and southbound in the evening — both of which will be at level D. Now it's an F."
Since traffic movements inside a roundabout can be confusing, one woman suggested that VDOT make a You Tube video in different languages so people will know how to drive in a roundabout. Shirlene Cleveland, representing VDOT's design-build team, said they could put one on the project Web site, http://www.virginiadot.org/projects/northernvirginia/braddock_and_pleasant_valley.asp.
She also said the roundabout work won't interfere with Cox Farms's daily operation or fall festival, which attracts thousands of people from throughout the Washington Metropolitan area.
Construction will occur Monday-Thursday, 9:30 a.m.-3 p.m. and 9:30 p.m.-5 a.m.; Friday, 9:30 a.m.-2 p.m. and 10 p.m.-8 a.m.; Saturday, 10 p.m.-8 a.m.; and Sunday, 10 p.m.-5 a.m. Work is not permitted on the weekends during the daytime.
Yet, even though the project's moving ahead, not everyone is happy about it.
"For 40 years, Fairfax County's policy was to take external commuter traffic from other jurisdictions and route it down arterial roads, such as I-66 and Routes 28, 29 and 50," said Sully District Planning Commissioner John Litzenberger. "But this sets a precedent by taking commuter traffic from Loudoun County and routing it through residential neighborhoods. My fear is that this will open Pandora's Box for Franklin Farm Road, Union Mill Road and others to be treated the same way."
Agreeing, Ted Troscianecki said, "Doing this project will push the problem eastbound during the morning rush. And what'll be done about the dangerous S-Curve [just east of Braddock Road] to make it safer?" Terry Yates, VDOT's preliminary-engineering manager, said it'll be looked at.
Also concerned about the roundabout is Sandi Croan of Centreville's Pleasant Forest community. But she's willing to give it a chance. "I come home from work west on Braddock Road, and I live on Pleasant Forest Drive — the last left [turn] coming west before the intersection," she said. "So I'm directly affected by this project."
"Before the Route 50 widening was finished, traffic backed up to Old Lee Road at the evening rush, and it took 12 minutes to drive the 30 seconds to my street," she continued. "Route 50 has helped, so the traffic's not as bad now."
So, said Croan, "If this roundabout works, I'll be thrilled. But I would have preferred a traffic light, and I'm worried that the speed of the traffic will be increased. People turning right from Pleasant Valley Road and bypassing the roundabout will be driving faster because they'll no longer have to stop at a stop sign. So there'll be a steady stream of traffic going east on Braddock and I could have a hard time coming out of my street. But we'll see — the jury's still out."