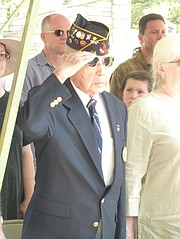 It was first known simply as "Soldiers' Cemetery." Established in 1862 as one of the original 14 national cemeteries, Alexandria National Cemetery features a historic superintendent's lodge designed by U.S. Quartermaster Gen. Montgomery C. Meigs and is the final resting place of the four civilians who died in pursuit of President Abraham Lincoln's assassin, John Wilkes Booth. On May 25, members of American Legion Post 24 will lead the cemetery's Memorial Day wreath-laying ceremony in honor of those who have served the nation.
Older than its more famous neighbor in Arlington, the Alexandria National Cemetery is the final resting place for more than 4,000 individuals including five "Buffalo" soldiers — African American soldiers who served in the 9th and 10th U.S. Cavalries and the 24th and 25th U.S. Infantries.
The Memorial Day program will begin at 11 a.m. at the flagpole plaza located within the cemetery. Guest speakers will include Col. Derek Donovan, USMC (ret.), vice president of programs and community relations at the Fisher House Foundation, and his wife Kathryn, an active duty captain currently serving at Naval Facilities Headquarters in Washington.
Prior to the ceremony in Alexandria, members of Post 24 will lay wreaths at the World War II Memorial, Vietnam Veterans Men's Memorial, Vietnam Veterans Women's Memorial, Korean War Veterans Memorial, Alexandria World War I Memorial and the Confederate Soldiers Memorial. At the cemetery, post members will honor six past commanders and a Union Unknown Soldier by placing a wreath on their graves.
All are invited to attend the ceremony, which is open to the public. A small reception will follow at American Legion Post 24 on Cameron Street.