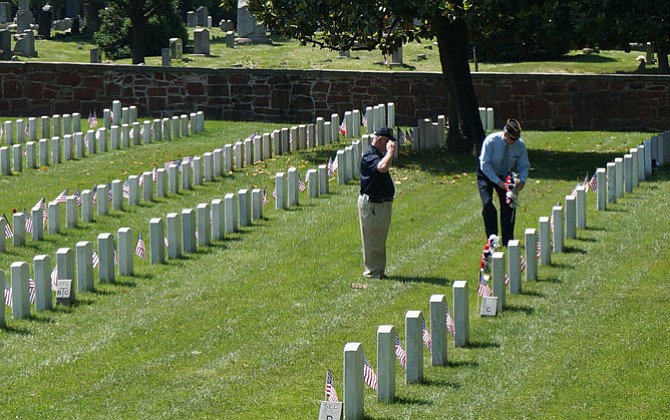 See more photos from Alexandria National Cemetery on Facebook.
Alexandrians gathered from across the city May 25 to honor the sacrifice of America's fallen service members in Memorial Day ceremonies held at Alexandria National Cemetery in Old Town and the Rocky Versace Plaza and Vietnam Veterans Memorial in Del Ray.
Dating back to 1862, Alexandria National Cemetery is the final resting place to more than 4,500 fallen soldiers, including six past commanders of American Legion Post 24 who were remembered by their comrades during a wreath-laying ceremony.
"God has blessed me to be able to be here today," said Kim Ching, 90, a retired Air Force colonel who served in World War II, Korea and Vietnam.
Prior to the ceremony, members of Post 24 placed wreaths at the World War II Memorial, Vietnam Veterans Men's Memorial, Vietnam Veterans Women's Memorial, Korean War Veterans Memorial, Alexandria World War I Memorial and the Confederate Soldiers Memorial in honor of those who have served the nation.
In Del Ray, West Point classmates of Alexandria native Rocky Versace placed a wreath in remembrance of the Medal of Honor recipient prior to the reading of the 67 names of local service members who were killed or are still missing in action in Vietnam.
"So many have made the ultimate sacrifice for our freedom," Ching said. "We need to remember them today and every day."