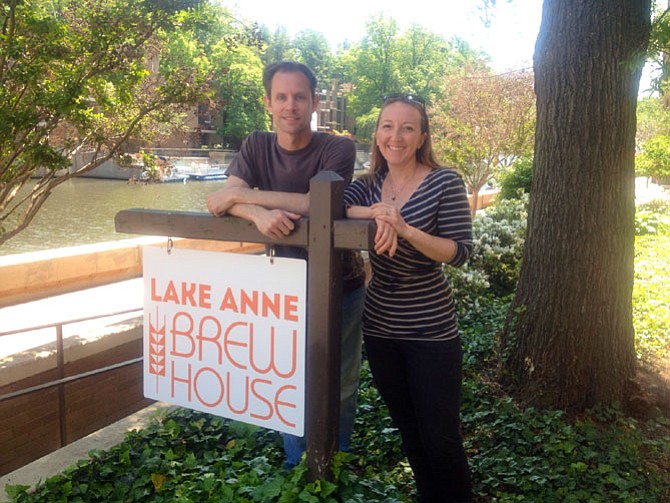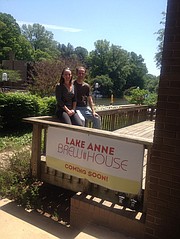 Reston residents Melissa and Jason Romano purchased a retail space at 11424 Washington Plaza, where they will open Lake Anne Brew House, a nanobrewery. Thirst for local beer and new regulatory attitudes towards brewing have encouraged entrepreneurs to begin craft beer operations across the country. Nanobrewing gives homebrewers an opportunity to enter the commercial market.
"Our plan is to stay small so we can brew what people ask us to brew," said Melissa Romano. "We will be able to cater to our community and provide what they want." The location was formerly occupied by Singh Thai restaurant, which moved across the plaza to 1633 Washington Plaza, the former Jasmine Cafe space. Melissa and Jason agree they have had tremendous support from the local community. "The local brewery community has been very helpful, they all want us to succeed, there is not a feeling of competition," said Jason.
A nanobrewery is a small microbrewery operation producing fewer than three barrels (typically 31 gallons or two kegs) at a time. Lake Anne Brew House will have a bar and inside seating, as well as seating on the deck overlooking Lake Anne. Under Virginia law, breweries can sell pints of beer on site without the need for food service. Lake Anne Brew House will work with local restaurants and caterers so patrons can order food items. The tap room will be open for happy hours, and have limited hours, specifically marketing the farmer market. The Reston Farmers Market at Lake Anne Village begins in May and operates until late October on Saturdays from 8 a.m. until 12 noon.
Jason has been a home brewer for over 20 years, and has certification from the American Homebrewers Association to judge brewing contests. "We always knew we wanted to be business owners at Lake Anne," said Melissa. Changes are expected in Lake Anne as the Fairfax County Board of Supervisors gave final approval to Lake Anne Development Partners' project to revitalize Crescent Apartments and the Lake Anne area. The project will be built in three phases, starting as early as December 2015.
Local residents look forward to the new nanobrewery. "This is a great addition for Lake Anne, welcome Melissa and Jason," stated Ken Kneuven, president of the Reston Association. While renovations for the brewery continue, the couple is preparing their flagship beers and a seasonal line. Both Melissa and Jason look forward to being part of a new Fairfax County craft beer trail including Caboose Brewing Company in Vienna, and the Aslin Beer Company which will open at Herndon's Sunset Park. The sites will be in proximity to the W&OD Trail, a 45 mile regional park which runs from the Shirlington section of Arlington County to Purcellville, in western Loudoun County.