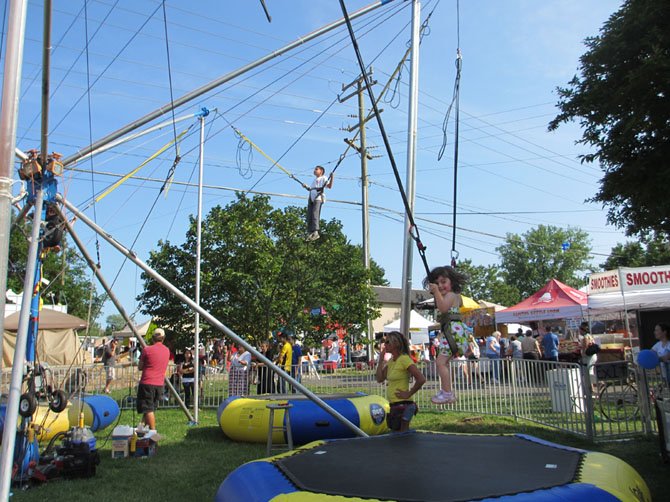 Friday/May 22
City of Fairfax's Rock the Block. 6-9 p.m. Old Town Square, Old Town Fairfax. Gonzo's Nose, most popular party band in the national capitol area. Perform cover songs, which range from the early 80's up until songs that hit the radio just yesterday.
Herndon Friday Night Live. 6:30 p.m. 777 Lynn Street, Herndon. Listen to great music on Friday nights during the summer. Visit herndonrocks.com/schedule.php for more.
Great Decisions Series. 2 p.m. Reston Regional Library, 11925 Bowman Towne Drive, Reston. A roundtable discussion on the U.S.foreign policy process. May's topic is U.S.Policy Towards Africa. Discussion materials will be available two weeks before the event.
Artist Growth Path. 9 a.m. - 9 p.m. Hunters Woods Gallery, 2310 Colts Neck Road, Reston. Bob Kaminski is a sculptor and painter who lives and works in Reston. His works emphasize the relationship between the human experience, spirituality and different philosophies that exist around the globe. Each of his works tells a story and encourages the viewer to view and interpret the piece based upon the viewer's life experience. Many of the paintings reflect an abiding interest in different cultures, ethnicities, spirituality and the human /divine interface.
Brides Against Breast Cancer. 6 p.m. Shertaon Reston Hotel. Brides Against Breast Cancer is a national nonprofit that tours the country selling donated wedding gowns with the proceeds directly going towards programs and services for people who are impacted by cancer. Tickets: $5. http://www.bridesagainstbreastcancer.org/index.php?src=gendocs&ref=Reston%2C+VA+-+May+2015.
"The Sleeping Beauty." Friday: 7:30 p.m. Sunday: 2 p.m. Reston Community Center Stage, Colts Neck Road, Reston. This classic fairy tale is rarely performed. Children and adults of all ages will delight at the spectacle of color as the beautiful fairies attempt to protect Princess Aurora from the evil sorceress, the Cruel Fairy Carabose. Audiences will thrill at the wedding scene where many of the most popular fairy tale characters are brought to life.... Little Red Riding Hood and the Wolf, Puss and Boots, Cinderella, Princess Florina and the Bluebirds. Call 703-437-9664 for ticket information.
Friday-Sunday/May 22-24
GI Film Festival. Angelika Film Center, 2911 District Avenue, Fairfax. The nation's only military film festival. Cinematic stories of mothers, daughters, fathers, wives, brothers and more. GIFF15.com.
Saturday-Monday/May 23-25
Viva! Vienna! Saturday & Sunday: 10 a.m. - 10 p.m. Monday: 10 a.m. - 6 p.m. Vienna's largest festival sponsored by the Rotary Club of Greater Vienna, returns to the historic Church Street corridor for three days of family fun, including carnival rides, diverse food, live entertainment for children and adults and more than 300 vendors selling crafts, services, jewelry, children's toys and books, novelties. Admission to the festival is free, rides are not. Visit www.vivavienna.org for timings.
Saturday/May 23
Colvin's Dance for Everyone. 6:30 p.m. - 11:30 p.m. Colvin Run Community Hall. DJ music mix of contemporary and classic dance music including west coast swing, east coast swing, hustle, latin, country western 2-step, waltz and more. $12 per person includes optional lesson, dance, soda and snacks. 703-435-5620. EdCottrell@MACP.org.
Vienna Farmers Market. All day long. Faith Baptist Church, 301 Center Street S., Vienna.
Wagon Ride - Journey to the Pond. 10 a.m. Riverbend Park, 8700 Potomac Hills Street, Great Falls. Frogs, tadpoles and water critters abound in the pond. Journey to see what's hopping, splashing and swimming. Children must be accompanied by a registered adult. Fee: $5-$7.
Wagon Ride to the Poohsticks Bridge. 10 a.m. Riverbend Park, 8700 Potomac Hills Street, Great Falls. Children must be accompanied by a registered adult. Journey through the woods to Poohsticks bridge. Listen to Winnie the Pooh's story and play Poohsticks on the bridge. Fee: $5-$7.
Cars & Coffee. 6-9 a.m. Katie's Coffee House,760 Walker Road, Great Falls. A gathering of antique, custom, hotrods, exotic and sports car.
Falls Walk. Great Falls National Park, 9200 Old Dominion Drive, McLean. 12:30-1 p.m. Join a ranger for a fun 30 minute stroll along the stunning vistas of Great Falls. Explore the natural and historical features of Great Falls that make this a timeless wonder.

Legos in the Library. 2 p.m. Great Falls Library, 9830 Georgetown Pike, Great Falls. Be creative with legos. Legos provided. Age 5-12. http://www.fairfaxcounty.gov/library/branches/gf/.
Author Talk with Veronica Li: Confucius Says. 10:30 a.m. Patrick Henry Library, 101 Maple Avenue, East, Vienna. Author Veronica Li discusses her new novel, Confucius Says. A middle-aged Chinese American woman dutifully takes her parents into her home in Northern Virginia. Books will be available for sale or signing. Adults. http://www.fairfaxcounty.gov/library/branches/ph/
Salute the Troops: The Reston Chorale Patriotic Sing-Along. 2 p.m. Reston Town Center, 11900 Market Street, Reston. The Reston Chorale will be saluting America's troops and honoring those who serve with a patriotic sing-along. The Reston Chorale is also collecting items for care packages to send to troops deployed overseas. Attendees are encouraged to bring donations of items such as single-serve snacks; powdered drink mixes; non-aerosol, unscented toiletries; paperback books and magazines; hand-held games (and non-lithium batteries), and playing cards. For more information, visit www.restonchorale.org or call 703-834-0079.
Reston Community Center Coffee Day. 9-11 a.m. Lake Anne Village Center, 1609 Washington Plaza North, Reston. Enjoy complimentary food with casual conversation.
PetMAC Cat Adoptions. 12-2 p.m. PetMAC will host Cat Adoptions with Homeless Animal Rescue Team (HART). They will have all kinds of great kitties and cats available for adoption at PetMAC. Stop by and meet these furry felines. www.petmac.org.
Latin Explosion 2015. 7 p.m. GMU Patriot Center, 4400 University Drive, Fairfax. Yandel, known as part of the urban music duo Wisin y Yandel, is also known for his solo efforts including the hit singles "Hable de Ti" and "Hasta Abajo". J. Alvarez, another Reggaeton artist, recently released his fourth album, De Camino Pa La Cima Reloaded, featuring collaborations with artists Tego Calderon, Wisin and Zion & Lennox. Andy Andy, known for his bachata style of music, will also hit the stage. Additional artists Alexis y Fido, Ivy Queen, Zion & Lennox, De La Ghetto, Angel & Khriz, Yowell & Randy, Messiah, Jory Boy, El Chevo and Sahara. Tickets: $35-$185. www.ticketmaster.com.
Screening of Big Dream. 1 p.m. GMU, 4400 University Drive, Fairfax. Big Dream is a documentary film that follows the stories of seven young women in technology fields around the globe. Each story takes a look at these young women's ambitions and how they overcome personal challenges to pursue careers in STEM fields. Free.
Springfield Smart Markets Farmers Market. 10 a.m. - 2 p.m. Springfield Town Center, at the corner of Loisdale Road and Spring Mall Drive. Fresh local fruits and veggies.
Saturday-Sunday/May 23-24
Fairfax Swimming Pool Open House. 12-4 p.m. Fairfax Swimming Pool, 4200 Roberts Road, Fairfax. The public is welcome to visit the pool. Free moon bounce and pizza for sale on Saturday. More information and membership options at http://www.fairfaxpool.com.
Sunday/May 24
OAR Jazz and Wine Festival. 2-5 p.m. The Winery at Bull Run, 15950 Lee Highway, Centreville. Tickets are $50 and guests will enjoy a meal catered by Spilled Milk catering with paired wines. All funds will go to support OAR's programs. Registration: http://www.oarfairfax.org/employment-opportunities?id=195
Workhouse Farmers Market. 1-5 p.m. Workhouse Arts Center, 9518 Workhouse Way, Lorton. The opening day of this year's farmers markets season.
Canine Cruise. 7 p.m. Lake Accotink Park, 7500 Accotink Park Road, Springfield. Treat your canine companion to a special cruise aboard Lake Accotink Park's pooch-friendly pontoon boat. Catch the last rays of the sun as it dips toward the distant lake shore while your dog scans for ducks, geese and other lake dwellers. $6 per person, no charge for dogs. Limit one dog per person. Children ages 8 and older.
Main Street Chamber Players Spring Concert. 4 p.m. Providence Presbyterian Church, 9019 Little River Turnpike, Fairfax.
17th Annual Ride of the Patriots. 6:30 a.m. Route 29 between Draper Drive and Eaton Place. Fairfax Harley Owners Group and Patriot Harley-Davidson's gathering of the motorcycle riding community will pay tribute to America's servicemen, women and veterans and raise awareness of American POW and MIA soldiers of all wars. After assembling at the Patriot Harley-Davidson on Lee highway in Fairfax, a parade of bikers will follow a route to the Pentagon where it will join other bikers to the National Mall and the Vietnam Veterans' Memorial to pay their respect.
Concerts at the Alden. 3 p.m. The Alden, 1234 Ingleside Avenue, McLean. Young soloists recital. Free.
Patowmack Canal Walk. Great Falls National Park, 9200 Old Dominion Drive, McLean. 2-3 p.m. George Washington – Founding Father, Hero of the American Revolution, First President. Few people envision George Washington as an entrepreneur of a canal system on the Potomac River and westward expansion. Explore the Patowmack Canal with a Ranger to discover the history of Great Falls in the late 1700s. Easy 1/2 mile hike round trip. Meet in the Visitor Center.
2015 Summer Blast Off. 8 p.m. Wolf Trap, 1645 Trap Road, Vienna. "The President's Own" United States Marine Band will launch Wolf Trap National Park for the Performing Arts' summer season with a program of concert band favorites. A fireworks display will follow the concert. Free.
Annual Memorial Day Concert. 5 p.m. St. Luke Catholic Church, 7001 Georgetown Pike, McLean. The National Men's Chorus will present their annual Memorial Day concert. Patriotic songs will be played. Tickets: $20 at the door.
Sunday-Monday/May 24-25
Art Guild of Clifton Show and Sale. 5-8 p.m. on Sunday. 12-5 p.m. on Monday. 11200 Fairfax Station Road in Fairfax Station. Artists will display and sell works featuring local themes across a range of media. Admission is free for Museum members and children 4 and under; $2 children 5-15; $4 adults 16 and older. www.fairfax-station.org, 703-425-9225.