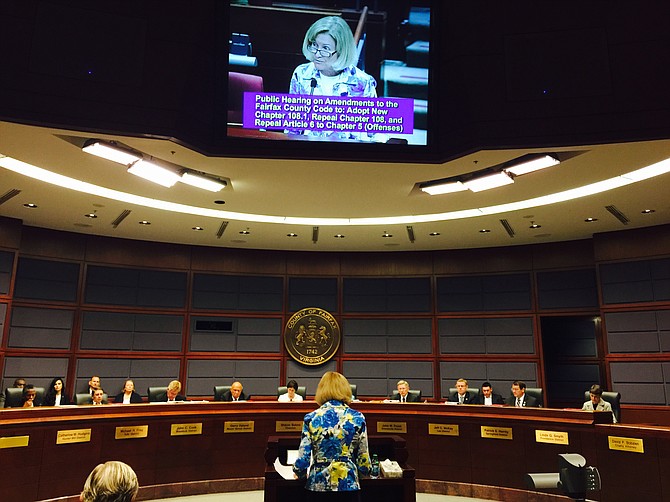 Dranesville District Supervisor John Foust asked to defer a proposal to adopt a new chapter of the county's noise ordinance to September so the board could have more time to weigh testimony of more than 30 speakers at the public hearing, May 12.
Instead, the vote was delayed until June 23.
"You have a big challenge ahead of you, but peace and quiet in our neighborhoods is an important commodity to have," said Robert Winer, of Clifton.
"More effort is needed to resolve the issue," said Joyce Harris, a 31-year resident of McLean. "Protecting the rights of residents in a residential neighborhood should be a primary goal of the ordinance. Please defer your vote and allow more time to develop a solution that works for this issue."
MORE THAN 30 speakers testified including: Greg Budnik who discussed helicopter noise from training runs at Fort Belvoir; Mark Grove of Fairfax whose wife was recuperating from cancer treatment and had to contend with music from a supermarket across the street that had permits to play music until 11 p.m.; Keith Elgin, worship director of Vine Church in Dunn Loring, who wants to create events such as outdoor movies and concerts during the summer months; to neighbors in Reston who say they can not get relief from noise of nearby dog parks; to those who take their dogs to dog parks to spare neighbors from noise.
Sheila Casey, of Reston, said she can hear mowers on a nearby golf course before dawn with maintenance crews sometimes using headlights on lawnmowers before 5 a.m. "All I know is when those lawn mowers are running, I can turn on my air conditioning, I can put in my earplugs, and I still hear the noise," she said.
Issues don't seem as simple when engaging with the details.
"When babies cannot sleep, when the elderly cannot rest, when a voice teacher cannot instruct, when a family cannot share a meal together on their patio, when a homeowner has to close her windows and move to another part of the house just to make a telephone call, when a cancer patient cannot recuperate and rest in her yard because music is amplified in the neighborhood at intrusive levels, then we know something is not right with life in Fairfax County," said Harris.
FAIRFAX AND OTHER Virginia governments have to rewrite their noise ordinance as a result of a Virginia Supreme Court decision overturning the ordinance in Virginia Beach, according to county documents.
The overall goals of the proposed Noise Ordinance is to recognize that there will always be certain levels of noise that occur in the normal course of daily living; to allow certain levels of daytime noise so that people can live, work and play during the day; and to minimize noise at night so residents have an appropriate quiet environment in their homes at night.
This would involve prohibiting certain activities, excluding certain activities from the Noise Ordinance, and other activities or sources of sound would be subject to maximum decibel levels, qualified by time, location and duration limitations.
Supervisors will also engage the School Board on the issue of amplified sound from high school campuses.
The noise ordinance covers everything from lawn mowers, barking dogs, loudspeakers at athletic fields and industrial operations.
For example, the noise of barking, howling, meowing, squawking or quacking animals that could be heard in a home with its windows closed is prohibited between 10 p.m. and 7 a.m., according to county documents.
Other noise-makers that are specifically addressed, according to county documents:
Using a loudspeaker or amplifier outside Sunday through Thursday between 10 p.m. and 7 a.m., and between 10 p.m. and 9 a.m. on Fridays, Saturdays and the day before a federal holiday.
Many specifics of operating power lawn equipment, including lawn mowers; on all properties, the operation of leaf blowers is prohibited between 9 p.m. and 7 a.m.
Fixing cars or mechanical devices outside between 9 p.m. and 7 a.m.
Collecting trash or recycling within 100 yards of a residence between 9 p.m. and 6 a.m.
Loading or unloading trucks outside within 100 yards of a residence between 9 p.m. and 6 a.m.
Using dog parks Sunday through Thursday between dusk and 7 a.m. or on Fridays, Saturday or the day before a federal holiday between dusk and 8 a.m.
For more, see http://www.fairfaxcounty.gov/dpz/zoning/noiseordinance/