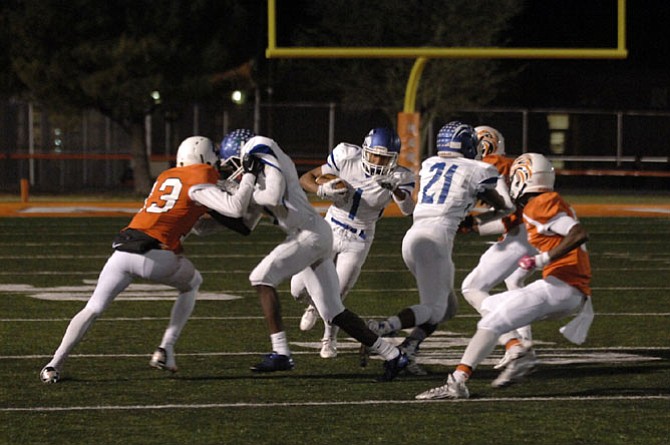 After compiling its best regular-season record in more than 15 years, the South Lakes football team will host a playoff game for the first time since 2010.
The Seahawks finished the regular season 8-2, earned the No. 6 seed in the 6A North region and will host No. 11 Oakton (5-5) at 7 p.m. on Friday, Nov. 13 in the opening round of the playoffs.
South Lakes closed the regular season with a 46-7 home victory over Fairfax on Nov. 6. It was the fourth time this year the Seahawks defeated an opponent by at least 37 points. The win secured South Lakes' best regular-season record in more than 15 years, according to vhsl-reference.com, which tracks South Lakes records back to 1999. The Seahawks finished with a 7-3 regular-season record in 2010, 2002 and 1999.
"I think it's great," said Trey Taylor, who is in his second season as South Lakes head coach. "... I'm happy for the kids. When I came in ... I asked them to put in more work than they were used to and some of them looked at me like I was crazy. ... I'm happy for the kids because they trusted me and now they're seeing [the results]."
SOUTH LAKES will host an Oakton team that it scrimmaged prior to the 2015 season. The Cougars finished with a 5-5 record, including 2-3 in Conference 5, which is annually one of the toughest conferences in the region.
"I think they're extremely well coached, tough up front, disciplined," Taylor said. "... They're going to present a huge challenge for us."
While Oakton presents a challenge for South Lakes, the Seahawks enter the postseason playing well, Taylor said, including a pair of strong defensive performances to close the regular season. After losing to Madison 38-6 and allowing 42 points in a win over Langley, South Lakes shut out Hayfield in the second half of a 35-14 win and held Fairfax to a single touchdown.
This year, South Lakes is surrendering an average of 16.2 points per game. Last year, opponents averaged 33.6 points against the Seahawks, who finished 2-8.
"I feel like we're playing pretty well," Taylor said. "[Against] Langley and Madison, our defense didn't play well. ... The past two weeks, the defense has really stepped up and played better. That to me is the key. ... That to me is what has been different about this year is our ability to keep people from scoring a ton of points."
Offensively, South Lakes has been led by senior receiver Eric Kirlew, who caught four passes for 58 yards and carried three times for 58 yards and two touchdowns against Fairfax on Nov. 6. Kirlew finished the regular season with 30 receptions for 605 yards and eight touchdowns, and 45 carries for 449 yards and five scores.
"Eric Kirlew keeps getting better each week," Taylor said. "It seems difficult for people to keep him out of the end zone."
Sophomore quarterback Devin Miles completed 13 of 15 passes for 211 yards and a touchdown against Fairfax. He completed 67 percent of his passes during the regular season for 1,635 yards, with 18 touchdowns and four interceptions. During a 48-42 win over Langley on Oct. 23, Miles completed 29 of 37 attempts for 493 yards, with six touchdowns and one interception.
THE WINNER of Friday's South Lakes/Oakton game will face the winner of No. 3 Westfield and No. 14 Washington-Lee.
"I think they do believe," Taylor said, "that we can go out and compete with anyone."