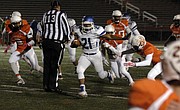 Despite losing starting quarterback Brandon Bell to injury after just one series during Friday's matchup with South Lakes, the Hayfield football team put itself in position to enter halftime with a surge in confidence.
Reserve quarterback Jacob Keeney threw a 37-yard touchdown pass to Mohammed Mahmoud with one minute remaining in the second quarter, cutting the South Lakes lead to seven points, and the Hawks followed by recovering an onside kick at the South Lakes 46-yard line.
Three plays later, however, Seahawks defensive back Marvin Grunshie slammed the door on the Hawks' hopes of a positive halftime vibe with a tide-turning pick-six.
Grunshie intercepted a Keeney pass and returned it 70 yards for a touchdown, giving South Lakes a two-touchdown halftime advantage. The Seahawks would finish off the Hawks 35-14 at Hayfield Secondary School, keeping alive their hopes of a share of the conference championship.
"It was a zone, cover 2 defense," Grunshie said. "I saw the inside receiver run a seam [route], so that means the outside receiver is coming in so I just broke to the ball."
Grunshie intercepted the pass and returned it for his second touchdown of the first half, helping South Lakes improve to 7-2 overall and 5-1 in the conference.
"That's huge," South Lakes head coach Trey Taylor said about Grunshie's pick-six. "If they would have gotten the onside kick and been able to score before halftime and tied it up, it's a different" game.
While Grunshie made arguably the biggest single play of the night for South Lakes, the defense's ability to limit Hayfield standout running back Myles Ross was also pivotal toward knocking off the Hawks, who entered the contest with a 5-0 conference record.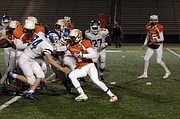 Ross, who the previous week rushed for a school-record 335 yards against Yorktown and routinely goes over 200 yards, carried 28 times for 134 yards and a touchdown. Ross scored on a 20-yard run less than 4 minutes into the game, but did not have a run of 20 yards or greater for the rest of the contest.
"He's a lot like ... Washington-Lee [quarterback/running back Ceneca Espinoza, Jr.] ­­­ a lot of speed, likes to go on the edge," 6-foot-5, 310-pound South Lakes two-way lineman David Kroll said. "All we had to do was just keep contain and that's what we did all game."
Taylor said the injury to Hayfield quarterback Bell didn't affect South Lakes' defensive game plan.
"The run defense for the most part has been solid for the year, so I felt relatively confident coming into the game that if we played like we're capable of playing, that we could at least slow [Ross] down," Taylor said. "I don't think you'll ever contain him, but I thought we did a good job of slowing him down and keeping him from breaking all the big plays."
Taylor has said strength training is a big part of the Seahawks' improvement.
"Our defensive ends are 180 and 190 [pounds], and I'm sure [Hayfield is] 280 or better at the tackle," Taylor said. "I think, initially, you look at their offensive line and we're going to get pushed all over the field, but I do believe our work in the weight room and our strength helps us balance out that lack of body weight and then helps us to hold our own against the bigger guys."
While the South Lakes defense came up big, the Seahawks offense, led by sophomore quarterback Devin Miles, found the end zone four times. Miles completed 15 of 21 passes for 139 yards and three touchdowns, including a 10-yard scoring strike to Seth Ravenstahl with 11:04 remaining in the fourth quarter, extending South Lakes' lead to 35-14.
Eric Kirlew had five receptions for 72 yards and a touchdown for South Lakes, and running back Spencer Alston carried nine times for 84 yards and a score.
SOUTH LAKES will wrap up the regular season with a home game against Fairfax (1-8) at 7 p.m. on Friday, Nov. 6. The Seahawks will earn a share of the conference title if they beat the Rebels and Hayfield knocks off first-place Madison.
South Lakes is No. 6 in the latest VHSL 6A North region power rankings. The top 16 teams make the playoffs.
"I hope it lends some more legitimacy to us," Taylor said of Friday's win over Hayfield. "I know we're not a typical football powerhouse. People don't say South Lakes and say 'oooo.' But I'm hoping that they realize we're playing some good football right now and that we're a team that can compete with just about anybody."