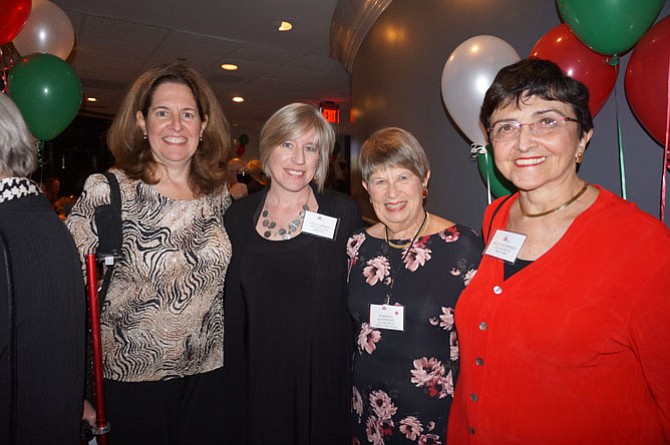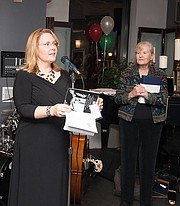 Senior advocate Amber Nightingale Sultane, state associate director for AARP Virginia, was presented with the Community Spirit award by At Home in Alexandria at the organization's fourth annual benefit Nov. 8 at Laporta's Restaurant.
"Amber regards the older volunteers she works with as her friends and as the interesting, experienced, fun-loving and very competent people that they are," said AHA board vice chair and Commission on Aging member Jane King in presenting the award.
With the theme of "La Dolce Vita," the event featured a cocktail reception, silent auction and live music provided by the Christophe Ludet Trio. The event emcee was Julie Carey, Northern Virginia bureau chief for NBC4.
In additional to her work with AHA, Sultane provides support to Senior Services of Alexandria, Alexandria's Division of Aging and Adult Services and other organizations that serve the senior population in the city.
Ernie Lehmann, one of the original founders of AHA, gave a tribute to co-founder Richard Moose, who died on Sept. 25. Lehmann regaled the crowd with humorous anecdotes about Moose, ending with the words, "If my life is a banquet, Dick Moose was the dessert."
Founded in 2011, AHA is part of the "village" movement designed to meet the needs of the city's aging population. A village provides a variety of practical support and social opportunities to make the daily lives of older residents more pleasant and to help them remain independent in their home and their community. AHA, the only "village" serving the city of Alexandria, is one of more than 30 nonprofit neighborhood villages in the Washington region and nearly 200 villages nationwide. In the past year, AHA met over 659 individual requests for help and hosted 126 social and educational events. For more information, visit www.athomeinalexandria.org.