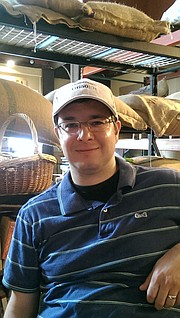 Jonathan Matías' 3-year-old son is using Yelp. The Springfield resident said he first heard about Cervantes Coffee Roasters when the toddler picked up his phone and showed him Cervantes on the local business review app. "You need to go to this coffeehouse," Matías recalled him saying. The two went, and now his son asks to go every week.
Matías' father is from Guatemala, and he helped him develop an appreciation for coffee growers and their beans. He's been brewing his own coffee since age 18 and began involving his son in the process at an early age.
Matías said he comes to Cervantes a few times each week to work independently (he is lead pastor of Grace Church of Alexandria) or meet with old or new friends. "The ambience is warm, there's a good vibe," he said. "I like meeting other people from the neighborhood, hearing their stories. The first time I came in and I was welcomed by two regulars, it made me feel part of something, I learned about their struggles."
Facilitating a friendly, communal atmosphere for enjoying finely crafted coffee was one of the primary goals of Springfield resident and Cervantes owner Marialy Justiniano when she opened the shop in July 2013.
JUSTINIANO was born and raised in Santa Cruz, Bolivia and spent summers on her grandfather's farm where he grew sugar cane, cotton and coffee. She grew up with coffee, served with pastries, that was taken as a more social beverage, meant to spark elongated and engaged conversation.
Her husband Alejandro had a similar experience, hailing from Peru. The couple met in Bolivia and moved to the United States in 1999, bringing their love of coffee and communal coffee culture.
Marialy said Alejandro travels considerably for his job and has always brought back coffee from overseas. At first they began roasting beans and serving to their friends as a hobby. When someone asked "Can I buy coffee from you?" the couple decided, "We can do this," she said.
In 2011, they started Cervantes as an importing business, but grew to include wholesale, selling to supermarkets in Washington, D.C. and Virginia, including Yes! Organic Market and Salud, The Healthy Pantry in Great Falls.
Eventually, someone suggested there should be a coffee shop for people to try the end product of the beans as well. Needing more space for the imported beans than the family garage as well, Cervantes took up residence on Fullerton Road in Springfield.
Rather than bring in an experienced and costly head roaster, Marialy decided to take charge herself and got training in roasting and brewing, receiving a certification from the Specialty Coffee Association of America. She managed this, starting a business, teaching Spanish part time at Orange Hunt Elementary School and raising two children (part of the reason Cervantes closes in the early afternoon).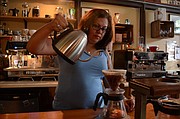 "It's not rocket science," she said, "but a matter of practice, doing it properly."
For coffee, doing it properly depends on controlling many variables. "Giving more attention to the brew technique, the amount of grounds and proper grinding, water temperature, is very important," Marialy said.
"There are a lot of coffee lovers in this area," she continued. "I'm a person who goes into the detail. We pay attention to each cup and can say we have hardly had a disappointed customer. I'm proud of that."
Marialy is also proud that all of the beans are 100 percent arabica species of coffee and grown in the shade. She and her team make it a point to deal directly with each grower -- classifying their beans as "single origin" -- in a number of countries including Bolivia, Guatemala, Nicaragua and Ethiopia.
THE COFFEE SHOP business' name hearkens to Miguel de Cervantes, the Spanish author well-known for his determined Don Quixote de La Mancha character. "We identify with Latino roots, the Spanish language," Justiniano said, "and we're thankful for being here in this country with all the opportunities, that if you work hard and follow your dream you can do it."
Head barista Jason Davidson, of Fairfax, previously worked for Starbucks and Dolcezza, but found a better fit with the more laid back and familial work environment at Cervantes.
"People just forget" about slowing down, Davidson said. "They say they never have time -- you make time, make time to collect yourself, make time for good coffee. This place does it."
Davidson also appreciates that working for a small business owner removes many of the layers that prevent employees' voices and new ideas from being heard. "You don't have to go through so many channels," he said, when he has brainstorms like new ways to experiment with iced coffee brewing or preparations for serving coffee on nitrogen gas-infused coffee.
Seeing the roasting and brewing process take place directly next to his seat adds to the experience for Matías. "The work and care it takes, the skill of the team," he said, "Wow, they took that, and made that, that's awesome. It's an incredible amount of work."
Cervantes Coffee Roasters is located at 7644 Fullerton Road, #1 in Springfield. For more information, visit www.cervantescoffee.com.