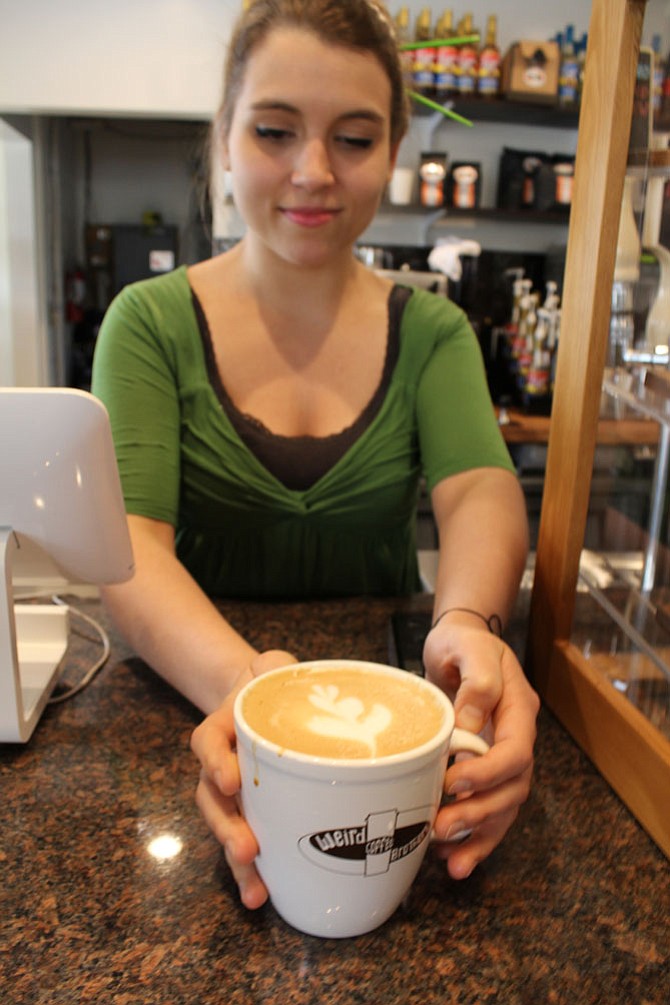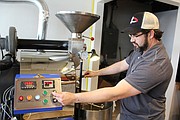 Weird.
"It's just something that felt right," said Paul Olsen. "My brother and I, for our entire lives, have just always marched to the beat of a different drummer. It always turned out that when we were together, all these weird and strange things would happen. It just fit."
Weird Brothers Coffee was born.
"We thought it was fun and catchy and something people would remember," said Olsen, owner of the business and a 12-year resident of the town of Herndon.
First, Paul and his brother Kenny Olsen started serving their concoctions from a truck, the Weird Brothers Mobile Coffee Bar. Their success has progressed into a brick and mortar location within the town.
Opening its doors earlier this month, the Weird Brothers' coffee bar and roasting factory is now roasting and pouring at the Sunset Hills Business Park, 321 Sunset Park Drive.
The brothers' father Daryl Olsen also helps with the day-to-day operations of the business.
"He likes to call himself the 'Odd Dad' because we're the 'Weird Brothers,'" Olsen said with a smile.
Unlike most corporate coffee chains that rely on industrialized operations that roast coffee blends off-site, the Weird Brothers pride themselves on serving fresh coffee made from micro batches with beans that are roasted in their store.
They are also adamant about using coffee beans that are grown and purchased in a manner that demonstrates respect for the people who produce them as well as for the environment. This is known as ethically sourcing ingredients.
"What we do, we try as hard as we can to source the best coffee that we can find and really work to be transparent about where it's coming from and what it's all about; what the story is, where the farms are, and what type of coffee it is," Olsen said.
THE BROTHERS source all their coffee beans from Café Imports, a Minneapolis-based company. The company has a mission of sourcing green coffee beans while also empowering farmers with fair trade pricing and using producers that employ environmentally friendly business practices.
Using his own coffee roaster, Olsen usually roasts between four- and 10-pound batches at a time. Ten pounds of beans can yield between eight to nine pounds of coffee, he said.
To Olsen, roasting coffee beans is a scientific process, but it's also an art form.
"Some people say it's a dark art and I tend to agree," he said. "There is much more into it than dumping beans into a machine and pressing a button and they come out when they're done."
When Olsen is roasting, he controls the airflow, the speed of the drum, the temperature throughout the process.
"Depending on the bean that I'm roasting and depending on what I want to get out of it, I make all of those adjustments," he said. "In a way, it's a lot more like being a chef and using all of your understanding of your product and your equipment and making some magic."
Turning his passion into a business was years in the making. Before selling coffee with his brother, he started roasting and brewing at home for himself. He is primarily self-taught.
"I actually started on a modified barbeque gas grill," he said. "I had the drum that the coffee beans go into built and was put onto an electric rotisserie motor."
This home-rigged device was where he began experimenting in the dark arts of weird coffee roasting.
"It was a fantastic way to learn all about roasting because when you do it that way, you're using all of your senses—sight, smell, touch, listening, everything," he said. "To me, it was a great way to learn all of the nuances in roasting."
Turning his hobby into a living was also an escape from his career that was beginning to confound his creative side that was begging to take over.
As an Army veteran who returned from deployment in Iraq in 2004, Olsen found himself medically retired from the military and working as a government contractor.
"After a while, I realized that I wasn't enjoying working in a cubicle … after a while it's soul crushing," he said. "Coffee is something that I've always been interested in and had a love affair with."
His budding relationship with java has blossomed into sourcing beans from seven different origins from all over the globe that customers can wet their palate with, including beans from Central South America, Africa and Indonesia.
"I tried to get a really nice variety of different types of beans from across the world," Olsen said. "They all have their own different nuances and original sourced flavors. I wanted to give people a different type of coffee to try and enjoy."
These beans are mixed together to make the Weird Brothers' five signature blends (from lightest to darkest):
Walking on Sunshine Blend – Light Roast

Kickstarter Blend – Medium Roast

Time Bender Blend – Medium Roast

Weird & Fierce Blend – Bold Roast

Embrace the Dark Side Blend – Bold Roast
Bags of 12 ounces cost $12.95; 16 ounces are $14.95; and five-pound bags are $59.95.
Customers can also buy Weird Brothers Coffee branded wide-mouthed packer jars. The 25-ounce jars are $8.95 empty and $11.95 filled with coffee. Customers can bring it back into the store repeatedly for $5 refills.
"I wanted to get the best coffee at a really decent price so I wouldn't be shocking a lot of the people with these prices," he said. "That's one thing I've tried to do is have the best coffee at a reasonable price so I can have my prices for my coffee pretty much standard across the board."
EMBRACE THE DARK SIDE is the shop's boldest roast and is used to make its espresso drinks. However, nitro cold brew is quickly becoming Olsen's favorite coffee confection.
"I think it's a phenomenal new way to enjoy cold brew coffee and it's becoming one of our biggest sellers," he said.
Cold brew, coffee that is brewed with room temperature or cold water and not hot water, takes about 24 hours for Olsen to make and is served straight from a tap, like a Guinness.
Customers can order the cold brew flat over ice or infused with nitrogen gas, which is released through a pressurized valve as the cold brew is poured from the tap.
The nitrogen creates a creamy, stout-like effect that requires no sweeteners or cream, Olsen's preferred way to enjoy the drink.
"Awareness is starting to get around and more people are starting to realize that we're here," Olsen said. "We're trucking through this month and working out the kinks."