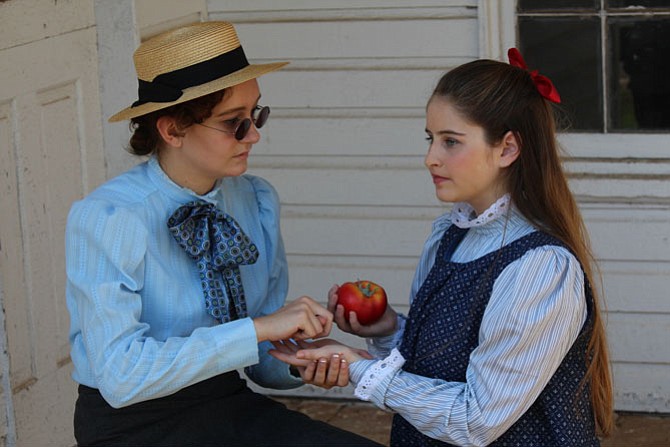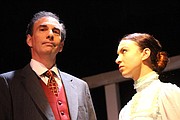 Aldersgate Church Community Theater (ACCT) is presenting "The Miracle Worker," the story written by William Gibson about the blind and deaf Helen Keller and her teacher Annie Sullivan, from Oct. 2-17 at the church located at 1301 Collingwood Road in Alexandria.
Producer Eddy Parker said "The Miracle Worker" is about finding one's own key. "The key that unlocks and leads us out of whatever darkness we find ourselves trapped in," he said. "Helen's was being blind and deaf. Her teacher Annie Sullivan broke through her darkness to bring Helen the key of language," he said. "This opened up the entire world to Helen. I hope our production inspires our audience to search for their own keys to overcome the challenges that each of us face in our life."
Parker said his biggest challenge as a producer was to ensure that this classic work lived up to its full potential. "I think the director (Eddie) Page's vision of the story is amazing and we have labored to bring that to life," he said. "You will see amazing acting, an amazing and symbolic set, brilliant period costumes, and wonderful lighting and sound designs by some of the leading figures in our area's community theater."
Co-Producer Shelagh Roberts said she wanted to produce the play because she believes in the power of the story. "I believe we can share inspiring, uplifting stories that transcend their time period and remind people that the truth is awesome; that the desire to communicate — to be heard, understood, and known — is a basic human need that both Annie Sullivan and Helen Keller understood very well," she said. "They both fought so hard with everything they had to fill that basic need, and they are two of the most determined women who ever lived."
She added: "We want to have a great production that fires on all cylinders, where all of the production elements are united to tell an amazing story. The goal is to entertain, move, energize, and inspire audiences with an incredible story put into words and images of breathtaking beauty created by William Gibson. I want to do it justice."
Roberts said that the most important challenge is always getting the story right, especially when it's a true story. "Did we show what the author intended? Did we capture the spirit and nature of Helen Keller of Annie Sullivan's relationship? Did we get the dramatic elements right?," she said. "I think you have a deep responsibility to approach a beloved story like this carefully: handle with care. Don't mess it up. And along with that, make it immediate and important for now."
Director Eddie Page said he was trying to reach into Keller's and Sullivan's world to every member of the audience to personalize their experience; the lesson to all who have in any way been affected by disability — be it blindness, deafness, poverty or depression. "Throughout our lives each of us have all found times that we needed to be strong-willed and determined to do things our own way, even if it totally destroys everyone around us," he said.
From the beginning, he said he wanted a different visual concept for telling this American classic. "The script calls for seven different playing areas which can at times be a challenge for some venues," he said. "Our design is a very open set with various levels with many symbolic areas that aids in telling the story and challenging the audience's creative mind."
Other challenges, he said, were the water pump scene and having a working pump, as well as creating a convincing "blindness effect" with the actors. "The actors were given a number of exercises, games and methods to achieve the blind effect," he said.
Meghan Landon plays the role of Annie Sullivan, the epitome of a disrespectful woman in the 1880s. "She is sarcastic, rude, and immodest, but those traits are used for covering up the pain and sorrow she feels from living in a state almshouse, losing her younger brother, Jimmie, and going through nine eye operations," she said.
Due to Annie's complexity, she said she acts like she's so happy and content, but under the surface, she has so many emotions boiling. "She's excited to be working with Helen, but she is afraid that she will fail and not amount to anything in life," she said. "I think capturing all of her fierceness and also her gentleness was the most difficult."
She said she hopes the audience learns that anything is possible. "It's cliche, yes, but 'The Miracle Worker' is an incredible story of possibility," she said. "Anything is possible with hard work and dedication. I want the audience to feel inspired at the end of the show."
Emily Golden plays the role of Kate Keller, who was Helen's mother. "She is desperately searching for a way to finally connect with her daughter and is determined to eventually do so," she said. "In a time when most families sent away children with any kind of disability, Kate was determined to not only raise Helen herself but also try to teach Helen."
She said the role was exceptionally difficult for her because of the emotional complexity of Kate's character, as well as giving the role the justice that it deserves. "From feeling Kate's visceral pain when her child is struggling, to her determination to help Helen, to her ultimate grief when Annie is able to connect with Helen in a way that Kate herself is unable to — it was a long, emotional rehearsal process for me," she said.
Golden added: "I hope that the audience feels the emotional journey that these characters take us on while remembering that these were real people whose struggles were also real. It is a poignant and moving show that reminds us how important one person can be in the life of someone else. As a teacher, it reminds me of the truth of my profession: that each and every child is capable of learning and deserving of the opportunity to do so."
Rich Amada plays the role of Captain Keller, who, as a former Army officer, favors an orderly existence in his home. "However, his daughter Helen's disabilities make that desire next to impossible as the family attempts to deal with a child of special needs at a time period when there was much less knowledge about how to cope with a special needs child," he said. "This places Captain Keller in the awkward position of loving his child but hating the circumstances that envelope her life."
He said the biggest challenge was interpreting a character who is under the impression that he's in far greater control of his home than he actually is. "Being a 19th-century man, Captain Keller is perceived to be the master of his house, and he must always portray such a role," he said. "However, the women in his life have far greater influence on the happenings in the Keller household."
Aldersgate Church Community Theater (ACCT) is presenting "The Miracle Worker," from Oct. 2-17. The venue is at the church at 1301 Collingwood Road in Alexandria. Tickets are $12 and $15. Show times are Fridays and Saturdays at 8 p.m.; matinees on Saturdays and Sundays at 2 p.m. Visit www.acctonline.org or call 703-660-2611.