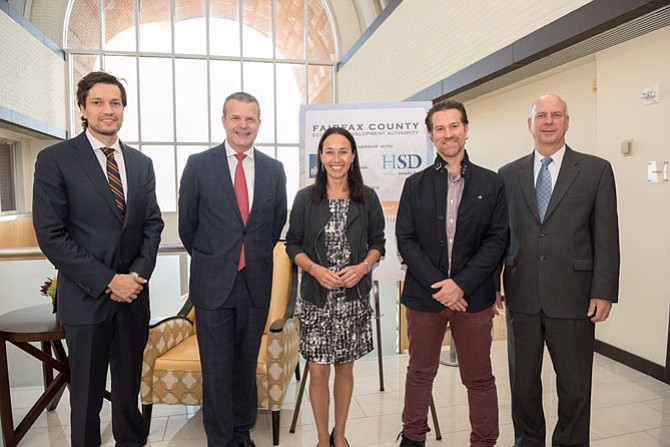 With all its sophistication and intricacies, cybersecurity starts with a simple premise.
"A lot of bad guys want access to your information," said William Brennan, Lockheed Martin's managing director of Global Cyber and Intelligence Practice, who works on five different continents.
"There are a lot of people interested in disrupting your sovereignty," he said on Friday, Oct. 9 on the 17th floor of the Tower Club in Tysons. "Intelligence is understanding everything about your environment and taking that to defend yourself," he said.
The global cybersecurity market is worth $75 billion and will grow to $170 billion by 2020, according to the Fairfax County Economic Development Authority.
"Cyber security threats are increasing today on an accelerating speed," said Dan Woolley, of MACH37 Cyber Accelerator, in Herndon.
"This is the hotbed for cyber security entrepreneurship," he said. "Our business is to launch cyber security companies."
Cybersecurity is a "very serious and big market," said Asher Kotz, cybersecurity business development manager with the Fairfax County Economic Development Authority.
Proximity to the federal government, to the commercial sector, and to three airports, makes this an influential area, he said.
LAST FRIDAY, OCT. 9, the Fairfax County Economic Development Authority (FCEDA) signed a memorandum of understanding with a delegation of Dutch and Flemish cyber-related businesses brought to the United States by The Hague Security Delta (HSD), the largest security-related cluster of businesses, governments and academic institutions in Europe.
The FCEDA promotes the county as a business and technology center and helps companies locate and expand in the county.
Leading cybersecurity and information contractors in Fairfax County include Booz Allen Hamilton, CSC, Northrop Grumman and SAIC.
Currently, cybersecurity educational programs are available at George Mason University, the ITT Technical Institute, Marymount University, Northern Virginia Community College and Stratford University, as well as UVA and Virginia Tech.
Officials want the county to be a global leader in cyber security, with a cybersecurity campus in Northern Virginia in the future.
Dr. Gerald Gordon, president and CEO of the Fairfax County Economic Development Authority called the event an "extraordinary opportunity to create meaningful partnerships in an area that is a significant concern for people around the world but also represents an opportunity for businesses, governments and academia to create a more secure planet."
Henne Schuwer, the Dutch ambassador to the United States, Guido Landheer, the deputy vice minister for foreign trade in the Dutch Ministry of Foreign Affairs, and representatives of northern Virginia businesses involved in cybersecurity and other security-related industry sectors attended.
GORDON EARNED the Jeffrey A. Finkle Organizational Leadership Award for a "lasting commitment to the field of economic development."
The International Economic Development Council (IEDC), a nonprofit membership organization serving 4,600 economic developers, presented president and CEO of the Fairfax County Economic Development Authority (FCEDA), with the award Oct. 5 in Anchorage, Alaska.
"It comes from my peers across the country and beyond," Gordon said, calling it "quite an honor."
Gordon has worked at the FCEDA since late 1983.
In addition to its headquarters in Tysons, the FCEDA maintains marketing offices in Bangalore, Munich, London, Los Angeles, Seoul and Tel Aviv.
"Two industry sectors being pursued aggressively are cybersecurity and translational medicine," said Gordon.