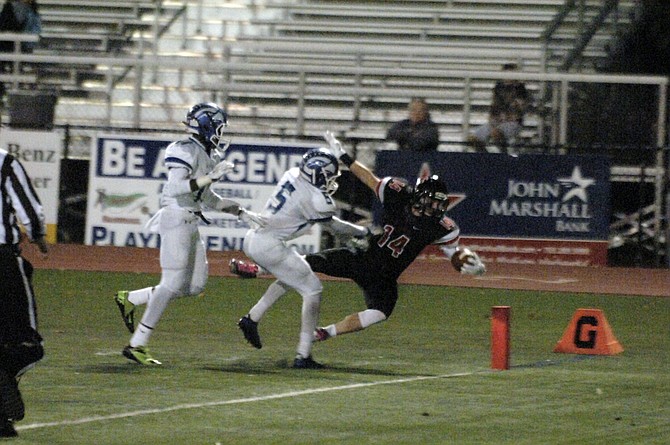 When asked to describe what makes receiver Jordan Ebersole a down-field threat, Madison head football coach Lenny Schultz referenced the senior's competitive nature.
"He's very durable," Schultz said. "When we do sprints in practice he never wants to lose. He can run all day long. If someone pushes him one time, if we run 10, he'll win nine out of 10 --- and most times 10 out of 10. He gets mad at himself if he doesn't win all 10. He's a workhorse for us."
Facing South Lakes on Friday in a matchup of first-place teams in Conference 6, Ebersole ran past Seahawks defensive backs all night long.
Ebersole caught seven passes for 130 yards and two touchdowns as the Warhawks blasted South Lakes 38-6 at Madison High School.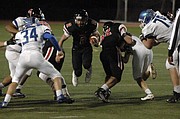 Madison quarterback Jason Gastrock connected with Ebersole for a 35-yard touchdown with 58 seconds remaining in the first half, extending the Warhawks' lead to 31-6. With 9:34 remaining in the fourth quarter, Gastrock hit Ebersole for a 29-yard score.
"We've just got our timing down perfectly," Ebersole said about his on-field relationship with Gastrock. "We work on it every day in practice."
Both teams entered the contest with a 5-1 record, including 3-0 in the conference. It didn't take long, however, for Madison to take control.
The Warhawks took the lead for good on the game's opening possession, when Gastrock scored on a 4-yard run with 9:05 remaining in the first quarter.
South Lakes' only points of the game came on Madison's next possession, when the Seahawks blocked a punt and senior Anas Fain returned it for a touchdown. The extra point was no good, leaving Madison ahead, 7-6.
From there, the Warhawks scored on their four possessions, building a 31-6 halftime lead.
Madison is now tied with Hayfield for first place in the conference standings at 4-0.
Gastrock completed 14 of 19 passes for 217 yards and two touchdowns for the Warhawks, and scored a pair of rushing touchdowns. He passed for 162 yards in the first half, connecting With Ebersole four times for 90 yards.
"We've really just been waiting for a type of game like this all season," Gastrock said.


Ebersole played for the varsity as a ninth-grader in 2012, when Madison finished the regular season 8-2 and made the playoffs. Ebersole's classmates on the freshman team finished 8-0. The following season, the varsity team finished 1-9, with its lone victory coming in the season finale against a winless Marshall team.
"After that 1-9 year, we just made it our goal to not have that ever happen again," Ebersole said. "We didn't want that, especially not our senior year. We wanted to come out and win as many games as we can."
After a 5-5 season in 2014, the Warhawks are in the hunt for a conference championship, winning six straight after dropping their 2015 season-opener to Oakton.
"Sophomore year, we were 1-9, that was probably the low point, I would say, of all our football careers," Gastrock said, "and we really just want to turn that around."
Madison running back Wiley Counts carried 10 times for 27 yards and a touchdown Friday. John DeScisciolo caught two passes for 66 yards.
South Lakes quarterback Devin Miles completed 19 of 28 passes for 148 yards. Henry Andrich had six receptions for 66 yards and Fain caught five passes for 46 yards.
Friday was the fourth time Madison has allowed seven or fewer points in a game this season. The Warhawks defense did not surrender a point against South Lakes.
"They're just getting better and better," Schultz said. "They're playing good team defense."
Madison (6-1, 4-0) will travel to face Fairfax (1-6, 0-4) at 7 p.m. on Friday, Oct. 23. South Lakes (5-2, 3-1) will host Langley (1-6, 1-3).