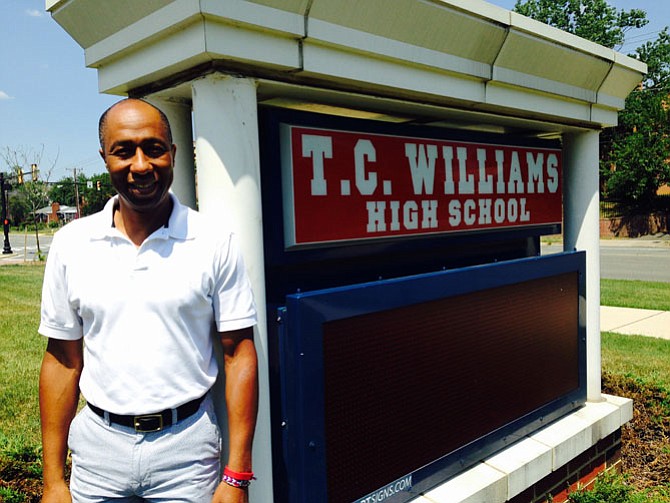 Part Four: last in a four-part series on new principals in Alexandria City Public Schools.
If you see a couple whizzing past on the Mount Vernon trail, do a double take, because it just may be Dr. Jesse Dingle, the new principal of T.C. Williams High School, and his wife, out for their morning run.
"We do about 4 or 5 miles. It's what we've always done." said Dingle about their morning routine.
The two met in college, at Appalacian State University. He ran track-and-field and she played basketball. "Really, our first 'date' was running." Dingle said. He leans in and whispers, chuckling, "But I'm faster."

Dingle is newly arrived to Alexandria from Winchester, Va. and running shoes may be exactly what's in order when it comes to his new job. Former TC principal Suzanne Maxey left big shoes to fill. The school has been on the upswing lately as a result of a host of discipline and instructional changes implemented by Maxey.
Athletic in build, Dingle's body may say runner, however, his demeanor is an almost meditative calm. He's relaxed, mild mannered and seems not easily frazzled. His zen-like way may just be him or perhaps it's a product of years of experience in education. He taught for 11 years, became principal of two elementary schools and a middle school in North Carolina, then became principal at Chapel Hill High School in Chapel Hill, N.C., for three years, and finally went to Headley High in Winchester, Va., where he stayed for three years.
Perhaps his calm demeanor is from his small town upbringing. He's from Fayetteville, N.C. There was his mother, father and four siblings. He faced his challenges. His family was poor and he suffered from a stutter until sixth grade. How did he overcome it? "Well, my mother says it was prayer." That, along with some hard work on Dingle's part.
Even with his challenges, there were those who saw his potential. "In my second grade year, Ms. Blackwell noticed me. I always had a book in my hand. I loved to. She noticed this little boy was an excellent reader." Despite Dingle's stutter, Ms. Blackwell saw something in him.
It's that same talent for searching out potential Dingle brings with him to school. "On that first day, I'll have my eyes open to find untapped potential; in the students and among the staff. There are students who have so much to offer." When envisioning solutions for challenges or needs at TC, Dingle looks around him and sees potential. "So much of what the school needs already exists right here. We have expert master teachers, teachers that can give the best analysis."
Arrival at T.C. Williams has also meant Alexandria becoming a new home for Dingle and his wife. How does he like Alexandria? "Love it," he responds. "I love the cultural diversity." So far he's enjoyed eating at Zoey's and is also a fan of the Pork Barrel. He looks forward to finding ways to engage with the city. He and his wife enjoy plays and look forward to finding local theaters. For the past several years, Dingle has sung in a church choir. He intends to find a choir home in the area.
And More ...
Dr. Jesse Dingle:
Favorite Movie: "Dreamgirls"
Favorite Book: Anything by Stephen King. I've read them all.
Favorite Music Artist: Kirk Franklin
Something surprising about you: I grow orchids. At any given time I'm growing 25 or 30 orchids.