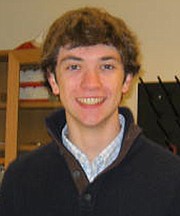 Potomac School senior Matt Spencer has been selected as a regional semi-finalist in the Siemens Competition in Science, Math and Technology for his research on bioremediation, a waste-management technique that involves the use of organisms to remove or neutralize pollutants. Spencer was one of only 36 Virginia students selected as regional semifinalists and one of just 466 semi-finalists nationwide.
Spencer, a student in Potomac's Science and Engineering Research Center (SERC) program, has been working on his independent research project for more than two years. Potomac biology teacher Dr. Isabelle Cohen notes, "Matt's findings are an extension of 2014 Potomac graduate Caden Petersmeyer's research on identifying plant fungi that consume plastic as their sole nutrient." After isolating more than 50 types of fungi, Petersmeyer discovered two that are capable of surviving solely on plastic.
Using the fungi that Petersmeyer identified, Spencer took the research a step further: He sought to identify the digestive byproducts produced as the fungi consume plastic. His research shows that the fungi break down polyurethane particles while producing neither carbon dioxide nor methane – meaning that this process has the potential to bioremediate plastic waste without producing byproducts that are harmful to the environment. Part of Spencer's analysis was conducted at Georgetown University's Institute for Soft Matter Synthesis and Metrology, under the guidance of Dr. Xinran Zhang.
The Potomac School is an independent K-12 college-preparatory school located in McLean. Now in its fifth year, the SERC program is one of three selective advanced programs offered by Potomac's Upper School. The other two are the Visual and Performing Arts Concentration and the Global Perspectives and Citizenship Program). SERC was created to give students opportunities to do long-term independent research, work in a professional lab and stretch their minds. "It's for students who want to take on some open questions and do more than just coursework," says Doug Cobb, chair of the Upper School Science Department.
After taking biology as freshmen, students enter SERC as sophomores, taking two courses – one in accelerated physics and chemistry, and another focused on developing the proposal and experiment design for their research. They also secure a mentor in the wider community – an expert in their field of interest who will assist with their research and provide equipment, materials and/or lab space.
More like this story