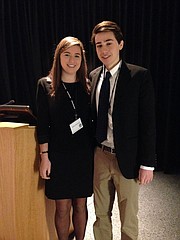 It's been a banner year for Ashley Rodriguez and Josh Tarplin, two seniors in The Potomac School's Science and Engineering Research Center (SERC) program. Over the past few months, Rodriguez and Tarplin's two-year independent research projects have earned them awards and scholarships from some of the most prestigious competitions in the country.
On Jan. 9, Rodriguez's research on hemangiosarcoma, an aggressive cancer in dogs, placed first in the Junior Science and Humanities Symposium (JSHS) regional finals, held at Georgetown University. She received a $2,000 scholarship and will advance to the JSHS national competition in April.
Rodriguez's work was also recognized in the Siemens high school science, math, and technology competition, where she was named a regional finalist and a national semifinalist.
She was one of just 97 regional finalists nationwide, and one of only five Virginia students selected based on their individual research projects. In November, Rodriguez traveled to MIT to present her findings at the Siemens national semifinals. Although she was not selected as a national finalist, her research impressed many, garnering praise from MIT's dean of admissions and the CEO of Siemens. "Everyone was in awe of Ashley's accomplishments," said her advisor, Dr. Isabelle Cohen. "She truly represented the best of Potomac."
Tarplin also competed in the JSHS regional finals on Jan. 9 and was awarded fourth place for his work on the effect of hyaluronic acid on human mesenchymal progenitor cells' differentiation, a method to improve cartilage regeneration in patients with traumatically obtained extremity wounds. He will present a poster on his research at nationals.
Earlier this month, Tarplin was named a semifinalist in the Intel Science Talent Search 2015, a pre-college science and math competition. He was one of only 300 semifinalists selected from a pool of more than 1,800 entrants nationwide. He received a $1,000 award from Intel, with an additional $1,000 presented to The Potomac School. Later this month, Intel will select 40 students as finalists; they will compete for more than $1 million in additional awards.
The Potomac School is an independent K-12 college-preparatory school in McLean. Now in its fifth year, the Potomac's Science and Engineering Research Center (SERC) program is one of three selective advanced programs offered by Potomac's Upper School. (The other two are the Visual and Performing Arts Concentration and the Global Perspectives and Citizenship Program.) SERC was created to give students opportunities to do long-term independent research, work in a professional lab, and stretch their minds. "The program is for students who want to take on some open questions and do more than just coursework," said Douglas Cobb, chair of the Upper School Science Department.
After taking biology as freshmen, students enter SERC as sophomores, taking two courses — one in accelerated physics and chemistry, the other focused on developing the experimental design for their research proposal. They also secure a mentor in the wider scientific community — an expert in their field of interest who will assist with their research and provide equipment, materials, or lab space.
Rodriguez was mentored by Dr. Jaime Modiano, head of the renowned veterinary lab at the University of Minnesota. Tarplin was mentored by Dr. Leon Nesti, a chief surgeon at the National Institute of Arthritis and Musculoskeletal and Skin Diseases.