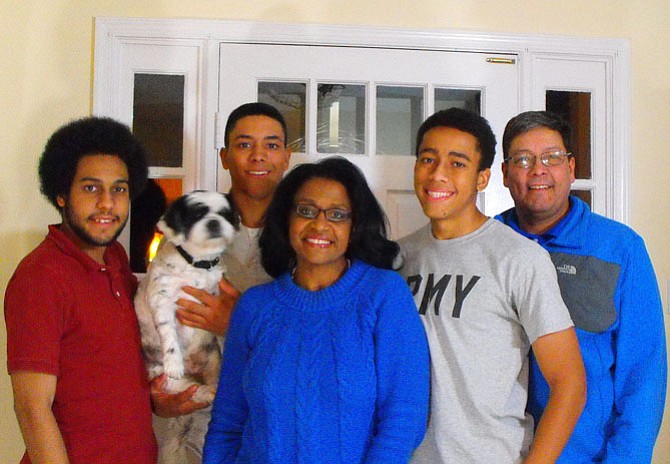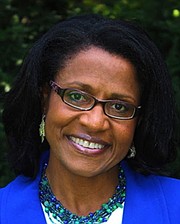 Neighborhood: Oakton (Vale precinct)
Education: Tulane University, bachelor's in English and Communications; Washington University School of Law, law degree
Occupation: Attorney, guardian ad litem
Family: Husband, Antoine Gamarra, and three sons, Jonathan, 21, James, 19 and Jordan, 16.
Money raised: About $20,000
Website: www.karen4fairfaxkids.com
Karen Keys-Gamarra believes she's the best person to represent Sully District on the Fairfax County School Board. After all, she's been looking out for children's best interests for years.
So when a former Board member asked her to run, she talked with her family and did some soul searching. Then, said Keys-Gamarra, an attorney, "I realized I've been involved with children for more than a decade, either as a parent or representing more than 150 children as a guardian ad litem."
She and Antoine Gamarra, her husband of 25 years, live in Oakton's Vale precinct and have three sons, Jonathan, 21, James, 19 and Jordan, 16. The two oldest are in college (one at West Point) and the youngest attends Madison High. But, said Keys-Gamarra, "Our church and our community roots are in Chantilly. And because of my work and community involvement, I go to schools in Centreville and Chantilly all the time."
She has a bachelor's in English and communications, plus a law degree. As a guardian ad litem, she provides a voice for children, speaking on their behalf in legal matters.
All three sons attended FCPS and Keys-Gamarra first became involved in her their schools when her oldest son was in first grade. "I was concerned that the way they presented history wasn't positive for minority children," she said. "I talked to the School Board and got nowhere; then I spoke directly to teachers about presenting a melting-pot approach to history."
They let her give a presentation to the entire second grade. "I showed them that, irrespective of where your ancestors have come from, we've all contributed to who we are as Americans," said Keys-Gamarra. "That was in the early 2000s, but I eventually did it for all my children."
She has experience at all levels of school, volunteered for groups including Mothers of Preschoolers and was also involved with issues dealing with families. She volunteered, as well, for CASA (Court-Appointed Special Advocates), representing children in abuse and neglect situations — and part of her work entailed investigating their education.
As a guardian ad litem, Keys-Gamarra talks with school counselors, administrators and teachers regularly. She may recommend a child be evaluated for a disability or ensure that a particularly bright child's needs are met, so each can move forward.

"I discovered that — even for students who've experienced trauma — if that educational piece is in place for them, they have the keys for success," said Keys-Gamarra. "So for years, I've been focusing on children's needs and trying to improve their lives — that's what inspires me."
Now, running for office for the first time, she's been endorsed by both teachers' unions, the Fairfax Education Association. (FEA) and the Fairfax County Federation of Teachers (FCFT). And, she said, "I'm grateful to both of these organizations for placing their trust in me to fight for what is best for our schools."
Concerned with the amount of acrimony regarding the school budget, Keys-Gamarra said, "There's a lot of angst on the part of parents and community members. And I don't want us to lose sight of why we're here — to continue the excellent level of education for which Fairfax County is known."
She said many people don't believe the school system's economic crisis is real, or they think it still contains waste, although it's had to cut many items since 2008. "I'm willing to evaluate all the programs to see that they're still being responsive to our children's needs and are still doing what they're supposed to do," she said. "I want to be responsible with our tax dollars."
Keys-Gamarra said one of her strengths and abilities is "getting teachers and parents collaboratively to the table. That way, we can discuss what's really important to us in our schools and how we can maintain this quality of education."
"I believe leadership begins with listening," she continued. "Superintendent [Karen] Garza has gone a long way to encourage this, but people in our community still feel they're not being heard. If I could, I'd have coffee with everybody; I love hearing everybody's story and truly treasure families and hearing their perspectives. So I'd try to have more contact with parents."
Also important, said Keys-Gamarra, is "making sure our resources stay in the classroom, supporting our staff and providing equitable pay for our teachers. We don't want teachers with 10-20 years' experience to leave for another county because they can make more money there. We have to address that problem because teachers are so vital to the educational process and they need to know they're supported."
Furthermore, she said, "I want our children to continue to have choices. Arts, sports, music all help children discover the excellence within them. They make well-rounded, confident children who can be successful because they've had these opportunities."
How Sully School Board Candidates Are Viewed: Keys-Gamarra's Supporters
Teasa Northern, of Chantilly's Armfield Farms community, has known Karen Keys-Gamarra for seven years through their church. They've served on several church committees and the children's program together.
"Karen's very committed and trustworthy — a woman of her word," said Northern. "I can always count on her to follow through on things she's promised. We're both attorneys working with children, and I know she's dedicated to children and cares about their rights and welfare. In cases I've sent her way, she took the time to make sure they were handled with the best of care."
Further describing Keys-Gamarra as level-headed, Northern said, "She thinks things through and examines all aspects of everything. And she's willing to step out of a partisan role to look at the facts at hand to make an educated decision that'll put the needs of children first."
"She's also fiscally responsible and budget-minded and would spend the taxpayers' money well," added Northern. "And that's important because I live in the district she'd represent."
Stacey Reynolds, of the Hunter Mill community, is a neighbor of Keys-Gamarra and has known her 16 years. "She's incredibly moral and faith-based," said Reynolds. "And she's not a politician — it's the first time she's ever run for anything."
Reynolds said Keys-Gamarra is "probably one of the smartest women I've ever met, and also pragmatic. She looks at all sides of every equation, studies the issues and doesn't make rash decisions. For example, one time the kids didn't think their bus driver was doing the right thing at the bus stop and on the bus, assigning seats to them. Karen was the voice of reason. She listened to what the kids and parents were saying, then talked privately with the bus driver. She then concluded what the problem was and calmly facilitated a solution."
So, said Reynolds, Keys-Gamarra has "common sense and a real knack for sitting back, assessing a situation, listening and then giving her opinion. She's thoughtful about what she's doing and would work well with the other School Board members. And because she acts this way and is a good listener, she'd care about her constituency and her fellow board members and would bring a breath of fresh air to the School Board."
Also calling Keys-Gamarra "prudent and fiscally responsible," Reynolds said, "I was so excited when I heard she was running because she's not a politician. She's in it for our kids, families and school system, and she wants to give her expertise and input to make sure Fairfax County is the best it can be and the number-one school system in the United States."
Also rooting for Keys-Gamarra is At-Large School Board member Ted Velkoff, of Chantilly's Poplar Tree Estates community. Although he's only known her since January, he believes she'd be a great addition to the board. "The first thing that struck me about her was how morally grounded she is," he said. "It was my impression from talking with her and was later confirmed when I met her family and saw their strength and maturity."
Velkoff said her background is also impressive. "She's passionate about making sure that children get a fair shake in the world," he said. "And it's clear to me, through our interactions in the past year, that she's running for School Board for the right reasons. She understands its importance to the parents, children and community as a whole — and that's no small thing."
He also believes she'd be a constructive board member and would work well with others. "Karen's definitely a team player," he said. "Many of her volunteers have known her for years and think highly of her — and that, too, speaks volumes about her. She also has a great sense of humor, which is good for when things on the board get testy. Humor can diffuse some of the tension."
"She's also a poised, articulate speaker," continued Velkoff. "When she first addressed the Democratic Committee, people were wowed by her skills. She was focused, clear and well-prepared, and this would also be a valuable asset to her on the board. She's made a great impression on the board and I'm certain she'd be a very good School Board member."