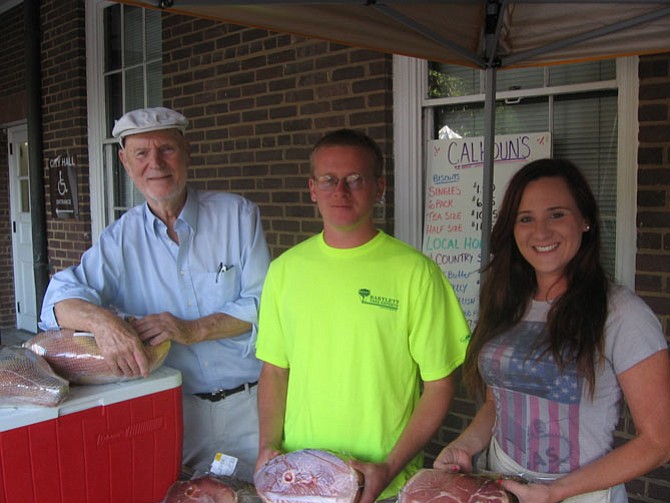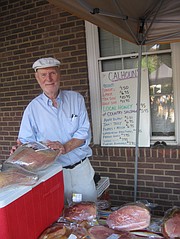 Details
Tom Calhoun, 83
Born in Washington, D.C., moved to Alexandria, and then to Culpepper
Married to Laurie Brown
Children: Tracy, Terry, Tommy, Steven, David, Joey, Jerry
Father, Aubrey Calhoun, served as a D.C. firefighter. He was killed in an auto accident at the age of 46 crossing the 14th Street Bridge while on the way to a fire. His mother, Eliza, was left to raise six children.
Military: U.S. Marine Corps; Korean combat service.
---
Q&A:
Tom Calhoun first opened his Calhoun Hams/Meat Market in 1980 at the Alexandria Farmers' Market at Market Square in Old Town. It continues as a mainstay of the Saturday market today.
He opened his original Calhoun's Ham House and Meat Market in Culpepper in 1963. "At one time or another, just about everyone in our family has worked at the Alexandria Farmers' Market," said Tom Calhoun. "My daughter Tracy Preziosi currently runs the business. She began working in our business at the age of 14. My granddaughter, Ashleigh Pickeral, manages the Alexandria Farmers' Market portion of our business. Tracy and I are already training the next generation of great-grands: Baileigh, Gavyn, Shannon, and Payton, on the value of hard work and good customer service".
Preziosi said, "I love the business; the product; and the people I come in contact with. It also gives me the flexibility to be closely involved with my children and family whenever I want or need to be."
Calhoun responded to questions about his business:
Q: How do you cure your hams?
Calhoun: "Our selected lean and fresh hams are rubbed with salt, pepper, and sugar twice in the first eight weeks and then hung and aged over a period of 6 to 12 months. I learned how to cure hams at my uncle's farm in Tennessee. I have spent all of my adult life except for three years in the Marine Corps in the ham and meat business."
Q: How long have you operated a stand at the Alexandria Farmers' Market?
Calhoun: "My wife Laurie started selling our hams there in 1980. After graduating from George Mason University she pursued a social work career and turned over the Alexandria business to our children and now the grandchildren. The Alexandria Farmers' Market has truly been a family affair and very special to all of us."
Q: What unique or special customers buy hams from you?
Calhoun: "Well, all of our customers are unique and special. Some have been buying hams from us for many years. We have customers who once shopped with their parents as children coming to visit us when they return for high school or family reunions or holidays. Some of our celebrity customers include the Inn at Little Washington restaurant; the TV personality Willard Scott; and for the past three Presidential Administrations (Bush, Clinton, Obama) the White House chefs regularly ordered hams from us."
Q: What is the secret to your business success over these many years?
Calhoun: "Hard work. No secret there; just always be there when we are needed and stand behind our products. The loyalty to our products and customers displayed by all of my family is what has made this a very special experience for me. I am very proud that the next generation is already stepping up to carry out the Calhoun Hams quality tradition."

Tom Calhoun Hams: 540-825-8319 or 877-825-8319. See www.calhounhams.com