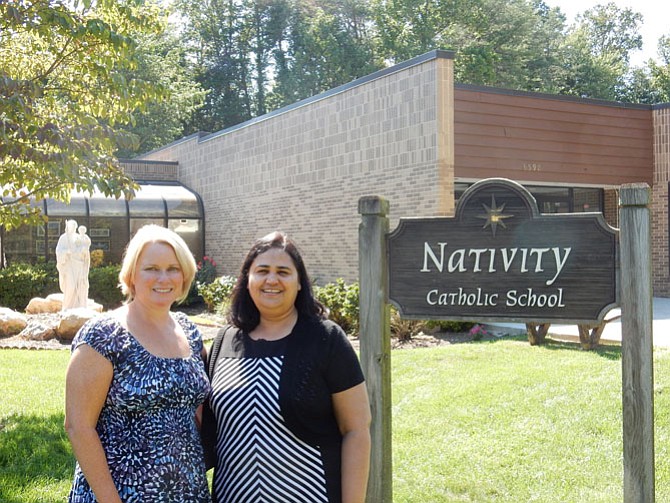 Located just off Old Keene Mill Road, Nativity Catholic School has been recognized as the Blue Ribbon School of Excellence since 2008. This is the award given by the U.S. Department of Education to only 50 private schools in the country each year.
Maria Kelly, principal at the school, said they have STEM education in their academics - academic disciplines focusing on science, technology, engineering and mathematics.
"With our new building, we have a brand new state-of-the-art science lab," Kelly said. "It is an absolutely amazing, amazing science lab that we have."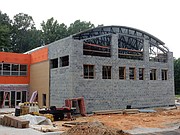 Being a former science teacher, Kelly is looking forward to it.
"That certainly helps us to even further what we do with science education."
THE OLD SCIENCE LAB now turns into a Makerspace room, where students go in and build and create something with a bucket of materials.
"[It] involves a lot of problem solving and critical thinking," said Annie Fernandez, assistant principal at the school. "We give the children paper towel tubes and a few plastic pieces of Lego. What can you create out of it? What technology can you use? And you make it socially useful."
By incorporating the STEM education and Makerspace into their school system, Kelly hopes her students will become "active problem solving learners."
"It is not a matter of you just studying from your book and giving back that information, or even in math being able to apply that," she said. "It is very much being able to go beyond what that knowledge is to be able to solve problems because if we don't create active problem solving learners, the students cannot go on to be global competitors in this world."
Nativity Catholic School's another newly adopted technology tool is the Chromebook. According to Kelly, all of their middle school students - sixth, seventh and eighth graders - will be issued a Chromebook to do their assignments both in classroom and at home. Elementary students will also be issued a Chromebook, for the classroom-use only.
Similarly, Chromebases will be set up in their new media center. "Chrome Station," according to Kelly and Fernandez, will be placed as well as built-in reading room and broadcast room. Additional classrooms, art center - with natural lighting - and gym are other spotlight places opening soon.
While considering the STEM education as one of the school's priorities, Kelly and Fernandez also emphasized gospel values.
"Even though we accept non-Catholics, ….the Catholic faith is definitely taught in the classrooms and is visible throughout the school," Fernandez said.
Ultimately, two important objectives of Nativity Catholic School are: moral values and academic excellence. "The whole point is that we give them a moral compass through everything that we do," Kelly said.
THE FIRST DAY OF SCHOOL was Aug. 31 this year.
"This is my 25th year in education, my 15th year as principal," Kelly said. "And I have to say, it never gets less exciting for the first day of school. It's so exciting to have these kids come in and know that for the kindergartener this is their kindergarten year, for the eighth grader this is their eighth grade year. That just never changes that this is their year to do that."
Back-to-school nights being one of the first events of the semester, Nativity Catholic School plans a variety of events throughout the season, including events open to public, such as book fair and open house. For more information, visit www.nativityschool.org or call 703-455-2300.