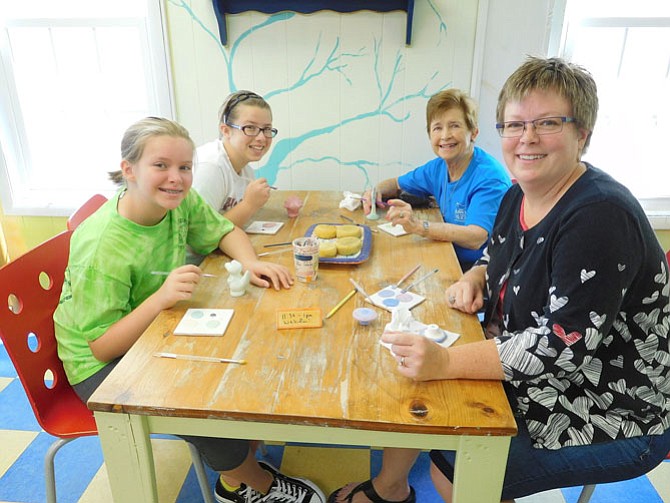 Sporting the slogan, "Create Like Crazy," Paint Your Own Pottery is proving to be popular with both individuals and groups as a destination for fun. And it's right in downtown Fairfax.
On a recent Saturday, Andrea Hardwicke painted a ceramic bowl there to use for soup or cereal. "I liked it a lot because I could do whatever I wanted," she said. "I got to choose my colors and design and even use the different artistic styles I saw around the room. There's lots of pretty artwork on display."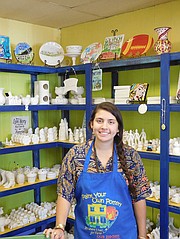 The shop is in a yellow building at 10417 Main Street and is open Monday-Saturday, 10 a.m.-7 p.m., and Sunday, noon-6 p.m. And inside, within a cheerful atmosphere of brightly colored walls, a yellow-and-blue checkerboard floor, music and lots of tables and chairs, is where the magic happens.
"At any time, there are more than 300 different choices of pottery to paint," said store manager Dawn Forester. "I believe it's one of the largest and most diverse selections in Northern Virginia. The store's been here 20 years, but it was recently remodeled and updated and is under new management."
Walk-ins are welcome, but appointments are strongly suggested for weekends during the school year. (Phone 703-218-2881; www.CreateLikeCrazy.com).
PEOPLE MAY DO paint-and-take projects, which are taken home the same day and not fired in the kiln. Or if they make something that needs to go into one of the two kilns on the premises, they may come back and get it in a week.
"Our customers range from little kids to senior citizens," said Forester. "People come, for example, to have their children's handprints made, have birthday parties and other celebrations here, and corporate events, too. No experience is needed; we'll give them as much or as little help as they like."
Some people go there by themselves, such as a court reporter who recently came in to paint in between her court cases. Others want to make a gift for someone else. But usually, said Forester, people come in together. "It's a social activity," she said. "Sometimes, it's a Scout troop and other times, it's a couple on a date."
Just ask Stephanie Villatoro. "Six of us came here today," she said. "We're with the girls' ministry at Jubilee Christian Center in Fairfax, and this was our annual outing for the leaders to get to know each other. We were looking for something fun to do, and this is close to the church and is something different. I'd recommend it to others because it's a fun, relaxing atmosphere to hang out and talk while making something beautiful to take home."
"And you don't have to have talent to do it," said one of the leaders, Anna Maylett.
"You get lots of good instruction here, too," added Joetta Dingle, who was there painting with Hardwicke. "This was my first time, and I made a spoon rest I'm calling the 'Spoon Spot.' I enjoyed it very much and I'm hoping to bring my granddaughters here, too."
Customers select what they want to paint. The choices range from figurines to plates, bowls, cups, piggy banks, tea sets, vases, religious items, ceramic boxes and picture frames. And there are items for men, women, teens, boys and girls. "We even have firetrucks and sports trophies that people can paint," said Forester.
It usually takes 90 minutes to complete a project and, once it's fired, kitchenware may be used for eating and drinking. It's also top-rack, dishwasher safe.
"We give people instructions on how to get the best, possible results for their vision," said Forester. "We explain which colors go best together and have people think about their background colors, as well. We also tell them how to layer or blend the colors for their desired effect."
EVERY SATURDAY at 3 p.m., Paint Your Own Pottery holds a class. "It's to teach painting techniques so people will feel comfortable with it," said Forester. "The cost varies according to what they choose to paint, but they won't pay a studio fee. We also run various, discount promotions throughout the year."
*In addition, some noteworthy events are on the horizon. On the second and fourth Saturdays of the month, from 7-9:30 p.m., is Social Artworking. It's canvas painting on table-top easels. Participants receive step-by-step instructions and leave with a finished painting. The next one is Sept. 12, and people may bring the beverage of their choice, including alcohol for those 21 and over. Light refreshments are served.
*The shop also plans to contribute bowls to the Capital Area Food Bank's Empty Bowls event, Sept. 30, in Springfield. It's a fundraiser for the organization, which feeds hungry people in need. For $30, people may paint two, ceramic bowls – one for themselves and one to donate to the event.
"Our goal is to donate 30 bowls," said Forester. "People may do this here all month long through Sept. 26. And it's a good service project for students, too."
She's also proud of the business's community involvement with the arts. "We put City of Fairfax Theatre Co., Fairfax High, Woodson and Paul VI theater posters in our front window," she said. "And we add decorations to match the play's theme.
Recently, Fairfax resident Molly Stephenson brought her daughters, Kiara and Mikaela Fenn, and their grandmother, Gloria Fenn, to the shop, and they laughed and chatted with each other while painting. Kiara, a fifth-grader at Providence Elementary, dabbed polka dots on a dinosaur figurine for her desk. And Mikaela, a Fairfax High freshman, painted a Triceratops figurine for a birthday gift.
Meanwhile, their grandmother painted a happy face on a flower figurine for herself. "Whatever we do together is fun," she said. "But this is especially exhilarating, watching all the creations take shape."
Painting two bottle stoppers that may be Christmas stocking stuffers, Stephenson said, "I find it relaxing to come here, listen to music and just paint. It's also fun to see what your piece looks like after it comes out of the kiln, because it's always a little different."
And that's what Forester likes best, "When customers come back and pick up their finished items and you see the smiles on their faces. They say they're surprised at how bright the colors are and how good it looks, and that makes me happy."