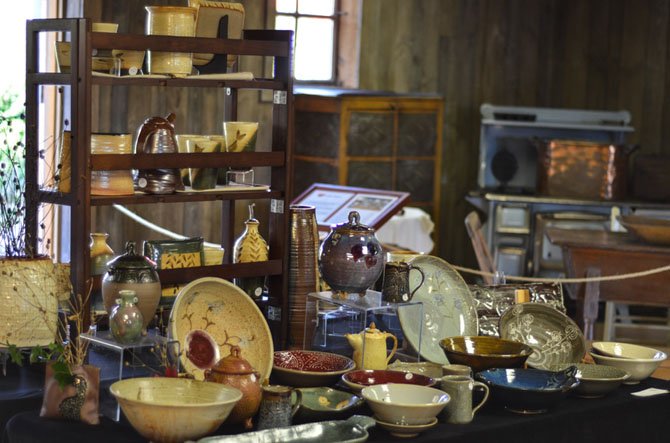 Local potters returned to Colvin Run Mill the first weekend of November for their holiday sale. Many of the potters are juried members of the Torpedo Factory Art Center's Scope Gallery located in Alexandria. "It is something we look forward to every year, it is so lovely to have so many creative people come down to display their work at the mill. It has been a good relationship," Mike Henry, manager of Colvin Run Mill, said.
As stated on their webpage, the Kiln Club of Washington is a professional organization for working ceramic artists, serious continuing students and supporters of the ceramic arts.
"We have 16 artists here, and they are all local," Reston resident Tracie G. Tso said.
Tso, the Chinese brush-painting teacher at Reston Community Center Lake Anne, is also a member of the Washington Ceramic Guild and the Kiln Club. Tso exhibits some of her brush painted pottery monthly at the Torpedo Factory Art Center's Scope Gallery. "We have a summer pottery show in Bethesda, so this is our fall show on the Virginia side."
This is the fourth year the handcrafted pottery show has been at the Colvin Run Mill barn. "This is my first year at this show, although I am familiar with the property," said potter Susan Schumpert. A studio potter for over 25 years, Schumpert sells from her studio and Annapolis Pottery Guild events. "When I was 7-years-old I saw the work of Beatrice Wood and I decided I wanted to become a potter when I grew up," Schumpert said.
Colvin Run Mill is the sole surviving operational 19th century water-powered mill in the D.C. area. Colvin Run Mill Park is located at 10017 Colvin Run Rd. in Great Falls, at the intersection of Colvin Run Rd. and Leesburg Pike (Rt. 7). Membership in the Kiln Club is open to anyone interested in the ceramic arts. In order to show and sell at Scope Gallery, in Alexandria, one must be juried into the Club.
To learn more about the Kiln Club, visit their website at www.kilnclubwdc.com