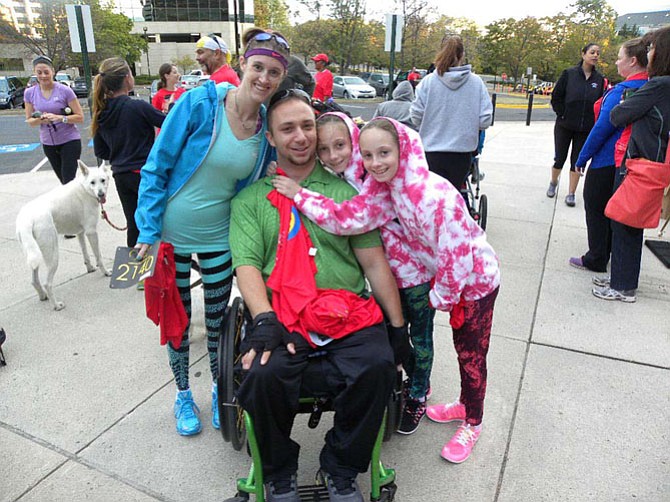 Photo Gallery
Super H 5K 2015
Click Photo for Flash
Whether they wheeled, biked, walked, or ran to the finish line, participants of the Super H 5K all agreed on one thing--that last hill was hell.
Over 200 people gathered at Tysons Sport and Health in McLean on Sunday morning, Sept. 20, for the twelfth year of the race. Founder Harry Freedman, the H in Super H, opened the event.
Proceeds go to the adaptive sports program of MedStar National Rehabilitation Network, where Freedman spent some time after his accident 12 years ago. A front-end loader backed up on him and cost him his leg.
"The money from the race helps teams travel and compete," said Freedman. A runner even before his accident, it was at the national rehab hospital that he got the idea for the race. "It's a wonderful place," he said.
"The event really is a great example of what we do...returning people to maximum level of function and independence no matter what your injury is," said the network's president John Rockwood.
"It's really important for us to be able to showcase people getting back to the communities and back to what they enjoy," said Rockwood. Many of the race participants are people who have gone through MedStar's program.
Jesse Graham, of Bristow, Va., broke his neck in a snowboarding accident 18 months ago, and he is racing today. "It's learning how to adjust your life," he said.
MedStar's adaptive sports program includes archery, basketball, boccia ball, cycling, quad rugby, rowing, sled hockey and tennis.
Joan Joyce, director of the network's adaptive sports and fitness program, said that there has been a rise in adaptive sports in the last few years with the veterans coming back. "A lot of young soldiers, you get a lot more of them coming into the sports," she said.
Anthony Caparella, of Silver Spring, Md., was the first to cross the finish line in his wheelchair, followed by runner Andrew Merritt, of Culpepper. Runner Andrea Meuser, of Vienna, was the first woman to cross the finish line. Chanelle Houston, of Fort Washington, Md., was the first woman to cross on a handcycle.