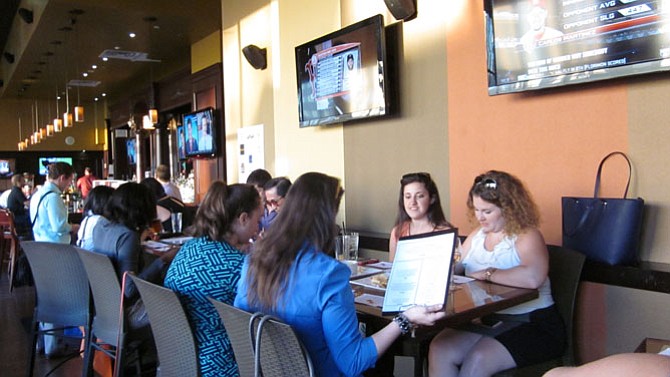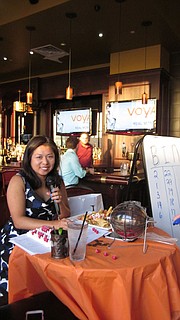 A group of 50 young professionals gathered for a happy hour on Tuesday, Sept. 15, at Arlington Rooftop Bar and Grill to to test their luck at Bingo and learn about Arlington Thrive, a local nonprofit which provides emergency assistance to Arlington residents who are facing a short-term crisis and cannot pay for their basic needs, such as rent and utilities.
Hanna Eun, vice president of the Arlington Thrive board of directors and the master of ceremonies for the night, included facts about Arlington Thrive's programs and the high cost of living in Arlington during each Bingo game. The room kept quiet when she announced at one point, that, "the average rent for a two-bedroom apartment was $2,114 last year."
The Arlington Thrive's Young Professionals Group is made up of supporters in their 20s and 30s who are working to engage young professionals in the organization's mission through outreach, events, and giving. The group hosted the Bingo happy hour, which raised $450 for Arlington neighbors in need. The Bingo cards were donated by Jamie Nicholas Printing and Graphics. Happy hour guests purchased additional Bingo cards, the first was free, and raffle tickets to raise funds for Arlington Thrive. Winners were treated to prizes donated by the following local businesses: Artisan Confections, Capitol Shine, Courthaus Social, Fire Works Wood Fired American Pizzeria & Bar, Fuego Cocina y Tequileria, Delhi Dhaba, Hard Times Café, The Liberty Tavern, Pacers Clarendon, Pete's New Haven Style Apizza, Arlington Rooftop Bar and Grill, Columbia Pike Revitalization Organization Fall Fest, South Block Co., Signature Theatre, Tupelo Honey Café, and Village Sweet Bakery.
This year, Arlington Thrive will mark 40 years of helping neighbors in need with a Celebration & Fundraiser on Nov. 18 at Army Navy Country Club. Contact info@arlingtonthrive.org for more information.
Last year, Arlington Thrive provided $730,000 in direct emergency financial assistance to 1497 Arlington households serving 2,741 total persons. Arlington Thrive prevented the eviction of 423 households and most of those were families with children. Arlington Thrive operates with four part-time staff and a group of approximately 34 volunteers who process assistance requests from social workers.
Arlington Thrive works in collaboration with government and private social service agencies and relies on them to provide both the assessment of true need for emergency assistance and case management of clients. The majority of referrals come from the Department of Human Services Community Assistance Bureau; however, Arlington Thrive also provides assistance to clients at Arlington Street People's Assistance Network (A-SPAN) and The Alexandria-Arlington Coalition for the Homeless (AACH) among other area agencies.
Visit www.arlingtonthrive.org.