Denise Hlavaty had gone to school or worked her entire adult life. She worked for 9 years at a social services job in Minnesota. She moved to Arlington after her boyfriend was killed serving in the U.S. military in Iraq: she had to grieve, and it would be easier to visit his grave at Arlington National Cemetery.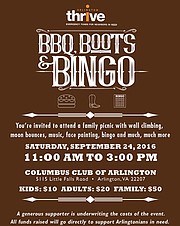 One year after she had moved to Arlington, as she prepared to look for a job, Hlavaty, 40, was diagnosed with Stage II breast cancer. Hlavaty's insurance company would no longer cover her. Her physicians and Virginia Hospital Center were willing to write off her extensive medical bills, which eventually included two surgeries, four rounds of chemo, and 33 daily radiation sessions. Even after she had trimmed her budget to get rid of cable, phone, and internet access, she could barely afford rent and food as she recovered. She was not yet established in the area: she had no local friends or safety net. She was unemployed, uninsurable, and running out of savings.
Two months after completing her cancer treatment, and after an exhaustive job search, she was hired for a position at the Department of Defense. But her August rent was due before her first paycheck would be issued. Hlavaty was already working, but she had run out of money. She didn't have family that she could ask to help her.
"Virginia Hospital Center referred me to Arlington County Department of Human Services and Arlington Thrive; DHS could pay $1,000 of her rent, and Thrive paid the rest. With just that initial assistance, I was able to get back on my feet. It made an immediate impact, and I am incredibly grateful for the generosity of Arlington Thrive's donors." Hlavaty sent Arlington Thrive a donation last year to show her appreciation.
Arlington Thrive gives beneficiaries a chance to pull themselves out of a temporary setback so they won't lose their footing over the long term.
Arlington Thrive needs local residents who want to have fun and help raise funds to attend their "BBQ, Boots & Bingo" on Saturday, Sept. 24, from 11 a.m. to 3 p.m. at the Columbus Club of Arlington, 5115 Little Falls Road, Arlington. The family-friendly event will include picnic fare, moon bounces, a climbing wall, face painting, bingo, music and more. Tickets (adult $20; child $10; or family $50) are available online at www.arlingtonthrive.org. The ticket price includes admission for all food, beverages, activities and a chance to win prizes. A supporter is underwriting the costs of the event, so that all funds raised will go directly to support Arlington neighbors in need. The leading corporate sponsors are: Arlington Community Foundation, Arlington Community Federal Credit Union, Koons Arlington Toyota, Starbuck Realty, and Marymount University. Contact info@arlingtonthrive.org or 703-558- 0035 for more information.
About Arlington Thrive
Arlington Thrive provides same-day emergency funds to residents experiencing a sudden financial crisis to help them stay in their housing or to cover other immediate needs. Funds can be used to cover rent, utilities, medical/dental visits, prescriptions, or work-related costs, such as transportation, tools, and identification documents. Each day, Thrive's largest program, the Daily Fund, distributes $1,400 to Arlingtonians in crisis. Clients receive the funds the same day.

One-third of the individuals served by Arlington Thrive are children.

Last year, Arlington Thrive helped over 3,000 people and prevented more than 325 evictions in Arlington.