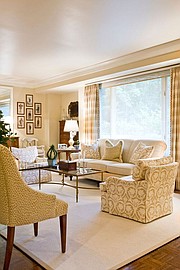 When Joyce and Don Lipman decided to move out of their Potomac, Md. home, they opted for a high-end townhouse instead of a retirement community. They gained a cosmopolitan environment and lost the burdensome maintenance of a large home.
"My husband always hated taking care of the grounds and he didn't want to pay someone to do it, and we weren't ready for a retirement community," said Joyce Lipman, who is 71. "Now I can walk to the shopping center and to my doctor's office. I couldn't believe it the first time I was able to go without my car. It was like a new lease on life."
When another active retired couple decided to downsize and move out of their home, they opted for a high-end condominium instead of moving to a retirement community. They enjoy traveling and own a beach home where they often spend time. When it came time to design their new living space, they sought the help of Kelley Proxmire of Kelley Interior Design in Bethesda, Md.
The couple wanted "a pretty, yet practical home and also a place they could lock and leave on a moment's notice," said Proxmire.
Condominiums and townhouses are growing in popularity for midlife couples because unlike large homes, they don't require a lot of maintenance, and they offer opportunities for living independently.
"In the next three to five years, luxury condominiums are going to be extremely popular with ... those who feel the colonial home is too big and they want the freedom of locking and leaving their home."

— Debbie Miller, McEnearney Associates
"In the next three to five years, luxury condominiums are going to be extremely popular with that age group, those who feel the colonial home is too big and they don't want the … mentality of retirement communities," said Debbie Miller, an Arlington-based associate broker with McEnearney Associates Inc. who specializes in the 55 and over real estate market. "Luxury condominiums provide a great option."
Miller says that in addition to proximity to shopping, dining and public transportation, amenities such as a 24-hour concierge service that can handle requests such as meal delivery and grocery shopping make high-end buildings sought after among well-heeled retirees.
The buyers Miller works with are looking for condos "that provide a 'lock-and-leave' advantage for residents who … like to travel or who spend six months here and six months elsewhere."
Such condominiums are prized and often hard to obtain.
"There are some that are very exclusive and [others that] don't come on the market very often," she said. "I sold a unit in the Rotonda [in McLean] a year ago and had multiple offers that were all cash."
ONE REASON THAT retirees opt for condominiums over retirement communities is freedom without restrictions, such as the frequency or length of stay for overnight guests. "In a retirement community, your grandchildren might only be able to visit for two weeks. Condos provide more of an independent feel," said Miller. "Owning a condo allows them the opportunity to pay the condo fee and come and go as they please and someone else takes care of the maintenance."
Another reason is proximity, with a condominium community more likely than a retirement community to be in an urban environment like Arlington, Reston or Tysons.
Among the most favored luxury condominium properties in Northern Virginia, says Miller, are The Palladium of McLean, Midtown at Reston, the Porto Vecchio in Old Town Alexandria, and the Turnberry Tower in Arlington.

"There are many other high-rises that appeal to the 55 and older crowd due to convenience and lots of amenities and that are walkable," she said.
Gerontology experts offer perspective for retirees who are looking to buy a new home. "The main thing is to consider safety," said Beverly Middle, DNP, RN, Assistant Professor of the College of Health and Human Services in the School of Nursing at George Mason University. "Communities where there are other older adults tend to have services in place to support them."
Middle recommends using evidence-based design when creating dwellings suitable for seniors. "It's a new science that's geared toward older adults and is very specific to their needs," she said.
Addressing retirees' desire to live a vibrant and active life that takes freedom and safety into consideration, some retirement communities are working to broaden their appeal to a wider group of seniors. For example, Sunrise Senior Living, based in McLean, created a Live With Purpose program which offers residents structured programs that include activities for volunteering and learning.

"No matter your age, each of us has interests, desires and activities that make us feel whole and help contribute to a meaningful, healthy life," said Rita Altman, senior vice president of Memory Care & Program Services for Sunrise.