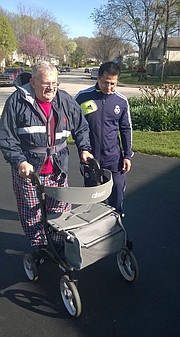 Local residents can learn how to age gracefully Saturday, April 16, at the Living Well, Aging Well Summit in the Fairfax County Government Center.
From 9 a.m. to 3 p.m., older adults, people with disabilities and their caregivers can see more than 100 exhibitors, and participate in seminars useful to improving the quality of their lives.
Keynote speaker Dr. Richard W. Lindsay will address the value of physical activity for living and aging well. He is a pioneer of the geriatric studies program at the University of Virginia's School of Medicine.
Part of the conference sheds light on transportation issues and offers solutions for people who cannot drive. Visitors will see the Fairfax County Connector bus, a Fastran shuttle and an accessible taxicab on display outside the government center entrance.
Across the street in the parking lot of the Pennino Building — at the corner of Post Forest Drive and the Government Center Parkway — CarFit specialists will examine the posture of senior motorists and make adjustments to maximize driver safety. Everyone is offered a free shuttle ride from this site to the summit, so they don't have to waste time finding a parking spot at the Government Center.
Inside, visitors can learn how to use Medicare for financial assistance with their long-term care needs, and access their medical records according to rules under the Health Insurance Portability and Accounting Act.
Instructors will show patients how to obtain valuable face time with medical professionals through their mobile devices without leaving the comfort of their homes.
People interested in volunteer opportunities may find a local non-profit organization in need of their ime and expertise.
Area vendors will dispense health and wellness information. Diet, nutrition and exercise also are discussed at Living Well workshops — including a session on how to maintain the proper balance one needs to prevent falls and injuries.
Event chairwoman Melanie Rochon Bush, who holds a doctorate in health sciences and physical therapy, says the summit is "an opportunity for Fairfax-area residents to access information that is difficult to get in one place."
Fairfax Grows Up
According to a 2014 American Community Survey of the U.S. Census Bureau, Fairfax County has more than 1.1 million residents. Although the median age is 37.6 years, nearly 272,000 residents are ages 55 years and older.
Fairfax County demographers released a 2013 study that predicts 33 percent of county residents will be 50 years and older by the year 2040. Instead of flocking in droves Down South, local retirees are staying put — especially in Prince William and Loudoun counties.
For this reason, Fairfax County spokesman Brian Worthy said the Board of Supervisors is committed to older adults through its "50+ Community Action Plan," adopted nearly two years ago as the last of the baby boom generation born in 1964 came of age.
"It's a vision and action plan the county is executing," he says. It is one of the guiding principles organizers used to plan the Living Well, Aging Well conference, according to Bush.
Patricia Rohrer, long-term care program manager in the Fairfax County Health Department says the summit is a brain child of the government's Long Term Care Coordinating Council — "a citizen-driven program to examine gaps in the needs of the long-term care community."
Bush said Fairfax County provided space and staff support for this function but plays "no part in establishing a budget." The Living Well, Aging Well Summit has received support from the local business community and volunteers.
Sponsors include the Fairfax County Long Term Care Coordinating Council, the Fairfax 50-Plus Initiative, the Department of Health's Area Agency on Aging, AARP, local hospitals and businesses, as well as community and advocacy groups.
Admission and parking are free to the general public at 12000 Government Center Parkway. Registration is on the main level near the entrance. Visitors can call 703-324-7647, TTY 711 or sign-up online at www.livingwellfairfax.org.
Teenage Sharks Hungry for Win at Senior Summit
Necessity is the mother of invention and local teenagers are learning what tools they may need to make their lives easier during their golden years.
In a contest modeled after the popular ABC Television Network reality show "Shark Tank," local high school students invented assistive technologies geared for older adults, people with disabilities and their caregivers for the April 16 Living Well, Aging Well Summit in Fairfax.
Contestants must address one or more aspects of health and wellness, safety, social engagement and caregiving. Students were mentored by local business collaborator Refraction of Reston, which provides office space and business networking opportunities to technology entrepreneurs in the Reston Town Center.
Six teenage finalists have to wait exactly 19 days to find out who won this competition for winning innovation held March 28, when five judges watched students demonstrate their projects at the County Government Center. Panelists were on the lookout for user-friendly innovations that maximize independent use by older adults.
Event organizer Michael Behrmann said projects included a website for grandparents, a shoe device that helps visually-impaired users navigate their environment and a medicine cabinet that keeps track of prescription drugs.
Top innovators will receive four cash awards of $750 from Reston business and technology consulting services firm INTEGRITYOne Partners. Runners-up will earn four other awards worth $250 from this Reston-based business and technology consulting services firm.
Behrmann said INTEGRITYOne was so impressed with the competition, they added another $1,000 to the pool "so that every project would get an award."
This contest is sponsored by the 50+ Community Action Plan, which contains 31 local government initiatives designed to address Fairfax County's growing elderly population with special needs.
Behrmann — who earned his doctorate in special education from Columbia University — serves the community as a member of the Fairfax Area Long Term Coordinating Council. According to this group, 120,000 Fairfax County residents have a disability and more than 60,000 locals are ages 70 years and older.
Behrmann led the committee that spent nearly a year creating the Shark Tank contest, which was announced to local schools in August. Inventors from at least four Fairfax County Public Schools — including the Thomas Jefferson High School for Science and Technology in Alexandria — responded to the call. As a special education professor at George Mason University, Behrmann uses technology at his day job to capitalize on human potential as director of the Helen A. Kellar Institute for Human disAbilities — a GMU research arm that develops tools designed to improve the lives of people with disabilities.
"Shark Tank" winners are announced Saturday at the Living Well, Aging Well Summit inside the Fairfax County Government Center, where inventors will display their entries between 9 a.m. and 3 p.m. at 12000 Government Center Parkway.
The event is free to the general public. Visitors may call (703) 324-7647, TTY 711 or register at http://www.living....">www.livingwellfai....