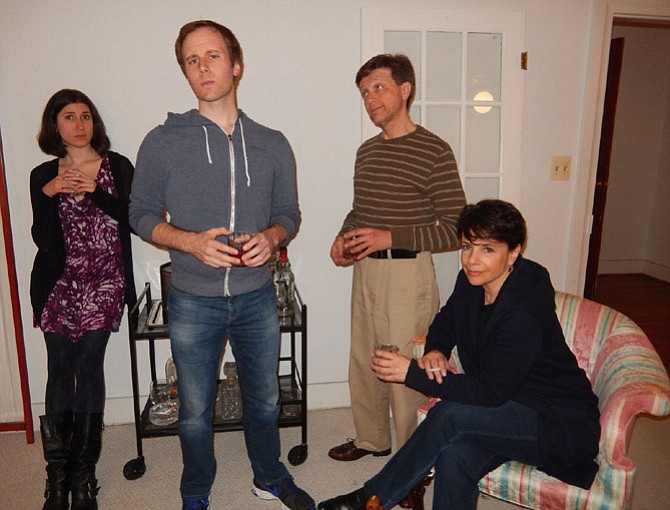 To Go
Showtimes are Friday-Sunday, at 7:30 p.m., April 22, 23, 24; April 29, 30 and May 1; and May 6, 7, 8. Tickets are $20 at http://www.fairfa...">www.fairfaxcityth...; any remaining tickets will be sold at the door, an hour before the play.
All performances are in Old Town Hall, 3999 University Drive in Fairfax.
The production runs about 3 hours, including two intermissions, and contains adult language and situations.
The 1963 Tony Award-winner for Best Play, "Who's Afraid of Virginia Woolf?" established Edward Albee as the most important playwright of his generation. And the City of Fairfax Theatre Company (CFTC) will perform it, April 22-May 8, in Fairfax's Old Town Hall.
The story revolves around George, a middle-aged history professor in a New England college town, and his wife Martha, the college president's daughter. And when young couple Nick and Honey visit their home for a nightcap after a faculty soiree, they have no idea what twists and turns the evening will take.
"The play is a compelling collision of comedy and tragedy," said Director Ed Zakreski, of the City of Fairfax. "As these two couples spend the late hours together, we begin to dissect which couple has a relationship rooted in honesty, and which has a marriage built upon lies."
CALLING THIS PLAY "one of the masterpieces of American drama," Zakreski said the way it examines human relations "is as relevant now as it was when the play was written in 1962, or when the movie came out, 50 years ago."
Scott Graham portrays George. "He's at his wits' end because life has crushed him," said Graham. "Otherwise, he might have been a senator or replaced Martha's father as the college president. So he decides he's done with the charade of his life and he's going to take some action."
"I first read this play when I was 16 and in theater class and completely fell in love with it and the text," continued Graham. "I see so much of myself in George – parallels in my life and early personal trauma that I've dealt with and is relatable to me. Consequently, it's always been a dream role of mine."
Graham said the show is just as meaningful and applicable to today's culture and society as ever. "What it says about how we can help and heal each other is important," he explained. "It has a lot of angst, but the message is positive: If we can embrace ourselves and each other, then we can achieve what we want to as a culture. So the end is almost like a rebirth; and it's not easy to get there, but it's worth it."
The show happens in real time, in the three hours after a party. And, added Graham, "It has a lot to say about relationships, truth and illusion and about how we deal with each other inside these relationships."
Portraying Martha is Karen Shotts. "She and George feed off of and antagonize each other," said Shotts. "Martha's the aggressor and likes to pick at him to get a reaction from him. She's always wanted her father's approval, so now she seeks it from George, and from her father via George. She married George so he'd become college president when her father resigns."
Shotts described Martha as needy and afraid of reality. "To others, she seems fine; but there are cracks and, beneath the surface, she's a mess," said Shotts. "She loves George deep in her heart, but circumstances have twisted it around. I love playing her. She has such an incredible arc – showing her childhood without a mother, to her young adult life when she had high hopes, to when reality smashed her in the face."
"Martha hasn't been able to forgive herself or George for where they landed, and that's so much fun to play," continued Shotts. "She's such a rich character. Both George and Martha are damaged, but it's easier for them not to acknowledge that, even between themselves. It's an astounding play – the writing, characters and trajectory – and every character has a journey."
Mike Rudden plays Nick. "He's a young, arrogant, college professor – an alpha male with a trophy wife and nice job – trying to make something of himself," said Rudden. "And you can see how the seeds of George and Martha's problems and dysfunction are beginning in Nick and Honey."
He said it's a difficult role in a challenging play. "The conversational dialogue is tough to memorize, and the character relationships and dynamics are intense and real," said Rudden. "The play reads as modern as any contemporary piece of drama; it was really ahead of its time. And the staging will be close and intimate, making the audience feel as if they're in the living room with the characters."
Portraying Honey is Stephanie Ramsey. "She wants to come off as the perfect wife," said Ramsey. "But as her anxieties and inner demons come out and manifest themselves in alcoholism, we see her devolve onstage. And we learn she's actually a broken person."
"She's let her relationship with Nick define her and has quashed the things she really likes, such as dancing," continued Ramsey. "She's just an appendage of him. Honey also has a warped sense of sexuality – which contrasts with Martha, who's such a commanding presence."
OVERALL, she said, "This play has incredible actors with amazing energy. We've even developed our characters' back stories to fill in any questions Albee leaves. I love my role because I get to bare everything onstage and go through all the extremes of emotions, from polished to hysterical. The audience will almost feel like they're invading something that should be private."