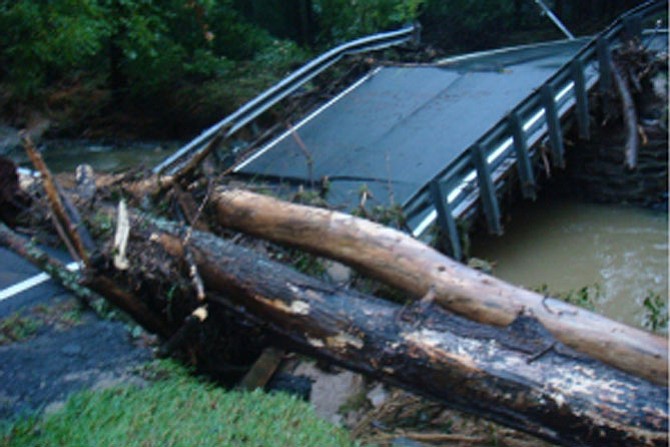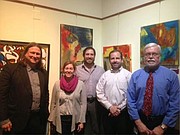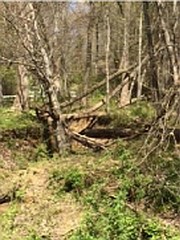 On April 12, the Great Falls Citizens Association's (GFCA) newly formed Stormwater Task Force (SWTF) sponsored a Town Hall meeting at the Great Falls Library, which attracted 60 residents and ran from 7:30 p.m. until 10:30 p.m. Dranesville Supervisor John Foust of the Fairfax County Board of Supervisors and Commissioner John Ulfelder from the Planning Commission attended. Presenters from the County's Department of Public Works and Environmental Services were: John Matusik, Jonathan Will and Matthew Meyers, as well as Laura Grapes of the Northern Virginia Soil and Water Conservation District. The meeting started with introductions from Bill Canis of the GFCA's Committee on Environment, Parks and Trails, Supervisor Foust and Timothy Quick of the SWTF.
The speakers discussed topics including: the State and County code relating to monitoring and managing soil and water activities, the current state of the Fairfax County stormwater management programs, and their planned projects to monitor and remediate our deteriorating waterways and stream valleys. In addition, state programs that support local education and stormwater management initiatives were presented. For more detailed information, presentation materials will be available at www.gfca.org.
During the meeting, many residents spoke about their own experiences with stormwater, while also asking questions of the speakers. Residents gave examples of property, ponds and local bridges being washed away by stormwater, as well as examples of deterioration of local roadways. From the questions, presentations and discussions, it is evident that the impacts of stormwater in Great Falls is significant, and is increasing as development continues. The SWTF feels the best way to address this is through community involvement in the form of education and advocacy.
The SWTF will sponsor events to inform, educate and support the Great Falls citizens, with erosion and stormwater management. In addition, the task force will be investigating all the major streams in the Great Falls area; if residents have an erosion issue they would like to highlight, they should contact the task force or GFCA. The SWTF will publish its calendar of events on the GFCA site in the next few weeks. The events will provide a variety of opportunities for the citizens of Great Falls to get involved and receive assistance managing stormwater damage on their property and in the community. If you would like to participate in the SWTF, or have questions, forward inquiries to SWTF_Help@GFCA.org