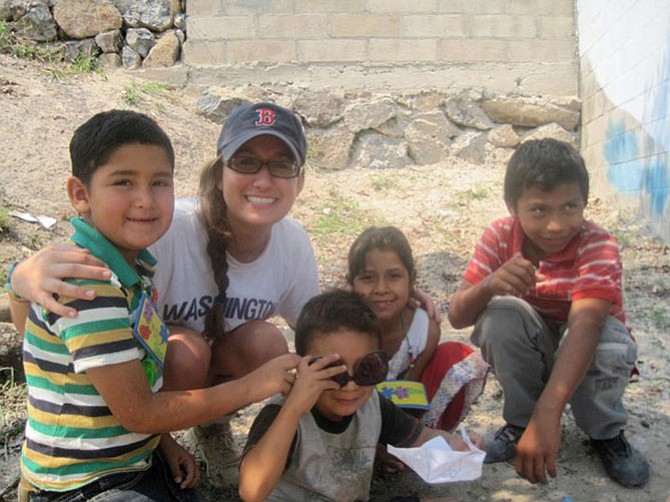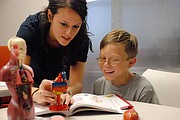 One summer Ana Lado created a summer camp activity for students at her neighborhood pool. The Marymount professor set up a picnic area, and included activities and books. Her plan was to engage the students and give them the opportunity to read and build reading skills while still enjoying fun activities traditionally associated with summer.

"I got six kids who were older to read to six kindergartners. I chose kids who had potential, but who were at risk," said Ana Lado, Ph.D., professor of Education at Marymount University in Arlington. "Reading with a kindergartner or first grader for 15 minutes got the students reading and built their confidence."
This summer Lado and her colleagues at Marymount are offering "3E: Explore, Enrich, Enjoy," one of several area camps with an academic component. Their goal is to enable students to brush up on, gain or maintain academic skills in a relaxed environment.
Marymount's 3E camp enables campers to choose what they focus on at camp. In addition to traditional camp activities, the camp will include academic projects like exploring science through nature and electronic gadgets, studying math by making boats, language arts by writing their own stories and fine arts by creating plays and cartoons.
For those who want an in-depth review of a school subject and the chance to participate in hands-on summer camp activities, academic camps fill both needs.
"[Academic camps] supplement what students are getting during the school year and allow them to experience subjects and topics that they're not getting in public school," said Dan Stalcup, Associate Director for Fairfax Collegiate, a Herndon-based organization that offers summer programs for students entering third through ninth grade.
Programs at Fairfax Collegiate run the gamut from filmmaking and robotics to engineering and classic children's literature. For example, third and fourth grade students can learn to craft their own short stories during a Story Writing course in Alexandria, Chantilly and Ashburn.
Campers who enjoy reading and want to delve into award-winning novels by authors such as Madeleine L'Engle or Rebecca Stead can take "Reading Newbury Winners" with sessions in Chantilly, Ashburn, Fairfax, McLean and Reston. Students can spend two weeks reading books that have been awarded the Newbery Medal for excellence in literature for children.
Fifth and sixth graders who love math and want to hone their analytical and logical thinking skills can spend their time engaging in chess, Stratego and
other mind-bending activities in the "Brain Games" camp, which will be offered in Chantilly, Reston, Herndon, McLean, Alexandria and Oakton.

Future detectives might enjoy taking a forensic science class in Alexandria, Chantilly, Herndon, Ashburn, Falls Church and McLean. "Students learn about the science in criminal justice, like blood-typing and fingerprinting by actually doing the experiments and seeing them in action," said Stalcup.

"Students get a lot of personal attention because the classes are small, and the instructors either have or are pursing a degree in the topic they're teaching," said Stalcup. "They're all very passionate about the subject they're teaching."
Academic camps might be a good fit for students who are curious about a particular area of study. "Many parents want something that is both fun and educational, meaning it will help their child keep [busy] and develop skills needed during the school year," said Tina M. Morris, Child Development Programs Consultant at George Mason University. "I think both parents and educators realize that summer vacation does not have to be a break from learning."
The decision to send a child to a camp that focuses on reading, science, math or another school subject instead of a purely recreational camp is a personal one, says Lado. "There are some kids who can visit their grandparents in Maine all summer and they come back to school in the fall and pick up where they left off," she said. "Then there are other kids who can't pick up easily. Those are the kids who would benefit from an academic program."
"I think both parents and educators realize that summer vacation does not have to be a break from learning."

— Tina M. Morris, Child Development Programs Consultant at George Mason University.
Students appreciate the ability to focus on one subject in a relaxed atmosphere in an academic camp. "If kids are taking a subject at a fast-clip pace, but they don't do well, they miss key skills. The next year they move to a higher level class, but the same problem still exists," said Lado. "When they take a week or two during the summer and immerse themselves in a subject, they go stronger into the next school year. In camp, it's the only thing they're doing academically and they can concentrate on it. "
For example, The Madeira School in McLean is offering summer programs in Trigonometry and Geometry. "These courses are intended for advancement into higher level math classes, and based on our classes taught during the academic year," said Ashley Smith, Associate Director of Communications at Madeira. "A student who is interested in math and wishes to advance to higher levels will benefit, as well as students who need a refresher or a better understanding before moving ahead."
When choosing an academic camp, parents should look for camps that are not all work and no play. "I want to make sure it has a healthy balance of recreational and educational enrichment activities," said Morris. "If the campers are enjoying the activities and the counselors are skilled, the program should, as a natural effect, promote the building of positive relationships with their peers and their counselors."