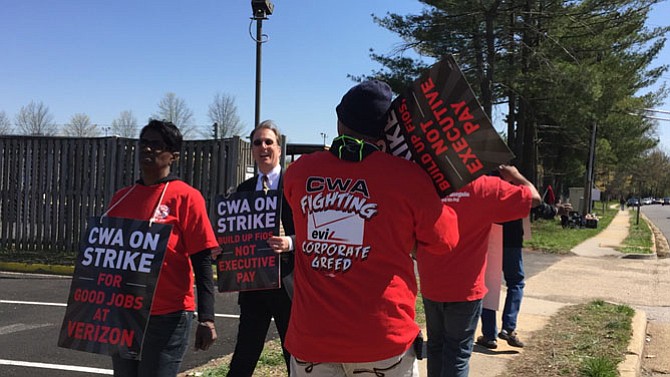 Sunday, May 1 is May Day, where we recognize the accomplishments of organized labor. On this day the precursor to the AFL-CIO proclaimed, "Eight hours shall constitute a legal day's labor from and after May 1, 1886."
While an eight-hour workday is typical for many people today, before the 1880s, it was common to work 10 to 16 hours a day in unsafe conditions. In retaliation, the Pinkerton Agency and business owners erupted in violent protest, slaughtering many workers in Chicago in what we know as the Haymarket Affair.
Our celebration of May Day is particularly timely, since as of this writing, nearly 40,000 members of the Communication Workers of America (CWA) and International Brotherhood of Electrical Workers (IBEW) union are on strike, protesting Verizon's failure to offer a fair contract to the workers who lay land lines and fiber optic cable.
When the unions announced the strike, I was proud to join the workers marching in the picket line and wholeheartedly support their efforts.
According to the CWA, Verizon made $39 billion in profit over the last three years, but the company wants to gut job security protections, contract out more work, and freeze their pensions at 30 years of service — essentially, a unilateral attempt to renegotiate a 2014 labor agreement.
If the communication workers don't accept all of those changes, Verizon will require technicians to work away from home for up to two months at a time anywhere in the Verizon footprint, splitting up workers' families. The company has also refused to negotiate any improvements in wages, benefits or working conditions for its Wireless retail workers who formed a union in 2014.
Verizon's top five executives made $233 million over the last five years and last year, the company paid out $13.5 billion in dividends and stock buybacks to shareholders. Certainly, Verizon should be able to find the money to pay for a fair contract with its own workers.
I am a member of the Mount Vernon-Lee Chamber of Commerce and operate a small business myself, so I understand how important it is to have a quality workforce. There are many fantastic employees at Verizon, and I am confident it understands working families also have a right to do well in America. In the spirit of May Day, I hope they will negotiate a contract that is fair to Verizon's labor force and the customers it serves, of which I am one.