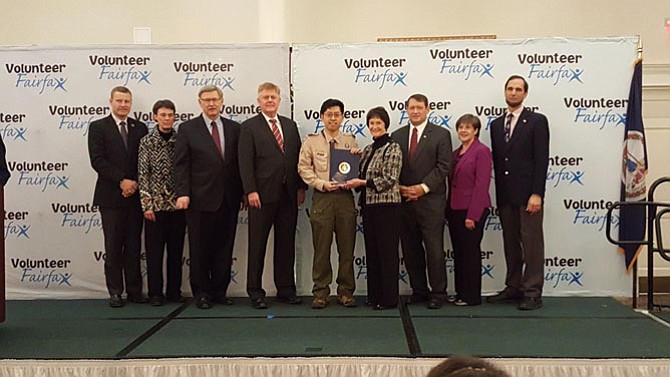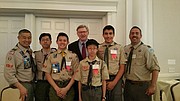 Jeff Ye, community service coordinator for Boy Scout Troop 55, was selected and recognized as the "Rising Star" at the Fairfax County Volunteer Service Awards on April 8. Troop 55 is sponsored by St. Francis Episcopal Church, Great Falls.
Ye volunteers as an adult uniformed leader and contributes to many roles in the Troop. He serves as the community service coordinator, patrol advisor, website assistant and project manager for numerous special events. In addition to Troop 55, he volunteers as Den Leader for Great Falls Cub Scout Pack 55, Coach for the Odyssey of the Mind teams at Forestville Elementary School, and Director of the Board for the Capital Symphonic Youth Orchestra (TCSYO).
With support from Troop 55 leadership, Ye developed a system to keep excellent records of community service hours. He worked with national and local youth volunteer service partners to recognize scouts for their community service achievements.

Ye tracked hours for over 70 Boy Scouts so they could receive recognition when they met the guidelines. Due to his leadership, Troop 55 received the 2015 Volunteer Fairfax Award in the Youth Group category, and was nominated for the 2016 Virginia Governor's Volunteerism Award (Community Organization Category).
Troop 55 Scouts Mitchell Pan, Wesley Pan, Daniel Reuss and James Ye were recognized at the 2016 Volunteer Fairfax award breakfast with "Youth Benchmark 100" for their more than 100 hours of community service. Seventeen scouts were awarded with the 2015 President's Volunteer Service Award at the Troop 55 Court of Honor, and received a letter of congratulation from President Obama for their contribution to the local community.