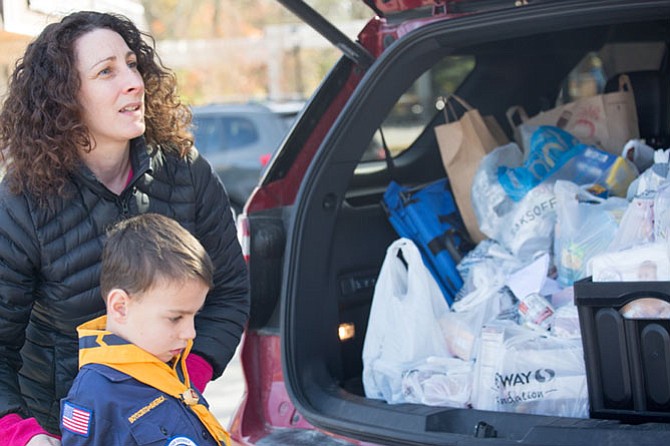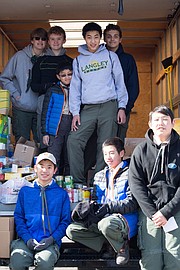 Great Falls Boy Scout Troop 55 and Cub Scout Pack 55 are feeding the hungry in the area this holiday season with a food drive. Saturday, members of Boy Scout troop 55 were loading a moving van full of canned foods, non-perishable items, toilet paper and paper towels.
Community service coordinator and assistant scoutmaster Jeff Ye was supervising the project in the Safeway parking lot Saturday morning. "Last year we gathered anywhere from 1,800 lbs. to 2,000 lbs. of food for this event, and this year will probably be the same amount," he said.
The event is co-sponsored by the Committee for Helping Others as well as other local area sponsors like the Capital Area Foodbank, The Boy Scouts of America, WTOP, WUSA 9, and the Safeway Foundation. In the Washington D.C. area, volunteers are targeting 1 million pounds of food and non-perishable goods to assist families in need in the area.
"It's a lot of scouts and cub scouts over these last two weekends," said Ye, whose son Thomas Ye was helping to sort canned goods on the truck. "It's a little cold so we aren't wearing our uniforms," he said.
The Boy Scouts also left plastic grocery bags for the event on the door handles of neighborhood houses, and returned the next weekend to collect the donations left by those families. They also set up a table in the Safeway parking lot to raise awareness for the food drive in the community.
Candice Holt, a stay at home mom and Great Falls resident arrived with her SUV filled to the brim with grocery bags of food. Her son, Ned Holt is a Cub Scout in Pack 55.
Azure Briguglio, 7, of Great Falls was also helping out with the effort. "We are feeding the poor," he said.
The list of items that the food drive is accepting include: vegetable oil, white sugar, white flour, canned fruit, canned beans, 100 percent juice, ground coffee, tea bags, toilet paper, paper towels.
More information on Boy Scout Troop 55 can be found at BAS55.com.