Barbara Ross, former deputy director of the Department of Planning and Zoning, died Aug. 9 at her home in Alexandria. She was 70 years old.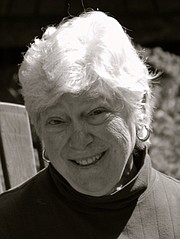 Ross worked on local land use, planning and zoning issues for over 30 years and was known as a dedicated and well-respected public servant.
"Barbara's contributions in creating and preserving quality neighborhoods in Alexandria were substantial," said City Manager Mark Jinks. "She also served as a mentor to me and many other city employees in having us better understand our city. She will be missed."
Ross served as deputy director of the Alexandria Department of Planning and Zoning from 1993 to 2004. She became deputy director for Land Use and Administration in 2009 and retired in January of 2013. Prior to joining the city staff, she served as a city land use consultant and drafted the 1992 major revision of the city zoning code.
For the first five years of her career with the city, Ross worked with the Alexandria city attorney and planning and zoning director successfully navigating the five year process by which the City Council, the Planning Commission and the community came to consensus on and adopted a new zoning ordinance and master plan for the city.
During her city career she worked on major planning and zoning and historic preservation issues with business owners, residents and community association leaders, the Alexandria City Council, the Planning Commission, the Old and Historic District Board of Architectural Review, the Parker-Gray District Board of Architectural Review and the Board of Zoning Appeals. In retirement she continued her consulting work on local land use, planning and zoning issues.
"Barbara was just a marvelous person," said Tom Hulfish, former longtime chairman of the city's Board of Architectural Review. "She really knew what she was doing and she knew how to handle difficult situations with finesse."
The daughter of the late Joel and Susan Newman, Ross was born in Miami Beach, Fla. She received her BA in English and MA in literature from American University and taught high school English for six years in Montgomery County. She received her juris doctorate degree from John Marshall Law School in Chicago in 1978 and was a member of the Law Review and the Order of the Coif.
She worked for 15 years as an associate and partner in Chicago at the former Ross Hardies law firm (now McGuire Woods) from 1977-1992 and was a member of the Illinois and Florida state bars. In her work with the firm she represented both municipalities and developers and worked on impact fee studies, land use and open space protection, historic preservation programs and drafted zoning and subdivision ordinances and land development codes.
As a consultant, Ross was involved in several projects that have become the basis of now commonplace planning tools including development of impact fee legislation in Broward County, Fla., for roads, schools and parks, the first successful fee program in Florida. She also worked on a team in New Jersey that drafted regulations for the Pinelands to implement a state statute requiring five county and 32 town plans to preserve and protect one million acres of New Jersey land between Philadelphia and Atlantic City.
Ross is survived by her husband of 14 years, James Derrington, her sister Debra Newman (James) of Piedmont, Calif., her brothers Richard Newman (Joan) of Edgemont, N.Y., and Larry Newman (Jane) of Stuart, Fla., step children Jamey (Amy) Derrington of Alexandria and Lauren (Courtney) McCunney of Washington, D.C., step grandchildren Arlo McCunney and Olivia Derrington, her sister-in-law Susan Richardson (Steven) of Washington, Mo. and niece and nephews Natalie, Syd David, Joshua and Benjamin.
A funeral service will be held on Friday, Aug. 12 at 11a.m. at the Everly-Wheatley Funeral Home, 1500 W. Braddock Road with interment to follow at Ivy Hill Cemetery.
In lieu of flowers memorial contributions may be made to: The Interfaith Conference of Metropolitan Washington, The Gatehouse, 100 Allison St. NW, Washington, DC 20011.